Technology has officially taken over. It is such a big part of our daily lives, in fact, that your business needs to invest in technology if it wants to not only grow, but stand up to the competition. In this regard, you need to adopt a CRM system. But why? Using customer relationship management software isn't just a popular business trend. It's one of the most valuable technology investments that a business of any size can make. Let's take a look at why: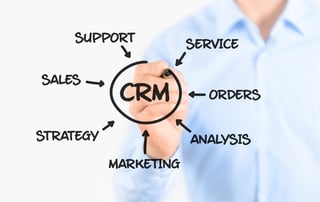 1. Better customer service
Whether they need information, a product or a service, a customer is interacting with you for a reason. No matter how friendly your team is, a customer interaction can go south if you aren't prepared to deliver what a person needs.
A CRM will help you improve all of customer interactions. That's because you'll be able to instantly access all of the data related to a customer's account, meaning that you will always be able to provide quick, complete answers, which is one of the best ways to boost a customer's experience.
2. More analytics data
In case you don't already know, data rules the world. The better your access to data that you can analyze, the more informed each decision will be. Using a CRM system instantly grows the amount of analytics data that you'll be able to access.
3. Streamlined collaboration
Collaborating with peers, subordinates, supervisors and even other companies shouldn't be a hassle. When your collaboration efforts mostly involve piecing together a collage of emails, phone call notes and other bits of information, collaborating won't exactly be easy. This becomes even more confounding if a mistake is made at some point. A good CRM system, on the other hand, will serve as a one-stop shop for all of your collaboration needs. You'll be able to generate and track updates, maintain a reliable, uniform channel of communication, and even revert a project back to an older version if something gets messed up.
4. More overall efficiency
The more efficient you are, the better you are at everything. When you're using a good CRM system, everything is all in one place. This means less clicking through folders, loading new applications and switching between screens.
5. Better lead generation
Good CRM systems aggregate data in a way that allows you to more effectively segment, target and communicate with customers. This means that instead of delivering marketing communications and sales messages that are ignored – or worse, annoy people – you'll always be on point with what you send to people. This will ultimately mean better leads for your company.
6. Fewer mix-ups
CRM systems will tell you where a set of data came from and how it got there. This prevents you from mixing up critical pieces of data in a way that could throw your business off track.
7. Instant updates
The faster you can react, the more agile and adaptable your company will be. As we discussed earlier, a good CRM gives you access to more data. It also delivers this data in real time. This means that as soon as something changes, you'll know. You can even set up your CRM to alert you when specific changes happen. This gives you the insight to move quickly, while still making the right decisions along the way.
You need to adopt a CRM. What are you waiting for?
There can be no doubt that a good CRM will be a valuable tool for your business. This investment will immediately enhance nearly every element of your company's operations, from your marketing campaign to your production projections.