by Robert Middleton, owner of Action Plan Marketing and Jaco Grobbelaar, owner of BroadVision Marketing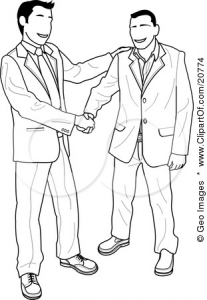 Marketing actually has a language just like the game of baseball has a language. And the purpose of this language is to get attention, generate interest and motivate people to take action to find out more about our services.


If you understand this language and speak it fluently, you'll be more successful at moving prospects around the bases of Marketing Ball and ultimately turning them into clients.


The language of marketing is based on what we call "Marketing Syntax." Syntax is the order of things. Syntax creates meaning. For instance, the order of letters in a word give that word meaning and the order of words in a sentence give that sentence meaning.
We also discovered that the order in which you present marketing ideas determines the meaning the listener attaches to your message. In other words, if you deliver your marketing message in a certain order using marketing syntax, you'll get more attention and interest than if you use a different order.
For instance when people ask us what we do, we often answer them literally, that is, we tell them our label or our process. We say, "I'm an accountant. I prepare taxes for small businesses." That's accurate, but it's not a very attention-getting message. The listener is thinking, "What's in it for me?"
The first three steps of marketing syntax are as follows:


Target Market - That is, whom do you work with?


Problem/Challenge - What issues do your clients have?


Outcome - What results do your clients get?


This syntax can be used anytime you communicate about your business, verbally or in writing. And when you use it, your attention value will go up dramatically. Let's look at these steps in a little more depth.
When someone asks what you do, the first words out of your mouth need to be about whom you work with. This creates focus: "I work with small independent credit unions" or "I work with retailers on the East Coast." When you identify who your ideal clients are, your listeners can immediately know whether or not you can help them.
Next you tell the problem or challenge you address. "…who are being beaten up by outsourcing" or "…whose profit margins are shrinking." When you mention a problem, you hit a nerve. Problems are where people live. It's what they are thinking about. And if you can address their problem, they will realize you know something important about them.
Finally, you communicate the outcome you actually deliver. This is what a client gets if you work with them. "We help our clients maintain their profit margins in an outsourcing economy."
With this understanding of marketing syntax, you can start to develop your own personalized marketing message.
Testimonial:
[embed width="320"]http://www.youtube.com/watch?v=RyG7LTOo0yo&feature=youtube_gdata_player[/embed]
Robert Middleton has been the owner of Action Plan Marketing since 1984. He specializes in helping Independent Professionals be better marketers and attract more clients. He has two main services - the Fast Track to More Clients Program and the Marketing Mastery Group. He lives and runs his business from Northern California in the redwoods near Santa Cruz. You can reach Robert through his website: http://actionplan.com, by email at apm @ actionplan.com, on Facebook at https://www.facebook.com/profile.php?id=731554912, and on Twitter at https://twitter.com/#!/robertmiddleton
Jaco Grobbelaar is the owner of BroadVision Marketing. BroadVision Marketing works with business owners to put in place inbound and outbound marketing strategies that consistently secure new clients. The BroadVision Marketing Training Center is located in Petaluma, CA and primarily serves companies in the San Francisco Bay area.

Jaco can be reached at jaco@broadvisionmarketing.com or 707.766.9778 or connect with Jaco on Facebook - www.facebook.com/broadvisionmarketing - and LinkedIn - www.linkedin.com/in/JacoGrobbelaar.


For more information:
Step 1 - Marketing Ball - The Game of Marketing for Marketing Plan Workbook