by Robert Middleton, owner of Action Plan Marketing and Jaco Grobbelaar, owner of BroadVision Marketing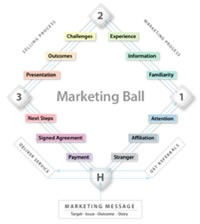 Master these Seven Principles and you'll grow your business. We will be covering them one at a time over this series of blogs.
If you are going to attract more clients to your professional service business, you must market those services. But you can't market haphazardly and expect consistent results. You must market according to proven principles. This article outlines those principles and gives you the keys to growing your business with less struggle and effort.
1. Marketing is a Game
Not many business owners see marketing as a game. They see it as a struggle. But it's only a struggle because they are unaware of the rules of the game and how to win the game.
Let's look at a game most people are familiar with: baseball. In baseball there are four main activities: throwing the ball, catching the ball, hitting the ball and running. Pretty simple. If you took a person who was highly proficient at these four activities, but didn't know the rules of baseball, and had him join a baseball team, he would struggle for some time. Until he figured out the rules of the game, baseball would be mysterious and perplexing.
It's much the same with marketing. Most of us know the fundamental activities of marketing--networking, writing, speaking, sending emails, and the like--but we rarely see it as a game with very specific rules that lead to attracting clients consistently.
The marketing activities we engage in seem random and subject more to luck than intention. If we could discover that hidden marketing rulebook that explained how to move a client along the bases with some degree of predictability, marketing would be less of a struggle and much more fun as we began to win the game with some regularity.
Introducing Marketing Ball


Marketing Ball is the name we gave to the process that finally makes some sense out of the game of marketing. Marketing Ball outlines the rules, the skills and the moves required to win the game.




Marketing Ball is built on the simple premise that everyone who is now a client was once a stranger and that the purpose of marketing is to build a relationship with a prospect until they feel comfortable doing business with you.




Those relationships are built one step at a time through a very logical and methodical process. Even if you don't realize you're playing Marketing Ball, it's still happening in the background. But as you master the game you'll discover that you can convert prospects into clients more quickly and reliably.




In Marketing Ball, as in baseball, you move prospects around the diamond one base at a time. You start at home base armed with your marketing message. When you deliver that message, your aim is to get your prospect onto first base. You're on first base when you have the attention and interest of a prospect.




Once a prospect is on first, your next marketing activities are designed to get them to second. Second base is when a prospect is ready to explore working with you. Third base is where a prospect is ready to buy from you and home plate is where you've consummated the sale and started working with your new client.


Mastering the game of
Marketing Ball
is a matter of understanding and practicing the "marketing plays" between the bases and gradually moving a prospect from a complete stranger to a paying client.
Marketing Ball isn't about getting home runs by delivering a perfect marketing message (there isn't such a thing), but by moving prospects around the bases as they learn more about how your services work and how they will benefit from working with you.
Robert Middleton has been the owner of Action Plan Marketing since 1984. He specializes in helping Independent Professionals be better marketers and attract more clients. He has two main services - the Fast Track to More Clients Program and the Marketing Mastery Group. He lives and runs his business from Northern California in the redwoods near Santa Cruz. You can reach Robert through his website: http://actionplan.com, by email at apm @ actionplan.com, on Facebook at https://www.facebook.com/profile.php?id=731554912, and on Twitter at https://twitter.com/#!/robertmiddleton
Jaco Grobbelaar is the owner of BroadVision Marketing. BroadVision Marketing works with business owners to put in place inbound and outbound marketing strategies that consistently secure new clients. The BroadVision Marketing Training Center is located in Petaluma, CA and primarily serves companies in the San Francisco Bay area.

Jaco can be reached at jaco@broadvisionmarketing.com or 707.766.9778 or connect with Jaco on Facebook - www.facebook.com/broadvisionmarketing - and LinkedIn - www.linkedin.com/in/JacoGrobbelaar.


For more information:
Step 1 - Marketing Ball - The Game of Marketing for Marketing Plan Workbook