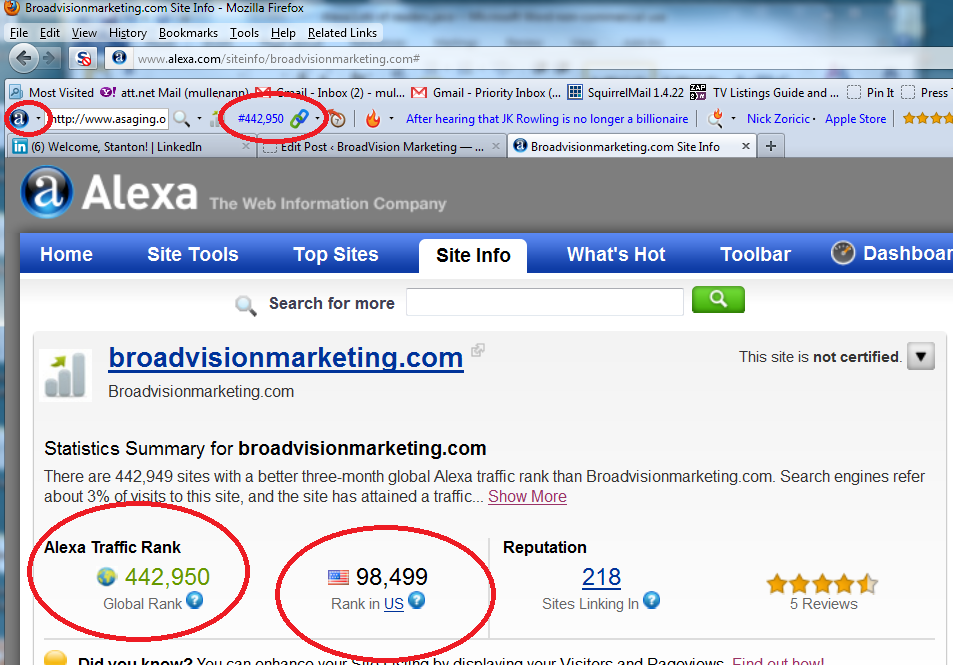 I thought I was finished with the idea of do it yourself social media work, but apparently I am not. There are some other things that you need to know to find yourself on the top page of many search engines.
Last week we totaled up the amount of time you could take doing social media marketing, without LinkedIn and some other places. We saw how you could spend over half of a 40-hour work week. If you were worth $30 an hour, it would have cost you $2888.00 a month to pay yourself. Your time and your worth are your value added when you do it yourself.
Today I want to explore more ways you can improve your ratings.
If you have an Alexa tool bar on your browser tool bars, you will see a number in blue.
Hang on a moment, you don't have one? It's easy to get, just search Alexa and follow the instructions.
OK. Now the blue number at the left hand top of the tool bar is your URL's Global Traffic Rank. Click on that number and it will open an Alexa screen. This one has all sorts of information on it including your US Rank, Reputation (the sites that linked in to the website) and Reviews.
While there is some question about the value of the Alexa number it is simple. Using the US Rank number weekly you get some idea of how your site ranks. The whole truth is much more complicated, but this works as a simple standard to look at your website's search-ability.
How can you improve your rank? Let me count the ways. Today we will just touch on one, but I will write some more blogs on this.
One of the main ways to improve your rank is for many people to open your website URL, read your blog and pass it along to their friends. Some of this is done through Twitter and Facebook. We can also put our blog on our own Facebook pages to move our URL along and hope our friends like it enough to move it. Receiving comments on the bottom is also a great way to be seen by the search engines.
This is the way your URL is supposed to be passed along, but remember that there are many, many blog posts out there and the competition is beyond fierce. Next time we will discuss some things you can do to speed up the process of improving your rank.
How are you improving your ranking? Are you interested in some alternatives?
Jaco Grobbelaar, owner of BroadVision Marketing, helps business owners and business professionals put marketing strategies in place that consistently secure new clients. He can be reached at jaco@broadvisionmarketing.com or 707.799.1238. You can "Like" him at www.facebook.com/broadvisionmarketing or connect with him on www.linkedin.com/in/JacoGrobbelaar.
Related articles