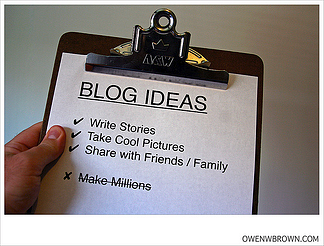 The other day I got into a mood where I wanted to know just what the true cost for blogging could be. First, I looked at various factors. Let's say that you are writing your blog for yourself and not having someone else write it. You will write about what you know. This is called value added. Your expertise is the added value.
So it doesn't cost you anything to write your blog, right? Wrong. What is an hour of your time worth? Let's say you have figured out that your time is worth $30 an hour. I picked a low number although I am sure that you are worth much more than this. Writing a blog can take quite a bit of time, even if you know your subject. This time will also include posting it to your site and finding pictures to keep the article interesting.
How about saying it takes you two hours to do all that work. Some blogs might take more and some might take less, but that's a hypothetical average.
You then need to realize that for one blog you have spent $60 of your time. Multiply that by the number of blogs you want to put out a week, let's say three, and you have spent $180 of your time for one week. There are four weeks per month so it costs you $720 a month, using up 24 hours.
I have read that running a business blog costs very little until you think about other ways you could spend your time. Blogging for your business is important, no doubt; but are you the one who needs to do the writing? What if you have figured out that your time is worth $50 an hour?
Here are some suggestions that might bring the cost down. If you have products, you can ask your suppliers to set up a blog on your site as a new tab that will give them some backlink benefits. You can ask people to be guest bloggers if they write about things in your field. You can have someone else in your company write the blogs or you can go to a company like BroadVision Marketing where we have skilled writers who can actually save you time and therefore money.
Whatever you decide to do, you need to realize that business blogging is a very important part of your social media image and that it is something that is not free. How are you business blogging?