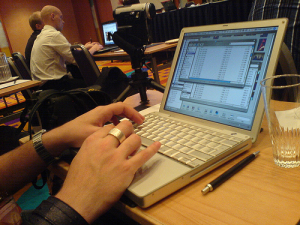 One of the main columns upon which social media for business sits is blogging. It may take time or some money, but there is a lot of value you add to the process since you write about you know. Unless you have to pay to have someone blog for you, you can probably spend less than $100 a year on blogging.
Don't let the low cost fool you. Stop thinking you don't need to make much of an investment in learning how to blog well. Since blogging is such a powerful sales tool, you want to learn to use it properly or it can work against you.
Since blogging can enhance or detract from your brand you need to learn some skills. You can stop worrying about keeping your blog as formal as the rest of your website, but you do want it to integrate well with the site. Here are some ways you can use your blog to strengthen your brand:
Your blog should be connected to your website. It is not a good idea to have it on a different site. That way people can stay on your site, read your blog and look at your products or services without having to search the internet for one or the other.
The most commonly used platform is WordPress, but it is not a good idea to use the WordPress free service. It's also not good to use Blogger, Tumblr or TypePad either because these all appear with the name of the platform in your URL. This is not only look unprofessional, but it damages search engine optimization. You are in business so you don't want to cheapen your look just to save the money on hosting.
If you use an already created template from a platform like WordPress, make you to have it customized by a competent web designer so that it matches your website, maintaining brand consistency.
As you begin blogging, don't expect to become number one on the Google Search charts right off the bat. Getting established takes time. One way to get people reading and commenting on what you write is to read and comment on what other people write. Find some bloggers who are selling your product or service and read what they have to say. Make appropriate comments so that they see that you are not spamming them and they just might return the favor. In the process you will learn more about successful blogging, learn what your competition is doing and maybe make some helpful friends.
For more information on business blogging, please see our new guide:
An Introduction to Business Blogging.
Jaco Grobbelaar, owner of BroadVision Marketing, helps business owners and business professionals put marketing strategies in place that consistently secure new clients. He can be reached at jaco@broadvisionmarketing.com or 707.799.1238. You can "Like" him at www.facebook.com/broadvisionmarketing or connect with him on www.linkedin.com/in/JacoGrobbelaar.