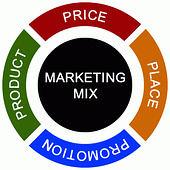 The right online marketing strategies have the ability to transform your business. Rather than chasing and interrupting prospects and buyers for your products and services, you are able to use a variety of approaches to attract them online.

The world of Internet marketing is filled with all kinds of sexy, shiny marketing approaches you can use. There is blogging, Facebook, Twitter, viral video using YouTube, email marketing, webinars, and photo sharing on Pinterest. No wonder it's easy to lose sight of the fundamental marketing strategies and getting your marketing mix right online.

Let's look at the difference between Internet marketing strategy versus marketing mix, and how you can figure out what works best for your business.
What Is an Internet Marketing Strategy?
Your company's vision helps you to determine your goals; the sales volume you want to reach, the number of repeat customers you want on the books, the market penetration you want in your identified area, etc.
Your marketing plan consists of several marketing strategies and marketing activities to help reach your organizations' stated goals. Each marketing strategy identifies a particular target market, determines your position in the market, and what you'll do to place your products and/or services in front of your prospects.
Here's an example:
You are a full service plumbing and heating contractor who operates in Metro Denver. Your target market is the upper income neighborhoods in the southern suburban areas of Denver.
The position you have staked in the market is one of fast, reliable, and guaranteed service at a premium price. You use your own bonded and insured employees, rather than subcontractors, to deliver your service.
You use the internet and your website for an online blogging, PPC, social media, and a PR campaign to educate visitors about your plumbing services and why you are different from your competition.
A Look at Marketing Mix
The traditional four "P's" of the marketing mix are: Product, Price, Place, Promotion.

Using the example of the Denver Plumbing and Heating business, let's examine these elements of the marketing mix.

Product- Based upon the marketing strategy chosen, what products and or services fit? On the service side, perhaps it's the 24-hour emergency service that arrives at the home within 30 minutes. On products, the business decides to carry and use top grade Kohler plumbing fixtures.

Using an online marketing strategy, the business uses a free e-book to educate the homeowner about the value and benefits of these products and services.

Price- What's your Price position in the market? Based upon the target market you've chose, are you the discount provider, mid-range, affordable option, or the premium price business? The Denver Plumbing business operates using premium pricing in their marketing mix.

Place- Place is both where you offer your products and services, and where you will market your business. Going back to the Denver Plumbing business, they target the South Denver Upper Income neighborhood to provide their services. Many of these homeowners are busy, two-income professionals who use the Internet, social media, and mobile phones to locate local businesses. It makes sense for this business to use online marketing to reach these homeowners.

Promotion- What media will be used to deliver your marketing message? The Denver Plumbing business decides to use paid online ads, search engine optimization, and social media to spread the message about their products and services online.
Where Marketing Strategy and Marketing Mix Meet Online
Use the right marketing mix of Product, Price, Place, and Promotion that works for your business, keeping your marketing strategy in mind.
Deliver content that informs and engages prospects about your Product and reasons for your Price. Find the right Place to distribute your content – syndicating your content, bookmarking your blogs, emailing special reports, and conducting webinars.
Amplify your Promotion with PPC ads, sound SEO practices, and social media. In addition, offer coupons, free trials, guarantees, and limited time bonuses as part of your Promotion. Never make an offer without a Call-to-Action.

When you have a sound marketing strategy and a clear marketing mix you're positioned for success. Are you making use of the 4Ps in your marketing strategy? Please let us know with a comment below.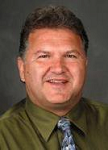 Jaco Grobbelaar is the owner of BroadVision Marketing. BroadVision Marketing works with business owners to put in place inbound and outbound marketing strategies that consistently secure new clients. The BroadVision Marketing Training Center is located in Petaluma, CA and primarily serves companies in the San Francisco Bay area.
Jaco can be reached at jaco@broadvisionmarketing.com or 707.766.9778 or connect with Jaco on Facebook - www.facebook.com/broadvisionmarketing - and LinkedIn - www.linkedin.com/in/JacoGrobbelaar.