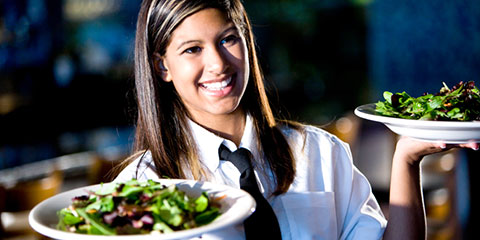 What do most sets of the marketing mix containing 7 Ps include? In the last two blogs you saw two sets of the three items within the marketing mix 7 Ps. One set included: packaging, positioning and people. The other set included: process, physical evidence and people. You guessed it. Both marketing mix groups include "people." At this point we are not talking about your customers, but the people in your organization that are a part of giving service or delivering products. Let's look at an example.
What is Your Favorite Restaurant?
Do you go there because people know you and are glad to see you? Perhaps you go there because you know you will get good service every time you go. You might go because you know that you will receive the same good quality meal. A restaurant offers both service and products that are reasons why you go there, or not. Both service and product are delivered by people.
The marketing mix P for people is based on Customer Relationship Management (CRM) and the relationship with people that your client or customer deals with at the company. Your business person can recruit a customer, retain that customer and encourage your customer to remain a customer in the future. This is where people underpin the long-term customer relationship.
Let's look at some ways that those people working for you add value to an experience as a part of the marketing mix. We will examine training, types of sales personnel and customer service.
You Need to Train Your Service People
All the people in your organization who come into contact with the customer need the training necessary to maintain a good quality of personal service. Training begins as soon as you hire the new employee. Ideally as you introduce that person to how the organization functions and tell him of daily policies and procedures, you will began to see what this person is going to need to be taught. Your training will then be created around the individual, setting out personal goals that can be used for future appraisals.
In reality most training takes place on-the-job. So at the same time you are doing this training you want your new hire to realize that professional learning is a part of a lifelong process of development and training. Otherwise, the person might be overwhelmed by a vast amount of information. If the new employee realizes that you do not expect him or her to know how to do everything at once, the pressure is off.
5 Types of Salesperson
Within the marketing mix P for people you need to realize that there are five types of salesperson, some of which will not be applicable to your organization. Understanding what their main objective is will help your sales personnel know how to do their jobs.
Product Deliver Salesperson: Main task is to deliver the product. Sales are of less importance. Example is the mailman.
Order Taker: Job can be either internal or external. An internal sales person takes orders over the phone, email or over the counter. An external sales person works in the field. Neither do much selling.
Missionary Salesperson: Main task is to build goodwill with customers with a long term goal of generating orders. Closing the sale is not an important part of this person's job description.
Technical Salesperson: Main task is to provide in-depth knowledge and support in advising the customer on what is the best purchase that meets the customer's needs.
Creative Salesperson: Main task is to work to persuade the customer to give them an order. This is a very hard job and so you probably offer the salesperson greater incentives. The main skill such a person should have is to be able to identify the need of the customer and persuade him or her that he needs to satisfy a previously unknown need by ordering a product.
Customer Service
It's the service after the sale that counts. Many services, products and experiences come with customer support. The marketing mix P for people says that customer service provides tech support, expertise and coordination between the customer and the business. A positive attitude is a very important commodity for these people. The way a problem is handled can make the difference between keeping and losing a customer or client. It can go so far as to improve or ruin your company's reputation.
There are several ways your support team interfaces with the customers. It could be face-to-face, over the phone or on the internet. Since people buy from people they like, more than with a faceless company, effective customer service personnel need the best training possible. A good customer service rep can add value while offering customers tech support, expertise and advice.
These are just a few of the ways the marketing mix P for people works within your company.
Are there any areas in this topic that you feel like you need to improve? Please comment in the box below.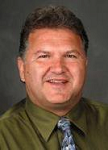 Jaco Grobbelaar is the owner of BroadVision Marketing. BroadVision Marketing works with business owners to put in place inbound and outbound marketing strategies that consistently secure new clients. The BroadVision Marketing Training Center is located in Petaluma, CA and primarily serves companies in the San Francisco Bay area.
Jaco can be reached at jaco@broadvisionmarketing.com or 707.766.9778 or connect with Jaco on Facebook - www.facebook.com/broadvisionmarketing - and LinkedIn - www.linkedin.com/in/JacoGrobbelaar.