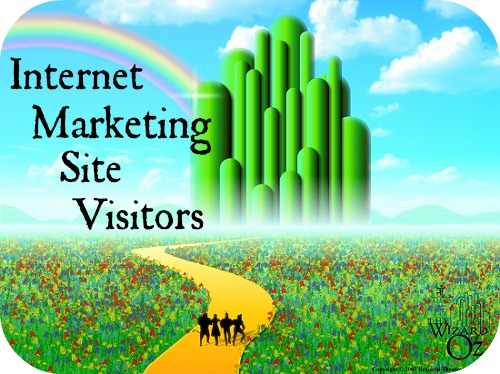 What blasphemy is this, you ask. After all, everyone knows that internet marketing site visitors are people who are seeking information, shopping and coming back to your site for more. Right? Well, in actuality that is not right at all because you are not thinking about what is really going on technologically. SEO Logic in their blog post Web Traffic 101 says:
In a sense, there is no such thing as a site visitor. Instead of saying a person visits a site, it is correct to say that a person's user agent requests files which are retrieved from a website and rendered at the person's personal computer, thus creating the website traffic. The traffic is your site being sent to the person's computer after being invited by a user agent.
In a sense, your website is the visitor. Your website visits the people you have been thinking of as visitors.
User agents of a different color
Have you ever heard of a horse of a different color? User agents are the "different sorts" of software that request files from your web server. Let's get concrete, or asphalt, for a minute. What different uses is a street put to? People drive over it in cars, UPS trucks take packages to homes, kids ride their bikes on it, people walk along it and so do dogs, cats and other animals. Thus we see that streets are used by lots of things for lots of reasons. Your website is like a street also used by lots of things for lots of reasons. These user agents include web browsers operated by a person and also other agents like crawlers, robots and spiders. Oh my.
The World Wide Web Consortium states that "User agents include HTML browsers and other types of software that retrieve and render Web content." They further state that a user agent is "Any software that retrieves and renders Web content for users. This may include Web browsers, media players, plug-ins, and other programs -- including assistive technologies -- that help in retrieving and rendering Web content."
Analysis of internet marketing site visitors (user agents) or off to see the Wizard of Analytics
When it comes to increasing internet marketing site visitors, that simple phrase is tied to a myriad of different things. These things that all can be analyzed include increasing hits, increasing page views, increasing unique visitor and increasing sessions. You have to know exactly what you want in order to pick the right set of analytical tools.
You probably don't know it, but you do not want to spend your time on internet marketing site visitor hits as reported by webmasters because they aren't a good measure of how successful your site is. Let's look at a reason why.
Suppose somebody, let's call her Dorothy, visits your homepage after finding you on a Google SERP. After looking at that, she looks at your "About Us" page and bookmarks your internet marketing site. In another visit that day Glenda visits your home page and then leaves. Later Dorothy comes back to your "About Us" page, links to the "Contact Us" page, looks at it and leaves.
Here are the kinds of information these two people generate analytically. Your internet marketing site had 2 unique visitors, Dorothy and Glenda. Your site had three unique visitor sessions, two for Dorothy and one for Glenda. Your site had 5 page views, four by Dorothy and one by Glenda. Are you wondering whether you should count Dorothy's second internet marketing site visit to the "About Us" page as a second page view? By all means, count it.
What do you learn from each of these kinds of analytics? Internet marketing site visitor hits don't correlate with unique visitors, sessions or page views. For this reason people who are media buyers ignore webmasters who claim to have thousands of internet marketing site visitor hits. It is best for you if you choose to measure page views, user sessions and unique and return internet marketing site visitors.
If you have questions about this subject, you can call us at BroadVision Marketing. What sort of analytics do you track? Please tell us by answering "inside the box" below.