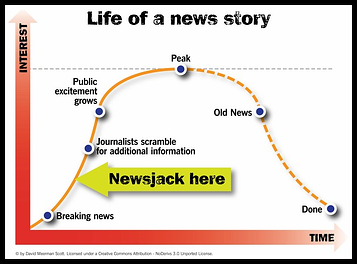 Newsjacking—love it, hate it, never heard of it? How can an internet marketing tip that has been around since 2011 when David Meeman Scott wrote Newsjacking: How to Inject Your Ideas into a Breaking News Story and Generate Tons of Media Coverage not be a part of common marketing terminology? You need all the internet marketing tips you can get to help you publish interesting blogs. So what is newsjacking? Scott, describes it as "the process by which you inject your ideas or angles into breaking news, in real-time, in order to generate media coverage for yourself or your business."
I had to read some examples before I caught the vision. One example I read about was Animal Planet's cool newsjack of the Super Bowl. For the last few years they have run a Puppy Bowl at the same time. The idea is to take something that is breaking news, connect it to your business and create something about the news from your businesses' view point. Another example was that The Red Cross had a new hurricane app ready to roll to help people during Hurricane Sandy. So newsjacking seems to be one of the best internet marketing tips I have heard in a long time.
And then I read about some of the bad examples of newsjacking. During the aftermath of that same Super Storm Sandy, there was a flurry of posts, tweets and ads that were in poor taste. While the death toll mounted, electricity was off for a large part of the country and many lost their homes, InStyle magazine offered a special package of cosmetics under the thematic name Hurricane Sandy Have You Stuck Inside? 5 Beauty Treatments to Help Ride Out the Storm.
"The weather outside is frightful -- which is all the more reason to stay indoors and pamper yourself," wrote the author Marianne Mychaskiw. "So we rounded up 5 beauty treatments that will help keep you occupied (and gorgeous) as you safely wait out the storm."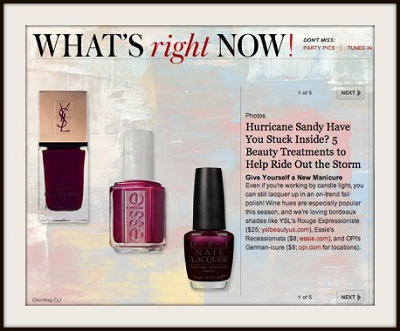 That went over like the proverbial lead balloon. Newsjacking is not for those who are more interested in using the news than the effect the news has on people. That also goes double for anyone newsjacking using Justin Bieber, Honey Boo-Boo or Tim Tebow.
So how do you newsjack? Here are some internet marketing tips on what you need to do.
You need to be up on the latest news. Can't spend all day and all night reading? You can get your computer to monitor for you. You need to set up an RSS feed of the major news outlets, industry publications, social media especially Twitter, to keep you informed. You can get the apps to help look for certain keywords.
You need to get into the news feature before it becomes old news. So when you see something you need to act fast, but wait a minute. Take a little time to do some keyword researching to make sure that you have the right keyword phrase. This is an important phase. So do it even though you are in a lather to start.
Read about the topic. Find the primary news source and see what others have already written. This will allow you to maintain your originality, a very important commodity with Google these days; and it will make sure that you are credible. You don't want to rush to write a story that Snopes has found is a fraud.
Now comes the writing. You want to do this fast. To get into the cycle while the news is fresh, it is important that you forego some of your usual perfectionist tendencies. Be accurate, but perhaps you can ask someone else to check it to see if there are any glaring errors.
Who's writing this? You, of course. You need to, as Scott says, interject your own angle. Why would your audience be interested in this? Oops, you are getting into the game a little late? You can write it better. Scott suggested owning the second paragraph. Too many people will use the same exact words in the first paragraph to start their article, but they will come up with a good second paragraphs using additional quotes, details or insights. You can take that second paragraph and come up with a good first one. You do this because you want to be one that people will reference.
Finally, you have to market your product. If you have written a great blog, you need to go on social media platforms and share your content.
There you have it, the six internet marketing tips to newsjacking. If this is your first introduction to newsjacking, you are going to want to do more research. If you need help, we can get you on the right track here at BroadVision Marketing.
Are you newsjacking? Please tell us about some of your experiences. Who knows—something you might share will be just what another blogger needs.

Jaco Grobbelaar is the owner of BroadVision Marketing. BroadVision Marketing works with business owners to put in place inbound and outbound marketing strategies that consistently secure new clients. The BroadVision Marketing Training Center is located in Petaluma, CA and primarily serves companies in the San Francisco Bay area.
Jaco can be reached at jaco@broadvisionmarketing.com or 707.766.9778 or connect with Jaco on Facebook - www.facebook.com/broadvisionmarketing - and LinkedIn - www.linkedin.com/in/JacoGrobbelaar.