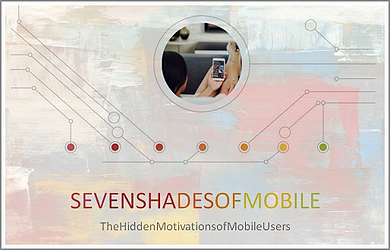 Do you know where your smartphone app is? It's probably not where you think it is. Did you know that 68% of owners of said smartphones were most likely relaxing at home playing games or killing time? Users call this "Me Time" and there isn't a social or mobile marketing strategy component in it. How do I know this, you ask. Why, it was in a report presented last October when Advertising Week. There in New York City Christian Kugel, Vice President of Consumer Analytics and Research at AOL and Simon Bond, CMO of BBDO Worldwide gave a presentation titled "Seven Shades of Mobile" representing the seven resulting mobile behavioral moment markets that their research revealed.
Their study showed that, while you have been spending time and money on a location-based mobile marketing strategy to get found by the on-the-go consumer, 68% of consumer mobile phone use occurs in the home, not needing geo-location from your app at all. This totally upends one of the most widely held beliefs about mobile marketing: that its main value is linked to reaching consumers on-the-move. Forget that.
These mobile interactions can be segmented into seven distinct "mobile motivations" that encompass most mobile use. These include:
Accomplish – managing activities and lifestyle to gain a sense of accomplishment
Socialize - active interaction with other people
Prepare – active planning in order to be prepared for upcoming activities
Me Time – seeking relaxation and entertainment in order to indulge oneself or pass the time
Discover - seeking news and information
Shop – focusing on finding a product or service
Express Myself -participating in passions and interests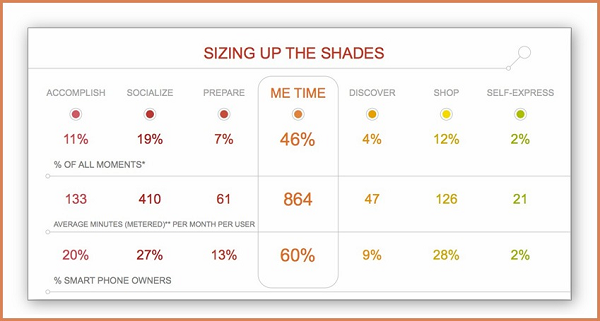 And what is the biggest "Mobile Motivator? Me Time. Me Time accounts for almost half (46%) of all smartphone app and website motivation, averaging 864 minutes per month per user, per Arbitron Mobile. Seventy percent of these moments are lean-back and enjoy experiences. They can take their phone all over the house with ease and hang out in bed if they want to, having Me Time wherever they want. They are not calling on the phone, texting, emailing, visiting with friends on Facebook or Twitter or shopping. And they sure as heck are not looking at your mobile marketing strategy app for advertising because most of the messages out there are not relevant to how people want to use their time and they ignore it.
Let's check to see if this is a legit study before we see what researchers suggest to change your mobile marketing strategy to reach those Me Timers.
The study was one of the most comprehensive of its kind. Conducted by research firm InsightsNow, it implemented a unique three-phase approach that looked at consumer usage of mobile from qualitative, quantitative and ethnographic perspectives. Smartphone users completed a seven-day diary, making video recordings throughout the day as they used their phones. This was followed by in-depth interviews and a survey conducted among 1,000 smartphone users from June to August, 2012. Arbitron Mobile Oy's, a subsidiary of Arbitron Inc., Arbitron Mobile Trends Panels™ service was used to track a mobile panel for a 30-day period.
The result was a database of over 3,000 mobile interactions or moments. These moments (which excluded email, SMS and voice calls) were then segmented according to the underlying needs and motivations of the participants. By using this approach, the research was able to uncover which user needs are fulfilled by a surprisingly wide variety of mobile interactions.
I'd say that this is a pretty legitimate study with some unexpected eye-opening findings. So what do people do during Me Time?

How are mobile marketers like you going to compete with this list of activities pulling away your organic searchers? Based on these findings, AOL and BBDO have identified the following recommended actions to help mobile marketers, agencies and brands improve their mobile marketing strategy interactions with consumers.
Suggestions for changing your mobile marketing strategy:
Think about mobile as part of something bigger. Move beyond the conventional surface view of mobile behaviors to align your messaging with the underlying motivators that propel mobile interactions.
Focus on "Me Time." Think about ways you can redirect mobile communications to help users indulge and enjoy themselves.
Recognize there are other mobile motivations. Targeting communications to capitalize on these motivators can increase engagement.
Moving forward, this research lays new groundwork for mobile marketing strategists everywhere.
"In the end, it's all about helping agencies and creatives create the most compelling content. And based on our findings, that compelling content should be me-based, home-based, entertainment-based, not solely geo-location based," said Simon Bond, BBDO's Chief Marketing Officer.
I guess it's true that mobile isn't always mobile. If you are confused by this new data, please give us a call and we can help you get your mobile marketing strategy back on course.
Have you started using Me Time ideas in your mobile marketing strategy? How is it working out?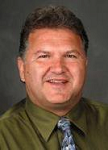 Jaco Grobbelaar is the owner of BroadVision Marketing. BroadVision Marketing works with business owners to put in place inbound and outbound marketing strategies that consistently secure new clients. The BroadVision Marketing Training Center is located in Petaluma, CA and primarily serves companies in the San Francisco Bay area.
Jaco can be reached at jaco@broadvisionmarketing.com or 707.766.9778 or connect with Jaco on Facebook - www.facebook.com/broadvisionmarketing - and LinkedIn - www.linkedin.com/in/JacoGrobbelaar.