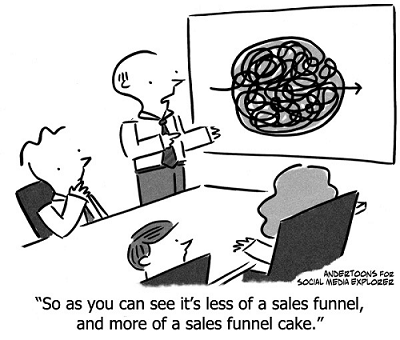 You know how I love shocking headlines. I couldn't beat the one written by Nichole Kelly, The Death of the Sales Funnel in Social Media Explorer in February 2013. For one thing I have long thought that no matter which way you draw the thing, the sales funnel didn't make sense, perhaps because it is such a hackneyed, as in overused, term. Perhaps I lost sight of the meaning since in the past two decades the internet has become one of the primary ways people research and then shop, whether online or off. The problem with using the internet as a sales funnel is that people bounce all over the place, staying longer in some areas and gone in a breath in another. Microwave popcorn has nothing on the way or reason why people go where they go, no matter how advanced our analytics and Google rankings are.
Start with the simple explanation
An simple definition of a sales funnel comes from an Empowerment Network article Methods of How to Create a Sales Funnel That is Effective to Improve Your Business in March 2013 in which the author says, "In case you don't know what sales funnel is, here is some brief description. A sales funnel is metaphor of a sales process from initial promoting it to final sale of the product or services."
For more on what a sales funnel is before we kill the thing, you might want to read Kevin Dee's article The Sales Funnel from Eagle OnLine in March 2013. Dee's simple explanation for a sales funnel is that at the top end are potential prospects, followed by qualified prospects, and in a smaller segment are opportunites. Then going out of the small end of the funnel are those who a business completed the sale. And the music goes round and round. . .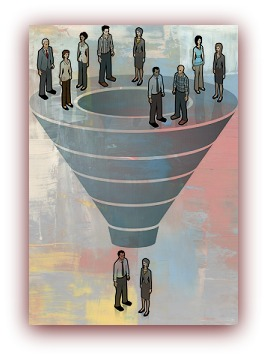 Dee says: The funnel is a great tool for understanding the level of effort needed to win business. It is also a great tool to measure your success, and thus give you ideas for how you might improve. When you become established you will have a much shorter funnel, because there will be less "prospecting" for new clients.
So … work really hard and you will develop a group of qualified prospects with whom you will have a relationship and thus will understand their cycles, their needs and even be ready to anticipate their demands.
But never forget that you always need to be filling that funnel, to ensure that you always have enough opportunities.
Move to the 21st century
Moving into the 21st century Scott Matthews, CEO of Webcollage said in his article Sales Funnel Best Practices in March 2013, "Online retailers have a lot of visitors, but more than 97 percent leave without buying anything. Part of the formula to driving more conversions is to assure that what you answer is most if not all of the consumer's questions about your product. This may seem self-evident, but it is not just what you say to visitors, it is how you say it that can lift sales (anywhere from 12-36 percent in some cases I've seen).
He goes on to explain that internet users don't read every word of text on a page, scanning the page for information they can get quickly. Nice large pictures are one method he suggested that work to get people flowing down the sales funnel.
Now wait a minute 97% of our visitors aren't going to stay, let alone buy anything. What are we doing?
97% visitor attrition?
To find out what we are doing now let's look at what Nicole Kelly says. She starts out saying she uses the funnel to explain the process to a business client, which is why I gave you a brief overview. Then she launches into the 21st century saying, "Buyers don't follow a linear path.
The sales funnel relies on the theory that someone comes into the top of the funnel and sales fall out the bottom. But is that true in today's world? Do we start at the top and make our way through to the end? Or do we start at the top, leave, jump levels, come back, leave again, come back at the beginning and at some point come back and buy? Are we following a linear purchase pattern or an erratic path of engagement that sometimes results in a purchase?
Kelly talks about the many months a person spends going to a website from different social media sites or an organic search. Her question is has this person really entered the sales funnel and should this person be tracked? She compares the interested person to a young boy at a water park, he jumps in the pool briefly before trying out all the different slides. He isn't just enjoying the water. Your interested person is the same make and model.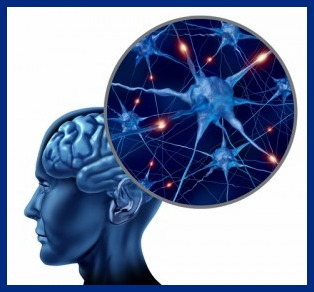 Kelly goes on to state that distraction is destroying the sales funnel. I think that is the same idea as the noise I explain makes it hard for a person to find your site during an organic search. Next she says that tracking is flawed. I thought so. She talks about analytics that show the first part time a person gets on a site at the beginning of a campaign or at the end or even both, but they don't look at blog posts. Hubspot looks at every time a person goes on a site; but since people come and go and come and go and maybe show more interest the fourth or sixth time they show up, where are they in a funnel? As inbound marketing goes, this back and forth movement makes sense, but are we looking at actual potential prospects?
The wrong kind of metaphor replaced by a what?
Finally Kelly says that perhaps the funnel should be transformed to a neural network, like the one inside a brain. I would hate to try to do analytics based on this model. For an explanation she says,
A neural network is a connection of neurons or nerve cells that work together to form the nervous system. Put very simply, neurons are what allow humans to process information, and react to the information through chemical, physical and emotional means. . . . . Each lighted area in a neural network is an opportunity to educate a buyer and each cell body (large areas with multiple threads (axons) branching off) could illustrate where a conversion happens. . . . It could also show the black hole where potential buyers go and never return. Could we then optimize our efforts to put others down that path over less effective paths? Honestly, I don't know. But I will tell you, if I can figure out how to model this with real data in a way that can be analyzed I'll be the first to try. For now, I'll continue to use a model that people recognize understanding the flaws it holds, while I try to build a new model for the future. Until then…
Until then, indeed. What do you think of the sales funnel? Is it dead, broken, flawed but useful? I look forward to hearing what you think of this and would really relish an actual debate.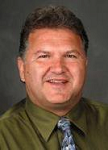 Jaco Grobbelaar is the owner of BroadVision Marketing. BroadVision Marketing works with business owners to put in place inbound and outbound marketing strategies that consistently secure new clients. The BroadVision Marketing Training Center is located in Petaluma, CA and primarily serves companies in the San Francisco Bay area.
Jaco can be reached at jaco@broadvisionmarketing.com or 707.766.9778 or connect with Jaco on Facebook - www.facebook.com/broadvisionmarketing - and LinkedIn - www.linkedin.com/in/JacoGrobbelaar.