We started the topic of inbound marketing Facebook Fan Page strategies on Monday, April 15, 2013. If this is the first of the two articles you find, it might be a good idea to read that one first. We have been looking at information on Facebook Fan Page engagement and what is going on with it or not going on, I should say. Many people started out using Facebook Fan Pages expecting vast numbers of fans and much engagement. That didn't happened for them and it doesn't usually happen unless you create a fan page with cute animals on it. I read three blogs from Cyber PR written by Jon Ostrow and Ariel Hyatt with enough statistics to you createa realistic way to look at your fan pages. One important statistic from the previous post is:
There have been several recent studies done on the actual average engagement rate of a page (the 'People Talking About This Page' number) and it is shown that the average engagement rate of a fan page is only .96% (yes, that's less than 1%).
THIS MEANS: Anything above a 1% engagement is considered strong, results-wise.
How often to post on your website
In 6 Shocking Reasons Your Facebook Fans Aren't Engaged [Part 2 of 2] Ostrow and Hyatt have some surprising answers to how often to post. Do you know how often? Here's what the two writers say:
After seeing these stats, the natural reaction is to want to publish content even MORE often to do everything you can to build this number higher than a measly 1%, right?
Well… sorry, but that won't work either.
Further studies from several sources have shown that the sweet-spot of 1 -2 posts per day on Facebook fan page will garner the strongest results. Anything more than that and you will actually start to see increasingly diminishing results.
This graph below from Jeff Bullas shows how meaningful the difference between 1-2 vs. 3+ posts can actually be. His research shows that by posting only 1 to 2 times per day, your page is likely to receive 32% more likes AND 73% more comments when compared to the engagement you're likely to receive from posting 3+ times per day.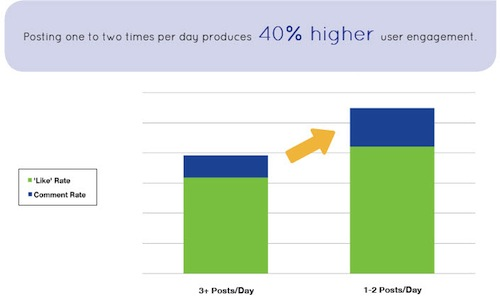 Image Source: Jeff Bullas
You will have 40% higher user engagement if you only post twice a day. It's good to know scientifically the correct number.
Our dynamic duo suggest posting every day, every single day, but that using a third party app like Hootsuite can actually lower the engagement you receive. How do they know that? Here's how:
A study by Hubspot has shown that publishing content from any 3rd party (yes, including Hootsuite) will average a whopping 67% lower engagement rate than content published directly to Facebook.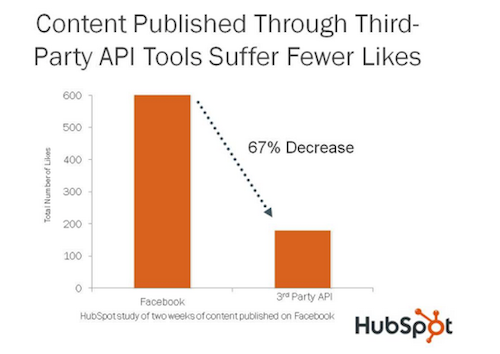 I have found a way around this, thanks to Facebook. You can now schedule some of what you want to share using the Status Update Box. The problem with this is that if you want to share from an article you found elsewhere to your page, there is no Status Update Box. It goes right then. I solved this and probably created some angry friends by putting things on my own page for moving later.
Going Viral
You have a greater chance of catching a cold by going shopping than you have of something of yours on Facebook going viral, according to Ostrow and Hyatt:
Edge Rank algorithm is a system that ranks and displays only the most 'relevant' and 'important' content on your news feed from your friends and pages you have liked…

Not that it has EVER been easy to 'go viral' online, and the fact remains that most viral videos, photos and memes do so because of chance.

There IS NO science behind viral content.

But with that said, Facebook doesn't make it easy for this type of viral reaction to ever happen to content published from a Fan page.

In the suite of Facebook Insights data (Facebook's native analytics tools given to all Facebook fan page admins) there is a stat called 'virality' which is the percentage of fans who have shared your content on their own timelines for their own friends, family and fans to see.

A recent study from Edge Rank Checker shows that as of March 4th, 2013, the average 'virality' rate of a post on Facebook fan page only 1.5%. This means that of your 100 fans, only 1.5 of them (on average) will share the content with their communities.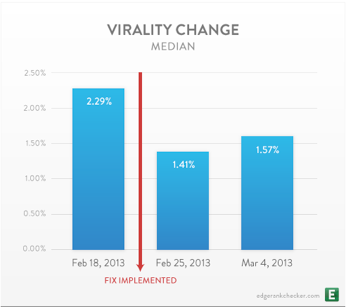 Image Source: Edgerankchecker.com
Take-aways
Now that you know the truth you can create realistic strategies for your Facebook Fan Page.
You should not look for massive amounts of fans to "like" your page (unless you do one about cute animals).
You might think about buying a few promoted posts.
You know it is not realistic to expect your postings to go viral because you are aware that out of every 100 fans you have only one and a half are even going to share.
You need to set a goal to post twice a day every day of the week (yes, that means weekends, too).
Did you find that knowing this information has changed your strategies for your Facebook Fan Page? What are you going to change? What are you going to keep doing? Please share in the comment box below.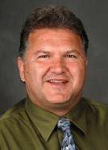 Jaco Grobbelaar is the owner of BroadVision Marketing. BroadVision Marketing works with business owners to put in place inbound and outbound marketing strategies that consistently secure new clients. The BroadVision Marketing Training Center is located in Petaluma, CA and primarily serves companies in the San Francisco Bay area.
Jaco can be reached at jaco@broadvisionmarketing.com or 707.766.9778 or connect with Jaco on Facebook - www.facebook.com/broadvisionmarketing - and LinkedIn - www.linkedin.com/in/JacoGrobbelaar.