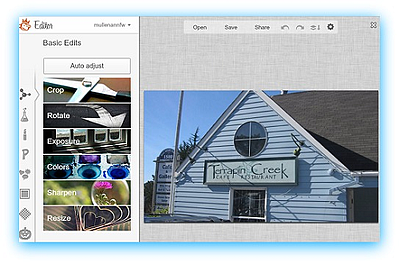 Let's face it the world is getting more and more visual. Art, photographs, movies, television, blogs, blogs with pictures, blogs that are nothing but pictures, video, Facebook enlarging its pictures, even Twitter adding pictures, smart phones that can take pictures so a person doesn't need an actual camera, Pinterest, and we must not forget our eyes seeing all that is around us. In fact, 90% of information transmitted to the brain is visual, and visuals are processed 60,000X faster in the brain than text. (Sources: 3M Corporation and Zabisco).
Images surround us. They inspire us. They can make a concept clear or a product appealing. They attract the eye, giving it rest from the intense focus of the words. In social media platforms, most notably Pinterest, they lead to sales.
What sort of blog post ideas have you seen lately? Photos, infographics, Pinterest, videos, all kinds of art?
These days your everyday photo is competing with professionals, imaginative youngsters and advertising agencies charging big bucks. So what if I told you I knew a secret that's free and very powerful to create masterpieces out of your everyday photos? I see that you are listening or reading carefully, which ever kind of sense is your most dominant. The answer is PicMonkey.
You do not even need to have an account to use the free version of PicMonkey. It's very intuitive to begin with. You upload your picture and will see a sidebar on the left with a set of basic editing tools—color adjustment, resizing and cropping. If you don't like what you have done, you can cancel. The screen will take you back to the tools.
When you have finished with the basics, there are other tools with little icons that include one that looks like a lipstick that includes the "Touch Up" tools for use with face shots. The ones you can use in the free version are the ones without the little crown. Some of the features in the free version are a Blemish Fix to remove things on your picture you don't want and teeth Whitening, which will give you a bright smile. Then there is the red eye remover if you got caught in the flash. We now have the Royale version, which is less expensive if you buy it for a year rather than by the month, we used the Eye Brightener on this picture of me. We did a few other things if you feel like playing the "what are the differences" game.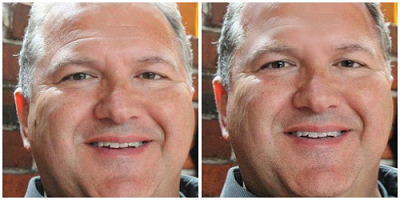 Other icons have Effects and Textures that allow you to make an image black and white; sepia toned, add backgrounds like the one in our first image; or even make your picture look like it is a museum matte style picture. The Text Tool which is a P is a fascinating one allowing the user to have a say. Other cool tools are the Overlays, and Themes.
But that is not all. As you see in my picture there are two images side by side. This collage affect is found on the main page where it says Create a Collage. Pick out the pictures you want to use, decide on the design and play with how you might want your collage to look. I did this one in just a few minutes. If you want you can add words, frames and even textures.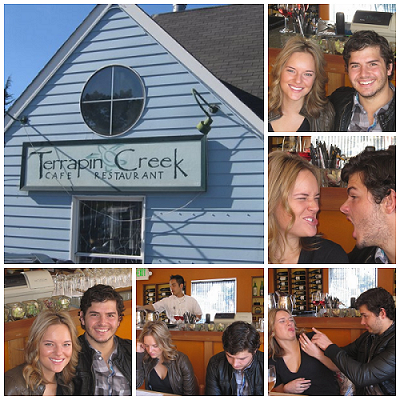 Another nice thing about making collages is that you can change everything if you want to. You might want to consider creating a long Pinterest collage since those are the ones that are proven to be the better way to set up a pin. You will have to upgrade to do this, but if you use Pinterest for business, it's worth the price.
PicMonkey is great for creating Headers and other kinds of Graphics. Some people who have used both PicMonkey and Photoshop consider PicMonkey easier to use and, of course, it's free. If you aren't using it yet, give it a try and have fun. Plus, you will quickly find that you can make photos that pop off your blog as good as the best of them.
What kinds of blog post ideas has this article given you? We'd love to see some of your work.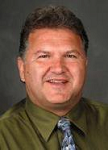 Jaco Grobbelaar is the owner of BroadVision Marketing. BroadVision Marketing works with business owners to put in place inbound and outbound marketing strategies that consistently secure new clients. The BroadVision Marketing Training Center is located in Petaluma, CA and primarily serves companies in the San Francisco Bay area.
Jaco can be reached at jaco@broadvisionmarketing.com or 707.766.9778 or connect with Jaco on Facebook - www.facebook.com/broadvisionmarketing - and LinkedIn - www.linkedin.com/in/JacoGrobbelaar.