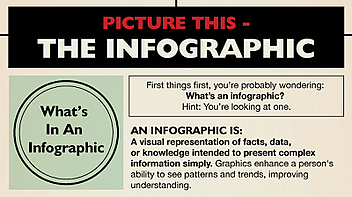 Infographics offer an opportunity to present complex information in a visual format that's fun and easy to understand. Because nearly any content can be made into an engaging inbound marketing infographic, they are becoming increasingly popular in online marketing. Brett Kaepernick says in an article written March 2013 "4 Effective Ways to Use Infographics as Inbound Marketing Content" that "Infographics are one of the most popular ways to engage prospects, primarily because they make information simple to understand and, at the same time, provide added dimension. Infographics use copy and visuals – typically icons – to tell a complex story."
It's easy to make your own infographic and once you learn how to do it, you can whip up excellent visual content quickly. There are free online tools that allow you to make infographics easily. They give you the backgrounds, templates and design features you need, and you simply plug in your content.
But before you get started, take some time to plan how to best present your content. Remember that the key to a good infographic is that it takes something complex and makes it easy to understand. Look at other infographics to get ideas.
The 9 tools you will want to start with:
Visual.ly
Visual.ly is one of the most popular tool for making infographics. It's designed for sharing infographics, but you can also use it to create your own in just minutes. There are tools that are much more advanced, but Visual.ly is a great tool for you to utilize when you want to make infographics that are robust and detailed.
Many Eyes and Google Public Data Explorer
Many Eyes and Google Public Data Explorer are tools designed for sharing statistical data. Through each program, you can access census figures, internet browsing data, and other important statistics. Many Eyes uses IBM's database, and Public Data Explorer uses Google's. With Google Public Data Explorer you can also input your own data.
Infogr.am
Infogr.am is a simpler tool for showing statistical data. It doesn't give you access to the vast storehouses of knowledge that the above tools do, but it offers an extremely simple way to make an infographic with data of your own. It can be used to create statistic-based infographics in just minutes.
Piktochart
Piktochart has a wide variety of design features and can be used to make various kinds of infographics. What's nice about Piktochart is its ease of use. To make an infographic, all you need to do is drag and drop design features over a template background. This means everything on Piktochart is fully customizable. There's a free version with just a few templates, but the paid version has a huge variety of templates to choose from.
Dipity
Dipity is a tool that makes timelines using a mix of different visual design features such as photographs, charts, maps, and more. To use it, you choose a template design and upload custom images to make your timeline. Dipity is a great tool for telling stories such as a company or product histories.
Venngage and Hohli
Venngage and Hohli are tools that create Venn Diagrams and other similar data charts. These charts offer simple means to present statistical data in a way that's easy to understand. Venngage has the added advantage of also tracking viewer analytics and providing you with data on user engagement.
Wordle
Wordle is a word visualization tool that creates word clouds. All you need to do is type in the words you'd like to appear in your cloud and Wordle does the rest. You can choose fonts, colors, and layouts, and your word clouds can be printed, saved, or embedded.
All of the above tools are free, easy to use, and quick. Try out several and see which gives you the best results. Tools such as these require some tinkering at first, so set aside some time to learn how to use them.
Like Brett says, "Just about anything that can be communicated in copy can be more powerfully communicated visually in an infographic. These "at-a-glance" content pieces will demonstrate your expertise and put you top-of-mind when prospects are ready to buy."
Are you using infographics in your blogs for variety and to hold reader's interest? What tools do you use to create them?
Infographic: http://dashburst.com/infographic/why-infographics-make-great-marketing-tools/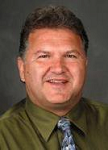 Jaco Grobbelaar is the owner of BroadVision Marketing. BroadVision Marketing works with business owners to put in place inbound and outbound marketing strategies that consistently secure new clients. The BroadVision Marketing Training Center is located in Petaluma, CA and primarily serves companies in the San Francisco Bay area.
Jaco can be reached at jaco@broadvisionmarketing.com or 707.766.9778 or connect with Jaco on Facebook - www.facebook.com/broadvisionmarketing - and LinkedIn - www.linkedin.com/in/JacoGrobbelaar.