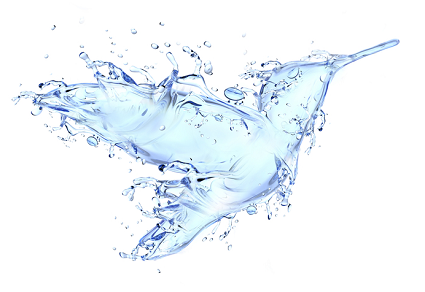 It is estimated that Google Hummingbird "has impacted" 90 % of searches, according to Kapil Jekishan from Webquacker. I couldn't find out where he got that titillating statistic although I tried to find it on Google. I started with his entire sentence, but I didn't get there. So I went to "Hummingbird 90% searches" which is the old way of finding things. In doing that I found more variations of the same quote. One came from last October 2013 when Kendall Finn predicted that it "will affect" 90% of searches worldwide (Hummingbird: Google Answers Your Questions, Anticipates What You Want to Know). Another similar quote from the end of September came from Jim Edwards who wrote in his first paragraph that "it affects 90% of search results." (Google Changed Its Core Algorithm, Affecting 90% Of Search Results — And No One Noticed).
I hate it when fact-checking yields no actual source to a statistic. But we will just have to move on. Whether or not Hummingbird has, will or is affecting 90% of search results, there is no question that something immense is going on. Kapil calls it "semantic searches". I have seen this expression in other places, too. It means that Google's Hummingbird searches are not only looking for keywords, but also looking for content that is well-written, with good sentence structure and no grammatical or spelling errors. Heaven help us because spell check does not.
Semantic searches go beyond the search engine's previous ability to 'see keyword—find keyword'. We might have written out a sentence or a question, but the search engine just looked for certain words in the phrase and then pulled up articles that matched the certain words. This would have been a good practice if people hadn't immediately began seeing and selling ways to hack it. In years past, I was one of the people who offered suggestions that are now not only bad form, but also considered black hat. I am not going to apologize because I have always tried to give you accurate information in an entertaining fashion. Due to unscrupulous hackers the information went south and keyword stuffing became unpalatable.
Encouraging Keywords (not discouraging words)
Let's look at what we have as methods to encourage Hummingbird searches until someone else makes these into unacceptable practices. Expect it. We will then move on.
The reason Google moved into semantic keyword phrase searches has to do with the iPhone and Siri. What started out as a parlor trick has become the next big thing. You don't have to type any more if you don't want to. You can ask your computer to do things, find things or places, get you all sorts of information or songs, even read your email to you. After all, texting while driving has been found to be a poor practice.
Google caught the vision last year although Siri had been on iPhones officially since Siri's birthday on October 4, 2011. Signs of Siri-type devices showed up in ads for luxury cars and as a poser App in Androids. With that a star or perhaps a Hummingbird was being hatched.
In our last article we looked at some ways keywords can still be constructed to be compatible with the newest Google creature based on an article by Stoney deGeyter, Keyword Research After The Keyword Tool, (Not Provided) & Hummingbird Apocalypse, posted the end of January, 2014, in Search Engine Land. Now that we have developed a set of keyword phrases around one concept, let's see how we can use it. This time we will turn to Kapil Jekishan's January 29, 2014 article How to keep your SEO alive in the post-Hummingbird era for what he suggests we do. Kapil, by the way, is the one who suggested that content be "well-structured, concise and well-written with no grammatical errors or spelling errors."
Along those same lines come the good advice from all around that articles be well-crafted, original and using long-tail keywords. We have already discovered the core terms and looked at such devices as synonyms and non-keyword keywords, but let's look at the reason to target long-tail keywords.
Given that people are searching for ideas in every day speech patterns, the semantic search, they are more likely to use long-tailed kinds of keywords. Think about answering those old newspaper 5Ws and an H—Who, What, When, Where, Why and How. If a person wants to know about Google Hummingbird and keywords, he might ask Google, "What is up these days with Google Hummingbird and SEO?" I actually started the previous article with something like that. Hopefully my article will show up if you ask that. By the way, it did for me, but that's because of Google's intuitive nature.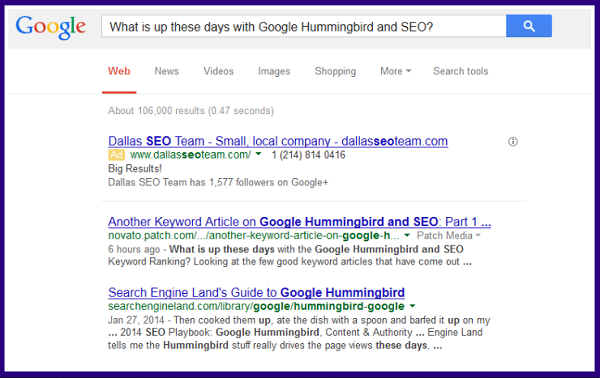 I have to say that I disagree with Kapil when he says, "Since Google isn't putting as much emphasis on keywords, it's obvious that you shouldn't either." But his other advice is very sound. Here are a few of his suggestions that I have read from SEO experts as well.
Create useful content for readers that include images, videos, audio files and other sources of media.
Create content that is distributed and shared on social media.
Create content that is for the user and not for the search engines.
Create actionable content, i.e. helpful and interesting content that readers will want to bookmark and share.
Answer user questions with real, valuable solutions.
So is the Google Hummingbird going to put the use of judiciously applied SEO out to pasture? From where I look, the answer is that it isn't, not by a long shot. Do you need to know more about business blogging and keywords? Check out our new free guide: Introduction to Business Blogging.
sellingpix/Shutterstock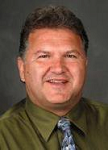 Jaco Grobbelaar is the owner of BroadVision Marketing. BroadVision Marketing works with business owners to put in place inbound and outbound marketing strategies that consistently secure new clients. The BroadVision Marketing Training Center is located in Petaluma, CA and primarily serves companies in the San Francisco Bay area.
Jaco can be reached at jaco@broadvisionmarketing.com or 707.766.9778 or connect with Jaco on Facebook - www.facebook.com/broadvisionmarketing - and LinkedIn - www.linkedin.com/in/JacoGrobbelaar. He can also be found at Jaco+.