Can you define inbound marketing in 140 characters? Hubspot's Corey Eridon asked for such definitions on Twitter in her article Inbound Marketing Defined in 140 Characters. My favorites were from Sam Mallikarjunan, Oliver Fedtke and The BostonChow. This article is going to look at local inbound marketing, local outbound marketing and how to convert your local outbound materials into inbound marketing campaigns.
Ready for the 140 character definitions?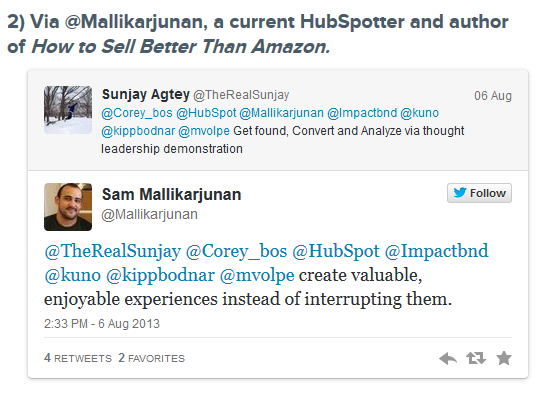 In order to fully understand this first tweet you have to know that outbound marketing is about interrupting clients (think loud ads between segments of the show you are watching. Where's that remote?). You also want to note the idea of creating an enjoyable as well as valuable experience here. Why read something that's not a good read?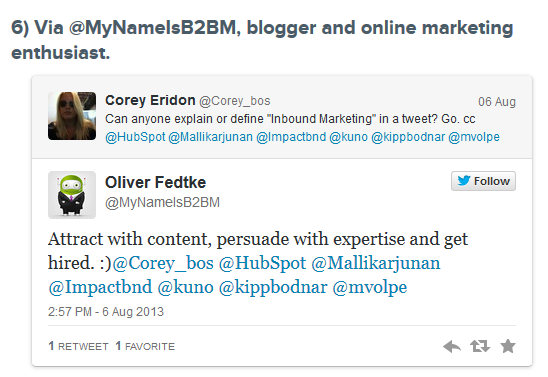 Good things seem to come in threes for Oliver and TheBostonChow. Oliver is more about salesmanship and TheBostonChow is more personal.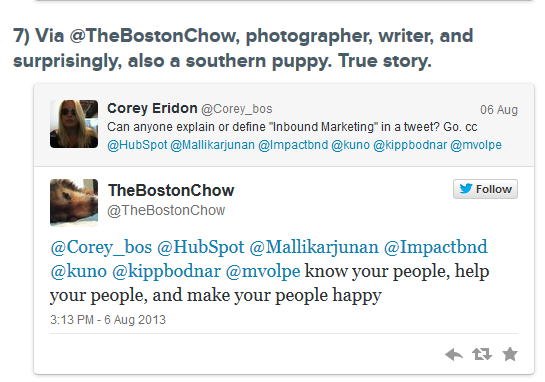 The best place to know your people, help your people and make them happy occurs in local inbound marketing. I think these people did a good job of saying a lot in a few words. What do you think?

Some other voices heard from:
Stephanie Dole in her article The Key Differences between Traditional and Inbound Marketing adds her take on outbound and inbound including quotes from Mashable and Hubspot:
The rise of the Internet has led to a huge shift in the marketing landscape over the last decade. Traditional, or outbound, marketing which consists of channels such as print, TV, radio, and telemarketing, has become largely ineffective. Now more than ever, consumers are spending significantly more time on the Internet and have become less tolerant of irrelevant or interruptive traditional advertising methods. Need proof? Take a look at these stats from Mashable:
86% of people skip television ads
44% of direct mail is never opened
200 million Americans have registered for the "Do Not Call" list
Enter inbound marketing, defined by HubSpot in its 2013 State of Inbound Marketing Report as a strategy that "helps brands attract, convert, close and delight visitors, leads and customers through a variety of channels, including social media, blogging, SEO, and email." Inbound marketing is different from traditional marketing in several key ways, including level of engagement, reach, and cost efficiency.
I think it is very obvious that outbound marketing while still very much around isn't as user-friendly as inbound marketing and certainly not as close-up friendly as local inbound marketing.
Reusing those outbound materials
So what are you going to do with all that old marketing material you have on hand? Ginny Soskey of Hubspot wrote an article 8 Ways You Can Turn Old-School Marketing Into Inbound Marketing that gives some good advice on how to create local inbound marketing out of outbound materials.
Brochures become webpages.
Ginny put this item as number 6, but I see it as a great number one for businesses just getting started making the move from outbound to local inbound marketing. You have all the information right there on that brocure to form the first few pages of your website. You don't need to create the content out of thin air.
Of course, you now can always change things on your website which you couldn't do with a printing. (Yes, I know that every time you look at the brochure you see that glaring error that is probably only glaring at you.) With a website you can always change things up.
In fact, you are encouraged to add things and change things until you get these pages how you want; but at least you already have something to start with. These aren't necessarily lead generating pages, but they give you a solid core, complete with the pictures from the brochure if you choose to keep them.
Email takes over your mailings. (Look at your own habits here.)
Print newsletters become local inbound marketing email newsletters and direct mail becomes inbound email marketing campaigns. You were going to mail these things out anyway, but this is a better way. Your work won't get ripped up and tossed without being opened. Plus, you already have the copy although again you are going to need to tweak it until it follows a few different rules. For one thing, you are going to direct your readers to the entire article or marketing site with URL links in sets of threes instead of trying to put the whole thing in the email.This is the friendly local inbound marketing way.
Make sure that you have a catchy subject line. If you can get them to open the email, you are on your way.
You will need to develop your own email list for your local inbound marketing to be successful. You can use the email addresses of people who have signed up for your print newsletter. You can develop more interested people using discounts, free guides and other calls-to-action on your website. Just don't buy an email list.
Ginny says, "we'd recommend giving them (the ones receiving the email) overt

opt-out

signs on the first few emails so that uninterested folks can remove themselves from your list." You might think this is counterproductive, but don't you ask to be taking off lists if you are not interested.
Banner Ads and Trade-Show Banners convert to inbound marketing.
Banner ads are really calls-to-action (CTA), so you need to have a blog landing page ready for those who click. Resize that banner ad, tweak the copy to make it enticing and don't have CTAs pop up and take over the screen. I have seen a lot of these lately and they are very annoying. The idea behind inbound marketing is not to be annoying.
Trade-Show Banners convert to social media images. That trade-show banner was useful for the life of the trade show. Even if you use it another time or many other times, it has very limited usefulness. Ginny says, "Chances are the banner will get rolled up in the back of that random closet in your office." I see you smiling sheepishly.
Have you thought about taking some pictures with the banner and using it for your social media profile picture, a header or background? Using a social media image template of whatever is currently the norm, you can reformat that banner into an object that will outlast that banner in your closet. For right now check out All Facebook Image Dimensions: Timeline, Posts, Ads [Infographic]. This is a major part of your local inbound marketing strategy for social media.
Research Reports become infographics, like the one below.
How many people are going to read that research report you slaved over? You have great stats in charts and graphs, but a research report is not the best way to display this in a fashion that people will be willing to digest. On the other hand, using a local inbound marketing visual like an infographic will get the person engaged, willing to read from top to bottom and hopefully willing to share (like I am doing below). If someone really wants to know more, be sure and tell them where you got the information so they can look at that research report you slaved over if they want.
Take Aways:
Inbound marketing is friendly and not distruptive unlike outbound marketing techniques.
Local inbound marketing brings the customer in while within the computer to join an educational, entertaining discussion of things the customer wants to know.
Outbound marketing materials can be recycled into local inbound marketing strategies and campaigns. Brochures, banners, and mailings can all be recycled into websites, social media and email.
Now that you have spent some time thinking about what local inbound marketing is and ways to repurpose your outbound marketing into inbound marketing campaigns, what do you intend to do with this information?
We offer some advice that might help you know what to do next. CLICK HERE to register for our Complimentary Marketing Strategy Session.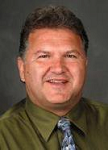 Jaco Grobbelaar is the owner of BroadVision Marketing. BroadVision Marketing works with business owners to put in place inbound and outbound marketing strategies that consistently secure new clients. The BroadVision Marketing Training Center is located in Petaluma, CA and primarily serves companies in the San Francisco Bay area.
Jaco can be reached at jaco@broadvisionmarketing.com or 707.766.9778 or connect with Jaco on Facebook - www.facebook.com/broadvisionmarketing - and LinkedIn - www.linkedin.com/in/JacoGrobbelaar. He can also be found at Jaco+.