What imaginary person can lead a real person to buy your product or use your service? What can help you make different business blogs for different people?
The obvious answers are that real people read your blog posts and they purchase from or use a service from your business as a result. So what do imaginary people have to do that?
Many different people come to your organization or business at different stages of the buying cycle; some just come to look, others come to get information from the best business blogs they can find, while others are ready to do business. You could do research on each and every one of the people who visit your site, but in the end you will wind up confused, drowning in a sea of superfluous information.
An audience of one
Do you remember as a child being afraid to speak in public? I'm sure you are told to think of one person in the audience you knew who would support you and to give your talk to that one person. When it comes to marketing, this same idea holds true.
There is a simple way to get to know your potential clients, what their goals are, what are challenges are, and what your business can do for them; in short how to create the best business blogs for different clients. One of the most successful ways of formulating this information is to describe different buyer personas based on buyer roles and the pain points you know your product can alleviate.
Why would you want to develop these personas? Instead of sending out the same email to everyone, you can segment the emails by buyer persona and tailor your messages according to what you know about these personas. Instead of creating business blogs that are aimed at everyone and target no one, you can market the best business blogs to individuals in different stages of the buying process.

A successful persona is not necessarily-
Before I explain to you how to create a successful persona I believe it is important for you to understand what a successful persona is not. Buyer personas are not simply demographic profiles. You do not necessarily need to know how many children a persona has unless you're in the clothing business or toy business. That is, unless you want to.
Buyer personas are not guesses or assumptions about your target market. Be prepared to do some research on actual buyers, so you do not base your personas on how you think actual buyers are. The only way that you'll be able to learn about actual buyers is to interview some of them one-to-one.
Buyer personas are fictional, generalized representations of your ideal customers. After your interviews, you will know your customers' specific needs, behaviors, and concerns. And you'll have discovered that for any one of your products, you will have buyers in different stages of the buying cycle. Eventually, you will want to create as many buyer personas as you need.
For now, let's just start with one. You can always develop more later.
There are four questions about your persona that you'll need to answer – Who? What? Why? How? Let's look at these questions one at a time.
Who?
Who is this person? What do you know about their background, demographics, and identifiers? When it comes to this information you do not need to give any more information than necessary if you don't want to. Some marketing agencies suggest describing more background to help you make this imaginary person real. If it helps you see this persona as real, you can consider marital status, children, vehicles or income. You can give this person a name and a picture to help you remember. There are no hard and fast rules here.
What?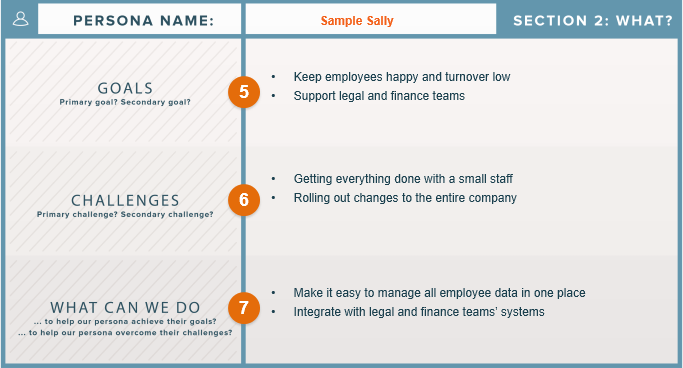 What are this persona's goals, challenges, and what can your business do to help them? You might want to identify primary and secondary goals. Can you identify at least two challenges? Finally, what can your business do to help the persona achieve their goals or overcome their challenges?
Why?
Have you identified some actual quotes about goals and challenges from your interviews? What are some of the objections people have given you for why they do not think your product or service will work? You probably heard statements that started with, "Yes, but…" These are some common objections identifying why they don't have faith in your product.
How?
How should you describe your business solution to this doubting persona? Do you have an Elevator Pitch prepared in case you have 30 seconds or less to describe your solution? The Elevator Pitch is one that should take you longer to develop than even your best business blog article. Use action words creatively to get and keep your persona's attention quickly.
Takeaways:
A persona is a fictionalization of a real potential client.
Creating personas will help you with all forms of marketing, including creating the best business blogs for people in different stages of the buyer cycle.
The four questions that you want about this persona are who, what, why, and how. Exactly how you go about this is up to you.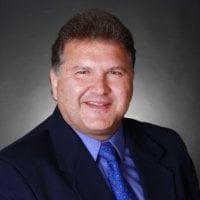 Jaco Grobbelaar is the owner of BroadVision Marketing. BroadVision Marketing works with business owners to put in place inbound and outbound marketing strategies that consistently secure new clients. The BroadVision Marketing Training Center is located in Petaluma, CA and primarily serves companies in the San Francisco Bay area.
Jaco can be reached at jaco@broadvisionmarketing.com or 707.766.9778 or connect with Jaco on Facebook - www.facebook.com/broadvisionmarketing - and LinkedIn - www.linkedin.com/in/JacoGrobbelaar.He can also be found at Jaco+.