A business blog might seem to be a no-brainer for most marketers and business owners. But beyond the fact that every company seems to have one, is there any real value in going to the time and expense of maintaining a blog? Are there any benefits that can translate into profitability on the marketing dollars spent for a blog?
Why you should consider a business blog
Here are the three top reasons your company should have (or keep!) your own business blog despite any misgivings you may have.
1. A blog drives traffic to your company website
There are essentially three ways visitors come to your website.
They respond to a paid ad (e.g. Google AdWords) either on the Internet or some other channel.

Visitors might enter your URL which they either already have or have been given from another source such as an email from you.

Or they find you through what is known as an "organic search" by typing in key words and phrases into a search engine.
It is the organic search that makes up the bulk of visitors to most business websites and that is where blogging comes in. Organic search traffic is generated from blogging, social media and search engines (think Google!)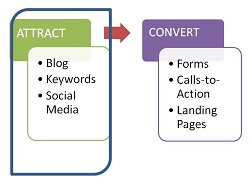 While your company's website might have anywhere from four to ten pages, but every blog post becomes one more indexed page on your website for the search engines. Another critical element in these blog posts are strategic key words.This is what search engines respond to and the more frequently and consistently a blog publishes posts, the higher that site begins to rank.
Social media comes in when people begin to share your content on networks such as Twitter, LinkedIn, Facebook, Google+, and others. This not only adds to the search engine "juice", but it exposes your content to new audiences.
2. The right kind of blog posts help convert traffic into marketable leads
Creating and publishing on a consistent basis is vital. Incorporating search engine optimization (SEO) into your posts, title, images, etc, is crucial. But having quality content that your visitors - your prospects - can and will want to actually read is just as important.
In addition to having great content that serves a need, answers a question, or solves a problem that your audience has, you must also include a Call-to-Action, or CTA.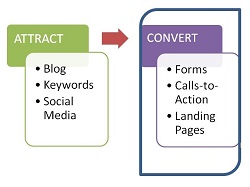 The CTA can be as simple as offering a free webinar, eBook, industry tip sheet, or whitepaper. The CTA can be written out as part of the closing copy of your blog post, or simply an easy to see call-to-action button just what you see at the end of this article.
In order to convert a visitor into a lead you must have a way for the visitor to exchange their email address for your free offer. Once they click on your CTA button they go to a landing page where they enter the requested information (name, email address, etc.). And once you have that information you can begin your marketing process with that individual.
Remember: blog posts don't sell (not usually!), but they can provide great leads for your products or service.
3. Blog posts generate long-term results
A third reason for committing to a business blog is the benefit of "Internet permanence." This is the reality that once something is posted or published on the Internet it never goes away. And, while this can bad news for some items, the fact is that your blog posts - with their critical key words - are always out there being found by organic searches.
For example, Hubspot notes that about 70% of their traffic each month comes from visits to posts that were published months before. Many businesses with thriving blogs have certain posts that continue to generate the bulk of their web traffic. The point is that what you invest in this week on your blog can pay out in website traffic dividends for months and even years to come.
Along with the ever growing amount of content and indexed pages your blog provides, there is also the long-term benefit of "establishing authority". The more valuable and helpful content you consistently provide for your audience, the more of an authority you become in your industry, in your niche.
And the material you produce in the course of publishing a business blog can be used by your marketing team, your sales staff, and your customer service reps.
A business blog is a high return investment if done right
A great business blog by itself can and will produce results, but for optimum impact a blog needs to be a key component in a fully comprehensive inbound marketing strategy. And while this is certainly something many businesses can develop and implement themselves, it is also an approach that is often better outsourced.
So, how is your business blog looking these days?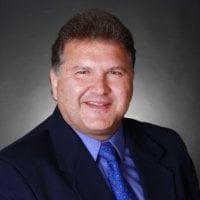 Jaco Grobbelaar is the owner and CMO of BroadVision Marketing. BroadVision Marketing works with business owners to put in place inbound and outbound marketing strategies that consistently secure new clients. The BroadVision Marketing Training Center is located in Petaluma, CA and primarily serves companies in the San Francisco Bay area.
Jaco can be reached at jaco@broadvisionmarketing.com or 707.766.9778 or connect with Jaco on Facebook -www.facebook.com/broadvisionmarketing - and LinkedIn -www.linkedin.com/in/JacoGrobbelaar.