Universal Analytics Overview
Google Analytics is a free service provided by Google that helps you understand how your website is being used. It gives you information about the number of visitors, where they came from, and what they did while on your site. It also gives you information about mobile devices and browser types.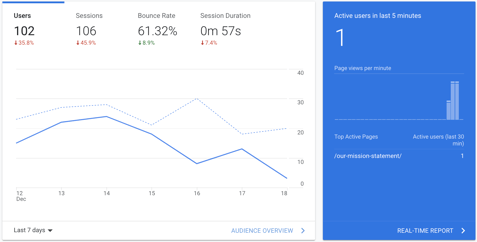 Universal Analytics includes features in the form of Custom Variables and Content Grouping to help marketers better understand visitor behavior at different stages of the conversion funnel. It also provides more intuitive insights through new methods of data visualization, so marketers can analyze the data with ease.
This platform has been fixed, tweaked, and updated over the past years to help give better analytics and also abide by laws and changes in the use of data throughout the world varying by country. Even though people have loved this platform and don't like to change, Google has updated this platform to a more modern and updated area. This update is called Google analytics 4.
Google Analytics 4 Overview
Google Analytics is a website analytics service offered by Google. This analytics service allows business owners to measure the performance of their site and provide insights on a variety of areas such as the performance of your apps, YouTube channel, and even cross-platform data such as LinkedIn or Facebook. It provides statistics on page views and clicks, but also segmented data such as demographics, location, traffic sources, and more!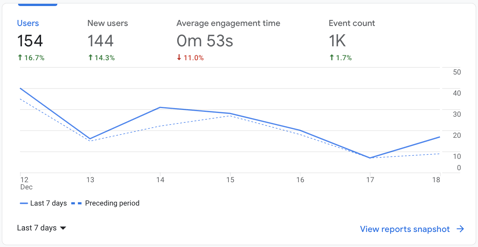 Recently, Google announced that it's sunsetting Google Universal Analytics and has released a new analytics service named "Google Analytics 4" which has a lot of new changes. The new interface is easier to use, faster, more modern looking, and powerful in many ways while retaining all of the features that made it so powerful in the first place.
According to Google, there are three primary goals with the new design: "making it easier for customers to find what they're looking for", "simplifying how customers can manage their account settings" and "giving advertisers more control over their campaigns."
Much like the last Google Analytics update in 2015, this new service focuses on giving businesses and marketing professionals more granular insights about how people interact with their site or app in order to make changes that will improve conversions and increase revenue.
Setup Google Analytics 4 As Soon As Possible
We went over both of those to show why Google Analytics is important for your website, apps, and digital presence, and how it can be used to increase the traffic of your site. Google Analytics 4 will be the next version of Google Analytics. It replaces Universal analytics and it will be fully functional for use on all devices.
Universal analytics will be sunset in the summer of 2023, according to the announcements posted by Google about the upcoming sunsetting of Universal Analytics and the impending changes for all properties on Google Search Console in 2022. With this sunsetting, many people are still running Universal Analytics, which is soon going to become not supported by google anymore and stop working altogether. This means that if you have an older website integration or are using a website builder of some sort, then you need to make sure that it is compatible with GA4 and its tracking methods and integrations now before 2023 comes around, or else your possibly going to be missing out on lots of data coming in.
The point of setting the GA4 up now to run simultaneously with Universal Analytics is to make sure your data is coming in properly by matching results between the two platforms. You want to make sure your users, demographics, mediums/sources, and more are all accounted for and tracked properly. You'll also want to take this time to get your goals set up and tracked the same.
Combining Universal Analytics and Google Analytics 4 Data
Google Data Studio is a tool for public data visualization and exploration, building dashboards for data analysis and collaboration.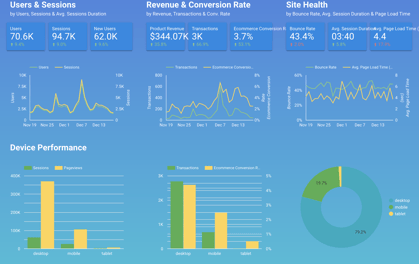 Google Data Studio provides tools for collecting, transforming, and visualizing data from different sources in an easy way. The main idea behind Data Studio is that data should be easy to understand and present to stakeholders who are not experts in the field of analytics. It has a user-friendly GUI that helps analysts with setting up, configuring, and publishing their data insights. It also provides access to large-scale datasets from Google Analytics and Google Sheets.
It can be used to perform basic tasks like exporting data or sharing dashboards with other users by exporting them as PDF or PNG files. It can also be connected to other tools like Salesforce, Mailchimp, BigQuery, etc., through APIs in order to collect custom views of your data.
The reason that we're talking about it now, is because Google Data Studio can be used as the tool that creates a data relationship between Google Analytics 4 and Universal analytics. By using the incorporated analytics platforms and running them together in one dashboard, you'll be able to see everything from past analytics with current data even after Universal Analytics is sunset.
Conclusion
It's a sad goodbye to Universal analytics from Google but it's not like they're evil enough to take one thing from us without giving us something else just as impressive in its place and even platforms to have the two correlate in a seamless way with Google Looker Studio.
Make sure to put in the necessary work to keep your data flowing uninterrupted and let it be tracked the way it should be through GA4 and GTM.
The good news is that you don't have to set up the integration alone. In fact, one of the best investments you can make with your marketing budget and data integrations is to partner with a professional firm like BroadVision marketing.
Click below to learn about our SEO services to help you make an informed decision, or call us at BroadVision Marketing at 707-799-1238.