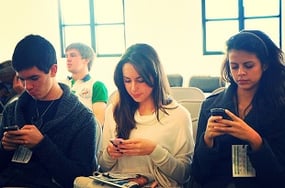 If you owe taxes, April 15 is a dreaded deadline. But many business owners might be unaware that another deadline is looming that can also have a detrimental impact on their bottom line.
According to a recent blog post published by Google, the search giant will be launching a new change in their search algorithm beginning April 21st.
Mobile Search Drives Google Changes
In the update Google states, "Starting April 21, we will be expanding our use of mobile-friendliness as a ranking signal. This change will affect mobile searches in all languages worldwide and will have a significant impact in our search results."
For many website owners, that can be a troubling reality. Google goes on to offer their reason for the change, saying, "Consequently, users will find it easier to get relevant, high quality search results that are optimized for their devices."
What This Means For You
According to recent article in Entrepreneur magazine:
"For now, we don't know much about the update itself, so it's not entirely clear what that impact will be. We do know that it will change the way Google evaluates the mobile-friendliness of websites, but we don't know what new factors will be added or how dramatically these factors will be able to change a website's search visibility. ...it's reasonable to guess that the majority of non-optimized sites on the web could see significant decreases in search visibility."
What is known, however, is that more than 60 percent of all Google searches are now performed on mobile devices. So it stands to reason that Google is moving towards capitalizing this increasing mobile search traffic. And they will do this by altering Google search engine optimization practices, even if it means penalizing websites that do not meet their mobile-friendly criteria.
What You Should Do Before April 21
Even if your site is already mobile-friendly, it is a good idea to review and optimize the responsive design, if needed. If you have yet to implement a mobile design strategy for your website, this is the time to do so.
Jayson Demers, Founder and CEO of AudienceBloom, suggests the following steps:
Make sure the mobile version of your site is active and functional. Responsive designs are the most popular, but you can also have a separate hosted mobile version of your site. Google doesn't have a preference, as long as mobile users' experience isn't interrupted.
Ensure Google's mobile bots can crawl your site. If Google can't see it, it may as well not even be there.
Check each individual page of your site on a mobile device to ensure navigability. Just because your home page is mobile friendly doesn't mean the rest of your site is.
In addition, Google Webmaster Tools contains a handy Mobile Usability Report that can examine your website the way Google sees it. This, too, is a good idea so that if you find any errors or discrepancies, you can get them corrected before the deadline.
Getting Mobile-Friendly
If your online presence is not mobile-friendly, you need not despair. For individuals relying on "DIY" sites using WordPress themes and plugins, it may be a simple matter of swapping out your current theme for one of the many "Responsive" themes available. However, it would still be a good idea to have your site analyzed by a competent web designer.
For most other sites, the help of a trusted marketing firm can be a life saver. A quality marketing agency that specializes in Inbound Marketing, such as BroadVision Marketing, will have the resources and know-how to bring your website up to the standards Google continues to establish.
Sometimes it requires an outside perspective to see what your website homepage really looks like to first-time visitors. Acquiring the insights and assessment of a third-party professional can be an investment that will bring a quantifiable return.
BroadVision Marketing offers all this and more. In addition to bringing your website up to date with mobile-friendly design, we invite you to get a free Complimentary Inbound Marketing Session. Being found through mobile search requires more than a mobile-friendly design. Request a free complimentary session to help you make an informed decision, or call BroadVision Marketing at 707-799-1238.