Local SEO is not a magic wand that will bring droves of customers to your door. But, done right, it will bring people to your website.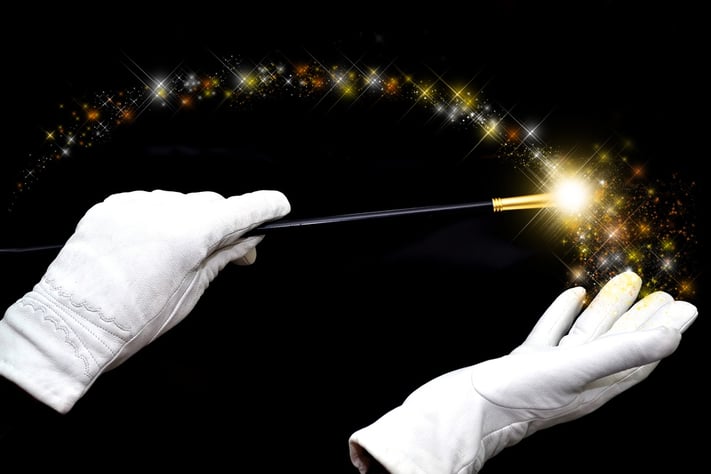 Casey Meraz is the founder of Juris Digital & Ethical SEO Consulting. In a recent post on Moz, he made this statement:
"The bar for local SEO has been raised. It's harder now because so many businesses are now doing the basics to rank. You need to rise above the basics."
The good news is, local SEO is still a realm that every small business owner can excel at. Maintaining consistent NAP, for example: Name, Address, Phone number information. This is critical for search engines such as Google when indexing and recognizing your website, you social media channels and any directory listings.
Getting more and better reviews both on review sites such as Yelp, and on your Google Business Listing. An early benchmark to strive for on Google is at least five reviews.
According to a post on Lockedown Design,
The stars from Google reviews only show on these map results now.

So the goal in local SEO is to get to the top three map results, and also get review stars to show. Customers are more likely to click on a result with rating stars, as opposed to a result without stars. The better your click-through rate, the more confidence Google has in placing your business higher in results.

So, in Google Maps, and in the Local Pack on Page 1, you'll only see rating stars if you have five or more Google reviews.
The bottom line is that getting good reviews is a good thing for good local SEO. And there's more...
What You Should (and Shouldn't) Do For Local SEO
This infographic from seoloution.com provides a succinct list of the top five actions you should be taking when implementing your local SEO efforts. In addition, there are five actions that you should avoid in order to not damage your search rankings.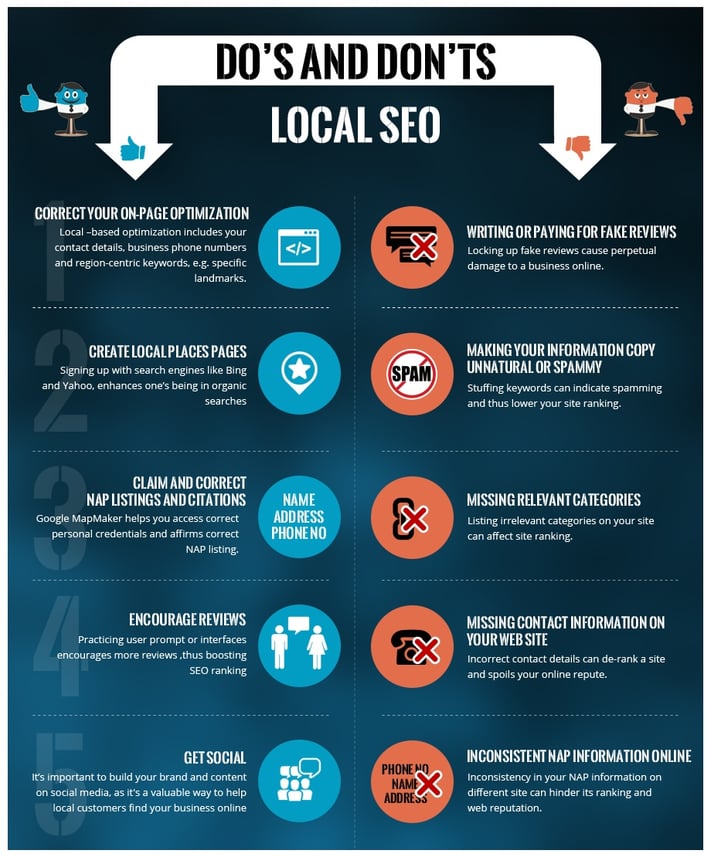 [courtesy of seolutions.com]
Local SEO is the Key to Bringing Local Customers to Your Business
More and more searchers are looking for local businesses, and especially on mobile devices. Local SEO can help your business stand out in the search engine results pages, or SERPs.
If there's one thing that's consistent about Google, it's the fact that it's always changing. Over the years there have been many changes in local search. And today, local SEO is more competitive and more challenging. So where do you start?
Local SEO Does Not Need to be a DIY Project
Fortunately, you don't have to attempt this on your own! Your options for implementing a successful inbound marketing strategy include turning to a professional firm that can work with you to maximize your efforts.
A qualified agency like BroadVision Marketing will develop a road map with an implementation time line, marketing milestones, and key deliverables. Using this road map we will create the framework and structure for us to work with you and help you to achieve your marketing goals.
Get your Free Complimentary Inbound Marketing Session to help you make an informed decision or call BroadVision Marketing at 707-799-1238.