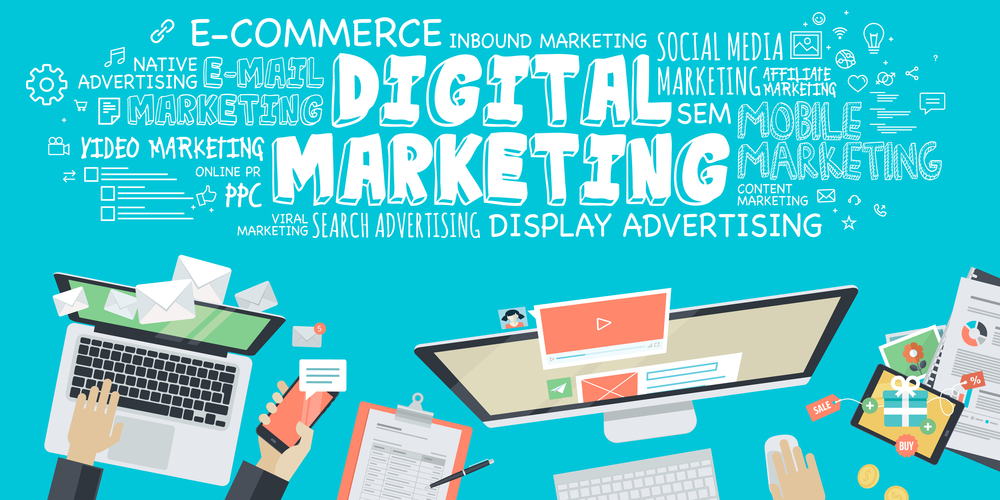 Digital marketing isn't really an option in today's world. If your business can't be found online, your business may as well not exist.
Think that's an exaggeration or a bit of journalistic hype? Think again.
Digital Marketing for Everyone - The New Normal
Consider your own consumer behavior. How do you look for a service or a product? The statistics tell us that you most likely use your mobile phone to search.
When you find a likely prospect, what do you do next? Read reviews? Count how many there are and how well they're rated? Do you take time to check out their competition to see how they compare?
And here's what you most likely don't do:
Look for a business in your local Yellow Pages
Jot down an address or phone number you saw on a billboard
Keep a stack of old business cards from service providers you used before
While some people may still do some of these things, most people in most situations go online. For almost everything. Which means if they can't find your business online easily and quickly, you don't exist as far as they are concerned.
For example, here's a graphic snapshot of the state of online consumer activity from last year.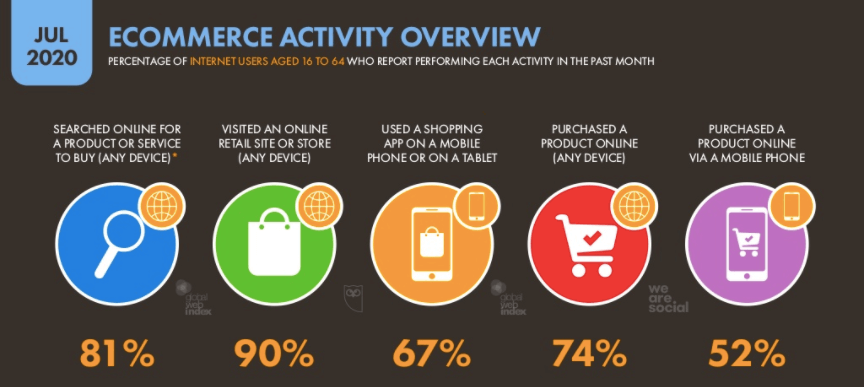 (Courtesy of DATAREPORTAL)
What do we learn from this?
74 percent of consumers have purchased a product online.
52 percent of shoppers bought a product using their mobile phone.
81percent of people search online for a product or service.
If a minority of businesses are successful at being easily found online, and more than 80 percent of the customers out there are searching online for what they want or need, then the vast majority of businesses are losing out on an untold volume of potential customers and clients.
But the good news is that it doesn't have to be complicated nor difficult to implement an effective digital marketing strategy.
Three Fundamentals That Every Business Should Master
We don't mean to imply that there are just three things you need to do to routinely end up on the first page of Google search results. In fact, anyone who promises to make that happen for you is someone you want to avoid handing your marketing dollars to.
But there are three things that any business can put into place and, without them, an effective digital marketing strategy will be difficult if not impossible to implement.
So, without further ado, let's take a look at these three basic elements.
Website
Before you roll your eyes and say something like, "Seriously?" keep in mind that perception is reality in the eyes of the beholder. You don't think so? Consider these recent statistics:
85 percent of adults think that a company's website should be as good or better when viewed on a mobile device than its desktop version.
75 percent of consumers say they make judgements about a company's credibility based on the website design.
57 percent of internet users say they won't recommend a business with a poorly designed mobile website.
38 percent of people will click away from a website if the content or layout are unattractive.
(And 100 percent of Internet users will never find your business if you have no website!)
Here's the thing: it's not enough to simply have a website. That much is essential, of course, but your website must also be exemplary, secure, relatively fast, easy to navigate, and it should make it very clear right at the top what it is you can do for your customers.
Content
For some, the term "content" means words. For others, it doesn't mean much of anything. And that's to be expected since most business owners and managers are not marketers, and content is very much a buzz word among marketers.
However, it is much more than the words on your website.
Content includes everything in your social media posts - assuming you use social media - and in your business emails, newsletters, printed materials, and so on. And that includes images, videos, graphics, and pretty much anything else that is used by your company to communicate with or attract the attention of your customers.
Content is how your customers and prospective customers engage with your brand, your business. It has more than one job to do - it must resonate with your audience. It must inform, educate, or inspire them. And it must engage them.
As one source puts it,
"[T]he content you create is arguably the most important part of your digital marketing efforts. Content not only helps you build trust and connect with your target audience, but also acts as fuel for your other marketing techniques."
SEO
This is a term that can cause business owners and others to cringe. Search Engine Optimization - SEO - can be seen as a murky, impossibly complicated, and inherently shady realm that is best avoided or, at the very least, left to some overpaid computer geek.
Would you be surprised to learn that the vast bulk of what constitutes SEO is actually not complicated at all and is, in fact, needlessly overlooked or poorly executed?
At it's most fundamental, the role of SEO to increase exposure of your company to potential customers on search engines (namely, Google!). Your company's SEO efforts should be regularly analyzed and different tactics can be implemented periodically to help improve how well your company's search results rank for certain topics or search terms.
According to a post at Digital Marketing Institute,
"SEO can help you build better relationships with your audience, improve the customer experience, increase your authority, drive more people to your site, give you an edge over the competition, and increase conversions, which means more sales, more loyal customers, and more growth for your business."
Make Us Your Partners for Inbound

Marketing

When it comes to implementing your inbound marketing strategy high-quality, relevant content is one of the main keys to attracting and winning prospects and customers.

That content can take on many forms such as video, blog posts, eBooks, white papers, email, slide decks, infographics, webinars, and even the pages on your website.

However, the challenge for most business owners is in creating this never-ending need for fresh content. Then there is the additional challenge of determining how best to distribute and use that content to carry out an effective marketing strategy.

Fortunately, you don't have to attempt this on your own! Your options for implementing a successful and affordable content marketing strategy also include finding a professional firm that can work with you to maximize your efforts.

A qualified agency like BroadVision Marketing will develop a road map with an implementation time line, marketing milestones, and key deliverables. Using this road map we will create the framework and structure for us to work with you and help you to achieve your marketing goals.

Get your Free Complimentary Inbound Marketing Session to help you make an informed decision or call BroadVision Marketing at 707-799-1238.