When it comes to inbound marketing, there are many tools and platforms for driving website traffic. But if you're not on LinkedIn, you're missing out on a huge opportunity.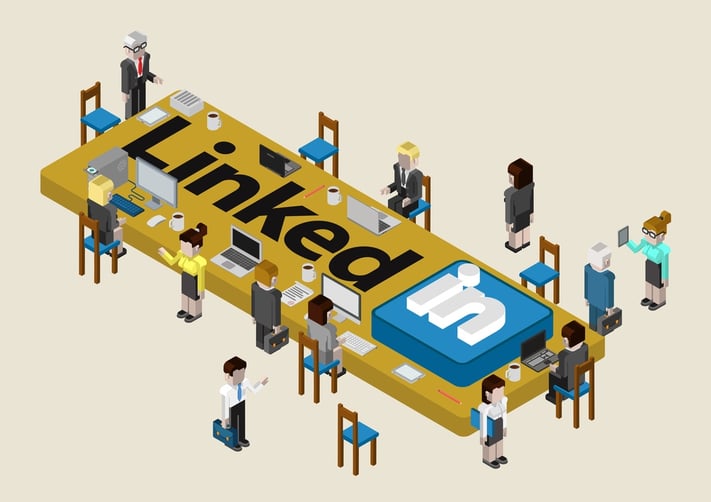 For a business owner, being on LinkedIn might seem like an obvious tactic, but actually doing it well can be a challenge. By now you have probably noticed that it seems just about everyone is on LinkedIn.
In fact, the most recent statistics from LinkedIn indicate that there are over 500 million users and they continue to add almost two new members every second!
But simply being a "User" can be deceptive. Too many Users don't really use LinkedIn well, if at all.
The reality is that the vast majority of business owners and professionals on LinkedIn have either never fully engaged with the social business network, or they tried some things but never followed through.
But it needn't be that way for you.
The Power of LinkedIn for Your Brand
The real potential with LinkedIn is often overlooked or underestimated.
According to writer and editor Christina Newbury on HootSuite:
"You may have heard that LinkedIn has 433 million users, 40 percent of whom check the platform every day. Those numbers are certainly substantial, but they aren't the statistics that really matter for a business-oriented network like LinkedIn. What really matters is that one in three professionals in the world has a LinkedIn account, and 49 percent of key decision makers use LinkedIn for business purposes.

With that level of professional engagement, LinkedIn is a social network your business cannot afford to ignore."
Those were current numbers towards the end of 2016. Today, LinkedIn claims over 500,000,000 members worldwide, with over 138,000,000 of those in the U.S. alone. If the 40 percent number of daily users still holds true, you can count on at least over 50 million LinkedIn users checking in each day at minimum!
And even if only 1 percent of those faithful LinkedIn members represented your potential target markets, that's still over 500,000 individuals who could eventually see your brand.
If you are making full use of LinkedIn, that is.
The first key to first grasp is that LinkedIn is a business-centric social platform that can allow you and your company create awareness of your product or service, engage with your clients, customers, and prospects, and build a community of advocates and allies.
Not to mention it's great for finding new talent and generating new business!
7 Tips for Optimizing LinkedIn for Your Business
1. Optimize Your LinkedIn Profile
This is one of the main places to shine! Your image should be somewhat professional, preferably a nice headshot, and high quality. If your image is poor (or missing!) it will reflect on you and your business in the minds of other users. Because your profile information needs to be optimized for search engines you should:
Include relevant keywords throughout your profile information

Use a keywords in a headline specific to your company or profession

Include links to your company website and social media accounts

Regularly update your profile content
2. Request New Connections Properly
Without connections you will be a lonely face in a sea of users. But simply clicking on the "Connect" button is not only lazy, but it is impersonal and can reflect badly on you. Take time to craft a simple, but heart-felt request. People will respond and they will appreciate that you did so. Remember that you connections on LinkedIn are not just numbers - they are real people.
3. Ask for Recommendations
The way LinkedIn is structured it is very easy to give and receive Endorsements. But the problem is that these can be given by any connection without any real knowledge of you or your skills.
Recommendations, on the other hand, are provided by people who know you and really having something good to write about you, your company, or your abilities. Be a giver here, too, and don't be shy about asking for them.
4. Don't "Sell" Unless You're Advertising
Actually, you should avoid selling, period. If you engage with connections with the aim to help, inform, and bring value, then the opportunities to sell to them will come on it's own. This rule applies to your posts and any contributions you might make to Groups you join and participate in.
Overt selling and spammy content is frowned upon here, although there is an admittedly fine line between "selling" and simply promoting.
5. Update Your Status Regularly
Too many users set up their accounts, fill it with relevant information, and then move on. The old saying, "Out of sight, out of mind." is too true on LinkedIn, but misses the point. Fortunately, LinkedIn has made it really easy to post articles periodically to keep yourself visible to your connections, while giving them something of value.
According to Marisa Smith of The Whole Brain Group,, "A good guideline is to post one article per week and a few short updates per day."
6. Publish Regularly on LinedIn Publishing
At the top of your LinkedIn news feed you will see a pencil-and-box icon just to the left with the words "Write an Article" next to it. Click this and you will go to a page to draft a new post. Here you can write something fresh or integrate one of your favorite blog posts along with your pictures.
There are a number of benefits from posting articles on LinkedIn's Publishing option:
More viewers and potential leads
Brand awareness and reputation building
Sharing links to your website
7. Create a Company Page
The role of the LinkedIn
Company Page
has evolved somewhat over time and it is now a critical element in your overall LinkedIn marketing strategy. Or it should be! Having a personal profile without a corresponding Company Page is only having half the real estate you can easily claim on LinkedIn.
Here you can promote your brand and your company news, showcase special products and services, and have a platform where your employees can contribute to represent your company and brand.
LinkedIn for Your Inbound Strategy is a Key Investment
With so many individuals and companies signing up for LinkedIn (currently over 7,000 every hour) it makes no business sense not to be there. But just "being there" is not enough. Like with any good tool, you must learn the basics of using it well and proficiently to realize the benefit of it.
If you are considering getting help with your company's marketing efforts, it is helpful to have the insights of a third-party, a marketing professional, to assess and assist with your strategy.
BroadVision Marketing offers helpful information on how to use LinkedIn. You can get free advice during your Free Complimentary Inbound Marketing Session which will help you learn more about LinkedIn and its place in Inbound Marketing. You can also call BroadVision Marketing at 707-799-1238.