Guest Blogger: Ann Mullen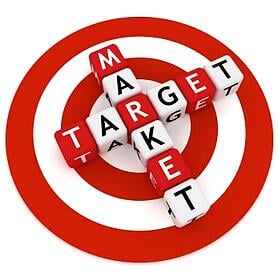 You have a product you want to sell. Putting it out on the street is not going to get it sold unless you are an ice cream man in the middle of July. Creating a website and writing blogs and more blogs about it aren't going to get it sold either.
So if you have tried these methods without success or if you want to start selling your product, buckle up for a ride to your Target Market (no, not that Target).
Target market? What's that?
Your
target market
is the specific group of consumers that you want to aim your product or service towards. Don't mind the preposition at the end of that sentence or the man behind the curtain.
Speaking of curtains, let's say you want to sell curtains and draperies for fancy high-end living rooms. If you take your products to a gun store where people named Bubba and Billy Bob hang out, you have gone to the wrong target market. If you put your blog in this niche, you probably won't get any bites either. You have to decide who you want to sell to.
Target market? Who's that?
Here are some questions you can ask yourself or your team (parents, business partners or bear huggers, oh my):


Are these potential customers male or female?


What age are they?


Does it matter if they live close by? Can I sell this product to people over the internet?


What do these customers do for a living (or what do their significant others do)?


How much money do you think they need to make to purchase your product? Those are not department store cheap curtains, which almost anyone can afford.


What else about their lives will make a difference? Homeless people don't usually buy curtains. So they need to rent or own a home in this case.


Target market and cohort market? What in the world?
Another way you might study your target market is cohort marketing. This is a study of groups of people who had similar experiences growing up. They have bonds with each other and will think and buy differently than another cohort group.
So now you have an idea of what your Target Market looks like. Armed (no, not with that gun) with this information, you are closer to being able to sell your product to the right people. And if you thought this discussion was just about products, you thought wrong. Just think service and you have the same question to answer.
Who is your target market?
For more information:
Ann Mullen has been writing most of her life, some of it even for pay. She wrote as many as three columns a week for a newspaper in South Texas. Lately, Ann has social media managing team member of BroadVision Marketing at http://www.broadvisionmarketing.com. You can contact her at mullenann4@gmail.com.