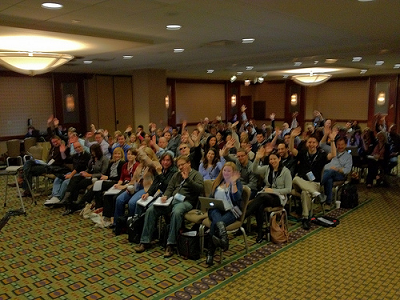 When you write a business blog post, you need to think about who you want to direct the post to, and then you want to call them to action.
You have one important question to ask yourself before you begin to write: Who is your audience? There are at least three different audiences you could target in your post.
Since you are writing a blog about your business, you might focus first on potential clients. You are not going to write directly about your company in such a way that people feel like you are throwing advertisements at them. What you want to do is give them information. By doing this you are giving them help with a problem they are having, plus you are developing the perception among them that you are an expert. If your business is to stage homes that are for sale, you want to offer information on how to do this. Then your blog will be what people need and what they will be willing to share with others. Your call-to-action here might be that they share with others.
Now we come to the next level of people you might be writing your blog for. You will probably want to focus some of your attention on people who will refer clients to you. If your referrals come from real estate agents, you need to write blog posts that are directed to realtors. That is not to say that all your posts should be directed toward a certain group, but you should have information on your blog consistently that this group will be willing to return to read. Your call-to-action here is for them to use social media to "like", "tweet" or use some other means of passing on your message.
Your last blog group might be your employees. You want them to feel like the blog addresses their needs and is valuable to them. Information on new ideas in home staging, for example, will give them new ways to be creative. These blog posts take the place of the old-fashioned employee newsletters, but are now available wherever and whenever your employees can read them. Reinforce your company and your employees' importance to it by helping them stay in touch. Your call-to-action might be to remind employees to leave a comment at the end of the blog to connect with each other.
These are just three different audiences you can address in your blog and what you can do to focus on who you are writing to more than what the message is. You have to ask yourself before you begin writing, "Who is the audience?" and then decide on a specific call-to-action. The rest is in the content.
Jaco Grobbelaar, owner of BroadVision Marketing, helps business owners and business professionals put marketing strategies in place that consistently secure new clients. He can be reached at jaco@broadvisionmarketing.com or 707.799.1238. You can "Like" him at www.facebook.com/broadvisionmarketing or connect with him on www.linkedin.com/in/JacoGrobbelaar.
Related articles