[caption id="attachment_2796" align="alignright" width="200" caption="Facebook, not just for children"]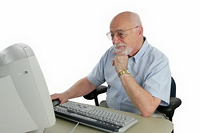 [/caption]
Recently I was asked to speak to a group of
senior citizens
about how to use
Facebook
. There is more than I could cover in roughly an hour, but I have some interesting reasons why they might be
interested
.


Reason 1: There are groups on Facebook set up to tell senior citizens what sort of activities they might be interested in attending. These groups are started by chamber of commerce committees or from centers for senior citizens. The nice thing about them is that they report on the activities for those who cannot attend.




Reason 2: Certain fan pages are connected to churches or people who want to share spiritual and religious material.




Reason 3: There are groups set up that talk about art, literature and music for people to discover others who share the same interests.




Reason 4: Coupon and money savings are available on Facebook offering discounts and specials that might not be offered elsewhere.




Reason 5: Games are very popular with all age ranges. There are Facebook Apps for games like Farmville that help people stay attached to their friends and others who want to play. Games are a great brain exercise.




Reason 6: People like to use Facebook to stay connected with old friends. They share pictures, stories and find that their friendships are closer than ever.




Reason 7: Facebook provides a way for people to make new friends. Perhaps through a group or through another friend, these people are a good way for someone who is less active to have a fulfilling social life.




Reason 8: Another set of groups surrounds the high school and college reunions. Though these groups people can reconnect with old classmates and find out about alumni parties they might want to attend.




Reason 9: Many people say that they have joined Facebook to keep in touch with their grandchildren. Facebook allows seniors to look into their grandchildren's activities and lives.




Reason 10: Facebook gives these elderly folks the opportunity to embarrass their adult children by telling funny stories or share goofy pictures. They did it to the kids while the kids were young. Why shouldn't they continuing having a great time.


If the first nine reasons don't encourage senior citizens to get on to Facebook, number 10 will do the trick. The main idea is that they realize that Facebook is fun, great for socializing, uplifting and a way to connect with the rest of the world.
What other ideas for senior citizens using Facebook can you come up with? Please answer in the box below.
Jaco Grobbelaar, owner of BroadVision Marketing, helps business owners and business professionals put marketing strategies in place that consistently secure new clients. He can be reached at jaco@broadvisionmarketing.com or 707.799.1238. You can "Like" him at www.facebook.com/broadvisionmarketing or connect with him on www.linkedin.com/in/JacoGrobbelaar.
Related articles