Guest Blogger Ann Mullen, BroadVision Marketing team member
[caption id="" align="alignleft" width="150" caption="Sheryl Sandberg, COO Facebook"]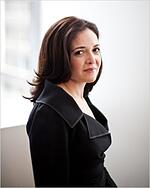 [/caption]
As I googled
Facebook
Marketing, I discovered a site on Facebook about Facebook Marketing.
The first site I discovered was Facebook Marketing Solutions-Welcome
https://www.facebook.com/marketing?sk=app_155746857831090
. Have you seen this?
I think we need to do some vocabulary clarification at this point. There are two meanings for "marketing". The first refers to a company like ours, BroadVision Marketing, that helps small business owners develop ways to sell their products and services. That's where the second meaning comes in. Marketing also refers to the ways the small business owners sell their products and services. We are a
marketing agency
that helps you market your product or service.
For right now I am going to be talking about what I found on the site of Facebook marketing that, as an agency, will help me improve on the tools that I use to produce your
marketing strategies
or so I hope.
1. On this first Facebook Page,
Sheryl Sandberg
gives a video talk on how
marketers
need to think about
social media marketing
at the beginning of every client campaign. One thing Sheryl says is Facebook shouldn't be the only thing marketers do online or in marketing. It should just be part of everything they do.
Probably one of the most important ideas I got from Sheryl's talk is that people need to be at the center of any campaign. The whole idea behind Facebook is that a person likes a remark, video or product. Then he or she will pass that information along to his or her friends who are more likely to repeat the remark, watch the video or try the product because a friend of theirs suggested it. Now change the word "like" for the Facebook version "Like" and you have the basis for Facebook's success in a nutshell.
On this site there are Resources, Success Stories and Facebook for Agencies containing Facebook Studio and Facebook for SMB Marketing, meaning small and medium (and also local) businesses. There seems to be a discontinuity between some of the sites and others I found. So to save you the trouble of experimenting and losing the trail, I am giving you all the
URLs
I wound up with.
2. I found a page called Facebook Marketing Solutions at
https://www.facebook.com/marketing
, but I am not sure how I got here. As you will see with some of the other sites I will be talking about, there are lots of people who "liked" this site, but no way for a person to write on a wall. Some people "like" each post, but far fewer make comments until you go far down the page. You might be interested in the "Free Official Guide to Business Success on Facebook" that I located on the left hand side of the site under the word "More". I have to warn you that you only get the free guide if you place a Facebook ad. I think this is a bit dodgy even with the $25 ad discount because they don't make it plain that you have to place an ad to get the guide.
3. I must be one of the last people on the face of the earth to look at Facebook Studio
https://www.facebook.com/FacebookStudio?sk=wall
because there are already 319,425 other people who have already liked this page. All of the original posts are written by Facebook Studio with active "Likes" somewhere less than 200 per post. There is not any place to post on the wall, which is strange. There were times when I saw comments, but again not as many as I would have expected. The best part of this site is that you can watch videos like Sheryl's. There are also a learning lab and a blog that you will want to check out, but I am not sure how I found those pages. There are no tabs to them either on the left or above.
http://www.facebook-studio.com/news/item/creatives-talk-live-david-droga
is the site for the blog. You can find the Learning Lab at
http://www.facebook-studio.com/lab/index
.
4. Facebook Marketing:
Small and Medium Businesses
-Welcome comes out of the Studio site at
https://www.facebook.com/smbmarketing?sk=app_155746857831090
. I have already become leery of these sites. This one appeared to be a site selling Facebook Marketing Solutions tools so I was surprised to see actual good advice from the left hand column with Home, How it works, Pages, Ads($), Sponsored Stories($) and Platform. The farther into these you go, the less likely there is an easy way out except the big arrow at the top under your browser. But when I backed out, I wound up at Facebook for Business
https://www.facebook.com/business
.
What did I learn from this experience? Facebook needs to improve their marketing. I know that Facebook does not exist to help others, but to make money. However, they are not transparent. These sites contain a lot of general information with a very little that is more specific. Perhaps that is why they have hundreds of thousands of "Likes", but few returning patrons.
How do you feel about using Facebook to market your product or service? Do you think these Facebook pages might help you?
Ann Mullen has been writing most of her life, some of it even for pay. She wrote as many as three columns a week for a newspaper in South Texas. For the last year she has been learning about websites, blogging and social media marketing. Lately, Ann has been a team member of BroadVision Marketing at http://www.broadvisionmarketing.com. You can contact her at mullenann4@gmail.com.
Related articles