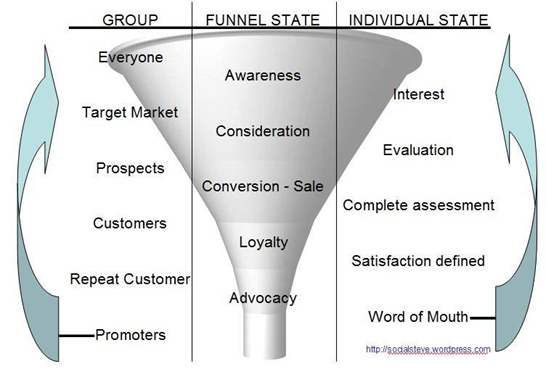 Do you know that on average just over two billion searches are done per day on Google and that in 2010 46 percent of those searches were for information regarding products and services, according to SRI International Think Tank; October 2010? When it comes to your internet marketing strategy, how do you project your inbound marketing messages to reach your target market through all the messages on the internet?
Before you can reach them using inbound marketing techniques you need to investigate and select that target market. In other words, how do you start identifying the people you want to become your customers? This big funnel, by the way, is the work of Social Steve Goldner from his Social Steve's Blog.
Identifying your target market could be compared to hunting. First, you have to decide what you want to hunt for. Then when you know what it is you are hunting, you can select your inbound marketing hunting tool. The more specific you are when identifying your target market, the better your chances of having targeted the right market.
You already know about your product or service and know what it does. So now it's time to talk about the people who would be interested in your product.
For this discussion let's assume that you manage an in-home caregiver business that provides clients with caregivers.
There are several sets of people involved in this business. First, there are the clients who need help and second, there are the caregivers who provide caregiving services. Are these all the parties involved? What about the people with elder relatives, who have to take care of their elderly loved ones while still taking care of their own families or career?
Let's look at this third group and identify the criteria we have to consider to identify this target market:
Age: They are usually men and women between the ages of 45 to 65.
Employment: They are probably employed outside the home and also take care of their own family as well as one or more elderly parents.
Education: Their educational levels range from having finished high school to post graduate college degrees.
Relationships: They may or may not be currently married or in a subsequent relationship.
Location: You also need to know where they live because your business is local to a large area in a state, but it is still considered local.
In order to see if the people in your location meet your requirements, you are going to begin your research by checking the demographics of the area. The general demographics of an area can be located by doing a Google Search to find the most recent edition of the Country and City Data Book published by the U.S. Department of Commerce.
Here are some of the things you might discover: you can tell if your area has people in the right age bracket, social class, and gender. You might see that some of the cities have different demographics, but they still fit within your requirements. If you see that part an area has younger families and other areas have larger homes and mainly older populations, you have learned some very important information.
Let's look at the two very different subsets of women based on age. You want both sets to be aware of your service because both may be looking for caregiving help. The area with the younger women will have some taking care of their own children and their parents. The other subset made of older women might be need of some help for a spouse.
When you think about the inbound marketing messages you want to send to these two subsets, you realize that you are going to need to aim using two different kinds of messages to two different kinds of targets.
Your next question is going to be how to reach out to your potential clients as they surf the internet.
Your homework from this blog is to sit down and figure out exactly what sort of people you want to target. Remember that there will probably be many subsets. Be as specific as possible. After all, when you hunt for your target market, there is only one area you want to hit, the center of your target.
For more information: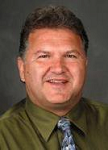 Jaco Grobbelaar is the owner of BroadVision Marketing. BroadVision Marketing works with business owners to put in place inbound and outbound marketing strategies that consistently secure new clients. The BroadVision Marketing Training Center is located in Petaluma, CA and primarily serves companies in the San Francisco Bay area.
Jaco can be reached at jaco@broadvisionmarketing.com or 707.766.9778 or connect with Jaco on Facebook - www.facebook.com/broadvisionmarketing - and LinkedIn - www.linkedin.com/in/JacoGrobbelaar.