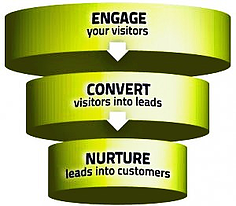 We recently developed this video on Inbound marketing to explain why Inbound is more effective than Outbound marketing. You will learn about the sales funnel and how you can turn an interested person into a customer through a two-pronged lead generation and lead nurturing campaign. Forget cold calls and expensive intrusive advertising and save money as well. Companies that focus on inbound marketing have a 62% lower cost-per-lead. To learn more, enjoy our video (the script is below if you'd prefer).
What is Inbound marketing? It's marketing with a magnet, not a sledgehammer — marketing based on great content that communicates to the world that you are an expert. The idea is to attract and nurture prospects, with exceptional content, data and customer service.

It's no mystery that Outbound marketing is losing its effectiveness. Hitting your audience over the head with spam and other outbound interruptions is no longer the most cost effective, nor most productive way to get new business.

The great thing is that Inbound marketing strategies also tend to be cheaper than traditional Outbound marketing tactics. On average, companies that focus on inbound marketing have a 62% lower cost-per-lead.

So, how does inbound marketing work?
Think of your sales and marketing process as a funnel. Fresh prospects come in at the top of the funnel, happy customers go out the bottom. Your goal is to maximize both the number of people you attract at the top of your funnel as website visitors and the number that come out the bottom as customers.

We use several Inbound Marketing strategies to do this:

These days, with so many interruptions people are using technology to seek out the content that pertains to their particular need. They use search engines to find companies that have what they want or need. So.. what you need to do is to produce relevant digital content that makes sure that you get found.

Once found, it is critical that you capture your prospect's attention. Offers are your lead generation ammunition. They're information and resources that your site visitors want to consume and are willing to give you their contact information in exchange for. Offers are simply the best ways to generate leads from your website.

The people who respond to your offers might not always realize it, but by providing that informational resource, they have turned themselves into leads for you and your sales team to follow up.

The next Inbound marketing step can be extremely automated, and it's a step where your offers can do a lot of the work for you. If you've got a lead that converts through a top-of-the-funnel offer, you should consider giving yourself the ability to put more middle-of-the-funnel offers in front of them by simply sending them some email.

We call this lead nurturing. The goal of these Inbound marketing lead nurturing campaigns should be to get other offers in front of your leads with the hope that they'll re-visit your site and convert on a lower funnel offer.

So, with two lead-conversion events under their belts and without having to use any actual manpower, your sales team is going to forget they ever had to make a cold call. Because you have nurtured your potential leads with relevant content, your leads will be better educated and versed in your product offerings and will be more likely to use your solution to solve their problem.

What's next? They become a customer!

Sounds cool, huh? I know what you are thinking, though.. how are you going to generate all of the content? How will you automate the lead nurturing? How will you manage all of the campaigns? Don't worry, that's why we are here! Contact BroadVision Marketing today and schedule a complimentary consultation with one of our great inbound marketing experts and find out how we can help you to attract more clients!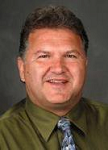 Jaco Grobbelaar is the owner of BroadVision Marketing. BroadVision Marketing works with business owners to put in place inbound and outbound marketing strategies that consistently secure new clients. The BroadVision Marketing Training Center is located in Petaluma, CA and primarily serves companies in the San Francisco Bay area.
Jaco can be reached at jaco@broadvisionmarketing.com or 707.766.9778 or connect with Jaco on Facebook - www.facebook.com/broadvisionmarketing - and LinkedIn - www.linkedin.com/in/JacoGrobbelaar.