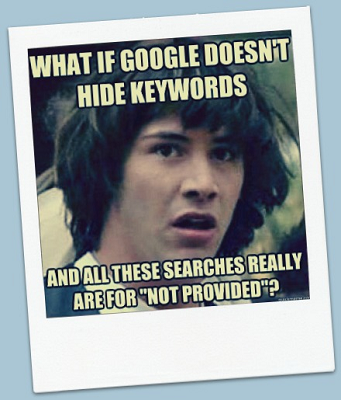 I tried to find an explanation for why Google no longer gives information on all the organic search words our clients use to find us. Have you seen all the articles circulating since the start of the year on the death of Google organic keywords? One from Hubspot, written by Hartley Brody, has as a title, Is 2013 the Year Marketers Lose Keyword Research? A company, Resource, announced Empty Analytics: How "Not Provided" Keyword Data Affects SEO. Here's another one: The rise of (not provided). Is Google making it impossible to measure natural search ? Get the picture? I tried to find a simple explanation for what Google is doing when it lists these lost organic keywords as (not provided) thereby not telling us what keywords a client used. But most of the article writers assumed that the reader knew how this designation for lost organic keywords as (not provided) came to be. The one with the most understandable explanation was the Hubspot blog by Hartley Brody.
Brody starts out by saying that when Google brought out encrypted searches and told everyone that it wouldn't affect as many as 10 % of organic searches that was not the case. Hubspot reported over 50 % of their organic traffic fell into the lost Google organic keyword list as (not provided).
In the beginning
To understand what this means, you have to go back in history to see how organic search used to work. In the beginning when a person browsed the web, visited a bookmark or clicked a link, his web browser—Fire Fox, Internet Explorer, Chrome, etc.—sent information to every page he visited. Each page is called a "Header", but are also known as "User Agent," "Cookie," or "Referer" (excuse the spelling, but that is correct).
When the person went from the first page to the second, the browser sent along a "Referer" header to the second page with the first page's URL. Do you get this? If not, read it again until you do.
Brody says, "This is the core foundation that underlies modern web analytics. It lets site owners know that, hey, the visitor who just landed on your Pricing page came from twitter.com. Or, hey, 21% of the people who visit your landing page also visit your Thank You page. By passing along the referrer's information, site owners can see where their visitors are coming from, and where they're going."
Organic searches unmasked
Now comes the information on organic search. Your site would get full URL information for every click you received from a visitor and you knew where the visitor came from. Analytics software saw that the referring URL came from Google or Bing and there were no paid search tracking tokens. Paid search is not organic, meaning the advertiser enticed the click with a good ad. This proved that the visit was an organic search. Your software would then look at what keywords the visitor used to see what he was searching for.
Brody sets up the process like this:
Visitor conducts search on www.google.com for "red shoes"
Visitor is taken to http://www.google.com/search?q=red+shoes
Visitor clicks on an organic result and reaches your site
When the visitor's browser requests your page, it passes along the full URL of the Google search engine results page as the "Referer" header.
Your site's analytics parses that referrer URL to deduce that: 1) The visitor came from organic search, and 2) The visitor was searching for "red shoes."
Marketers' SEO masked
All this makes sense, right. Well now for the nonsense: When Google started the encrypted search, using "HTTPS" at the front of the URL, the "S" means that it is a "secure HTTP." What happens next is that your browser strips out the "Referer" header. Then when a person goes from the first page to the second, if the first is encrypted, the browser only sends the domain name "https://www.google.com" as the referrer, not the full URL. Your poor analytics have no way to know what keyword the person used to find your site. So your analytics have to report (not provided) to many of the keyword searches.
Why in the world would Google do such a thing? Jill Kocher in Empty Analytics: How "Not Provided" Keyword Data Affects SEO states that Google began encrypted searches for the sake of a person's privacy. Pete Prestipino in Keyword Not Provided in Google Chrome Omnibox Searches - 'Net ... said that "Google introduced Encrypted Search in May 2010 and made encryption the default for signed-in users starting in October 2011. While it may be a good thing for end-users - faster speeds and all, it's causing quite a bit of disruption in the search marketing landscape." Indeed it has.
As a result of this encryption in the name of our privacy, many analytics searches are now coming up with something that looks like this:

Because you cannot tell what organic keyword search (recorded as (not provided)) led someone to your site, Brody announces that "as HTTPS becomes increasingly common, we'll see the value of keyword research drop off even further. Optimizing your website will be less about tracking keywords and rankings, and more about capturing visitors once they've landed on your website." Panda, penguin and (not provided)? What will Google do next?
How has the loss of information about organic keyword searches, i.e.(not provided), impacted your ability to reach potential customers? Do you think that the future of search engine optimization using keywords looks bleak?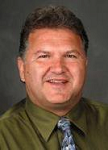 Jaco Grobbelaar is the owner of BroadVision Marketing. BroadVision Marketing works with business owners to put in place inbound and outbound marketing strategies that consistently secure new clients. The BroadVision Marketing Training Center is located in Petaluma, CA and primarily serves companies in the San Francisco Bay area.
Jaco can be reached at jaco@broadvisionmarketing.com or 707.766.9778 or connect with Jaco on Facebook - www.facebook.com/broadvisionmarketing - and LinkedIn - www.linkedin.com/in/JacoGrobbelaar.