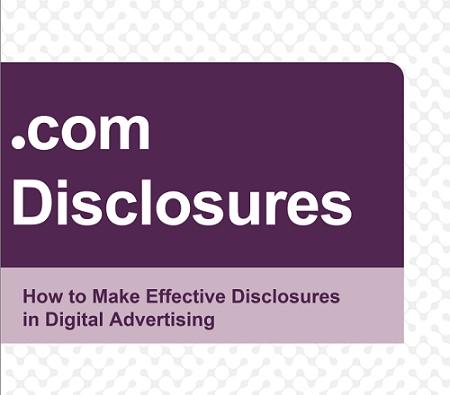 Where did you say that visitor came from again? There are two sets of visitors—organic searchers and paid visitors. A paid visitor is one who responds to one of your ads, on Google, Facebook or otherwise. Are you aware that the Federal Trade Commission has just released new guidelines for Online and Mobile Advertisers? This information came out March 12, 2013 and is known as "Dot Com Disclosures" How to Make Effective Disclosures in Digital Advertising. The rules are intended to protect consumers from fraudulent, deceptive, and unfair business practices. If you are a blogger who sells items, you need to read this. If you are an affiliate marketer, you need to read this. If you put ads anywhere online, you need to read this.
If You Advertise Online and Are Getting Paid Visitors
If an online disclosure is needed to prevent an online ad claim from being deceptive or unfair, it must be clear and conspicuous. Under the new guidance, this means advertisers should ensure that the disclosure is clear and conspicuous on all devices and platforms that consumers may use to view the ad. The new guidance also explains that if an advertisement without a disclosure would be deceptive or unfair, or would otherwise violate a Commission rule, and the disclosure cannot be made clearly and conspicuously on a device or platform, then that device or platform should not be used, according to the FTA in their release "Dot Com Disclosures" Guidance Updated to Address Current Online and Mobile Advertising Environment.
Did you get that? If you cannot state that you have written an ad early on the site stating what you want to say on a Social Media platform, then don't use the platform. This goes for something that might look good on a computer, but gets lost on a smartphone. FTC is saying you shouldn't use the ad at all. I do have a questions about this. Television ads have such tiny letters at the end of an ad that even if I get up close I can't read it. I also don't have enough time. That leads to the next idea.
Jeff John Roberts wrote in his article Feds issue rules for social media and small screen ads — Twitter and bloggers take note that the agency emphasized that traditional disclosure rules, which cover media like radio and television, apply to all forms of the online space as well. These longstanding rules prevent marketers from hiding key terms of an offer and require them to reveal if someone has been paid to endorse a product. Oh yeah? How come those ads have not been targeted? Is the FTC turning away from drug ads, for example, because they are big money businesses? Will the FTC crack down on them now as well as bloggers?
Picky, Picky, Picky—So Check Out the Examples
This new standard gets much more picky, and reaches far beyond bloggers' reviews. If you run ads on your site, receive any affiliate commissions or do reviews of products or services (paid or otherwise), you need to familiarize yourself with the new requirements – they're significantly more stringent than before. In fact, they appear more stringent than the traditional requirements for print advertisements (or television ads, I guess).
The new FTC report contains 22 examples in the appendix that illustrate how marketers can fall afoul of the rules in the mobile and social media context. Many of these refer to display ads in which a user must zoom or scroll down to see information that reveals, for instance, that a diamond may not weigh as much as the ad says. It is essential that you look at these because the FTC shows how an ad fails in several different areas, even with revisions.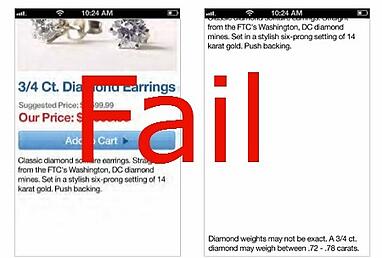 Roberts goes on to state that the social media guidelines recommend small space advertisers place the word "Ad" before messages or make other obvious disclosures. Twitter itself has long clearly flagged sponsored posts; in reply to an email, a company spokesperson referred to Twitter's sponsorship policy, which states that "'sponsored' Tweets are not prohibited, provided they clearly disclose the nature of the sponsorship on Twitter, and do not otherwise violate the Twitter Rules".
The guidelines also take aim at bloggers who provide information or reviews in exchange for products or services. In one example, the FTC shows a blog post about house paint in which the writer states at the end that she received a free can of paint. According to the agency, such disclosures must be clear and conspicuous and not tucked away after a series of links or other distractions. "The new guidelines may affect companies like Microsoft that have paid bloggers to 'astroturf' on their behalf," Roberts added.
An Aside You Can Skip If You Know About Microsoft and Astroturfing
This statement about Microsoft is backed by years of articles in a Google search I did. One article I found said, "Somebody should inform Microsoft; the company has a long history in using astroturf. The LA Times exposed Microsoft (in 2001) for sponsoring fake letter writing campaigns intended to create the illusion of populist support from individuals during its Windows monopoly trial."
Just what is astroturfing? Wikipedia's definition is "Astroturfing refers to political, advertising, or public relations campaigns that are designed to mask the sponsors of the message to give the appearance of coming from a disinterested, grassroots participant. Astroturfing is intended to give the statements the credibility of an independent entity by withholding information about the source's financial connection. The term is a derivation of AstroTurf, a brand of synthetic carpeting designed to look like natural grass" (bold words are mine). This is such a wide term I found references to politicians getting elected this way.
Back to the FTC Guidance
More generally, the new rules may also be a caution for advocates of "native advertising." This type of advertising, in which an ad mimics the format of surrounding content, is hardly new; but has become a buzzword in recent months as marketers turn to "sponsored posts" and other forms of branded content in the hopes of attracting more attention.
Doc Sheldon said in his article FTC Tightens Online Disclosure Requirements that if you focus your social media marketing efforts more on Facebook, although often, not by buying ads or sponsored posts; but by doing your own thing on their wall—you might look into incorporating disclosures into promotional posts on Facebook. The FTC will probably be looking for violations on there as well.
Depending upon the captioning that accompanies the image, they may even clamp down on some people that are using Pinterest to market their products. Oh no, not Pinterest! That platform currently is the toast of businesses sharing art with their URLs attached.
You might want to read through the entire 53-page booklet, paying special attention to the examples in the Appendix.
What practices are you going to have to change so that you do not become the business that the FTC makes an example of? Please leave your comments, complaints and whining in the box below.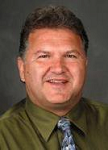 Jaco Grobbelaar is the owner of BroadVision Marketing. BroadVision Marketing works with business owners to put in place inbound and outbound marketing strategies that consistently secure new clients. The BroadVision Marketing Training Center is located in Petaluma, CA and primarily serves companies in the San Francisco Bay area.
Jaco can be reached at jaco@broadvisionmarketing.com or 707.766.9778 or connect with Jaco on Facebook - www.facebook.com/broadvisionmarketing - and LinkedIn - www.linkedin.com/in/JacoGrobbelaar.