So you believe if you blog it, they will come? You need to wake up from that field of dreams. In reality even the best blog in the world won't bring readers lining the highway to your site. All the experts that say write the best content to get recognized on Google are pulling the wool over your eyes. If you don't get your work out where it can be found, it won't be. How do you do that? I'm glad you asked.
I have a one-word internet marketing tip for all you business people, bloggers and website owners—syndication. While it means sharing your content with more people, the whole point of syndication is to move clients to your site by moving your site closer to Page 1 of Google.
But now come the complications. While every article I read on syndication said it was sharing your content on different kinds of platforms, they all meant different things by it. I am going to give you a sampling of some of the different ideas. You are welcome to go to the articles that catch your interest and get the entire scope of their content. Trust me each one is unique, which is strange since they all stem from that one-word internet marketing tip. One thing I cannot do is help you decide because some are free, some will pay you and others expect you to pay them. Some take little work and others are more draining than Facebook, if that is possible.
We will start with two that I have dealt with: BizSugar and OnlyWire.
BizSugar is unique. I have looked for other sites like it, but couldn't find them. If you know of any, please let me know in the comment section. "BizSugar delivers the content that small business owners, managers and entrepreneurs care about, without all the noise: You share your business blog posts, videos and other content, so that others can learn from you. Benefits: you reinforce a reputation as a thought leader and bring online visibility to your content."
This syndication is only concerned with small business owners, managers, etc. But it is very easy to use. All you have to do is check to make sure that the URL you want to post hasn't been posted. Then you put your URL on the form, add a little stuff about tag words and a few sentences in your own words about the content. That's it.
If you use this wonderful platform, it is polite to look at some of the other posts on the site and give them a little love, I mean sugar.
OnlyWire uses a WordPress plugin to automate your site to 51 social networks, like StumbleUpon, Facebook Groups, Facebook Page, Google +, Reddit and more. It can be a free service or you can manage more than one site for as low as $12.99 a month. Plans are ad free, including reporting and analytics. Setting up the accounts is a pain unless you pay OnlyWire to do it for you. But once you have it set up, you only have to hit one button to get your content on its way to all those social networks.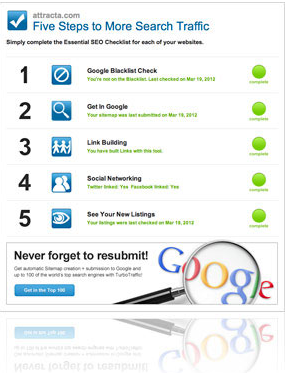 Next is a site that I just started playing with as I was preparing this article--Attracta, which offers free SEO tools. It's a California-based company with an SEO Link Building service. "Backlinks are links, on other websites, that point back to your site. Attracta's Link Builder tool easily allows you to create up to three high-value backlinks to your website by being included in their highly-trafficked Business Directory." If you want more, you have to pay.
Or it could mean this--
Hartland Ross said in his blog, Lead Generation Part 2 – Content Syndication, in December 2012:
"A typical content syndication agreement usually involves some form of compensation to the original author. This can be as little as acknowledging the author's name. It could include the author's name and website address. The agreement might even include monetary compensation.
"A content syndication agreement can be for one piece of content or for many. It can also be an ongoing agreement under which the author or authors agree to provide periodical pieces of content that will then be published on a daily or otherwise regular basis. With the explosion of web publishing tools in the past few years, it has become easier and easier for content to be syndicated online."
Sp.techzio in a blog Online Content Syndication dated February 2013 explains a little more about the idea of a syndication agreement. I saw this when I checked out PR Newswire, considered on the world's largest content syndication provider and Newstex, which has a tagline of Authoritative Content:
"The Syndication agreement can be categorized in three types.
Licensed - The syndication Partner pays some fee to the original author for distributing the content to its members and also retains a backlink to the original content's website. This is the safest method for the author. Exemplar for Licensed content syndicate - http://www.newstex.com/
Ad-supported - The publishers get a share in the advertising revenue generated from the content circulated to the end users.
Free - No payment is involved and the publisher is satisfied just with exposure got from the distributed content."
Sp.techzio says that one common problem with syndication is that when content is everywhere on the internet and a higher PR website published someone's article, Google might send searchers to the higher ranked site instead of to the original source. The whole idea of content syndication as a means to getting Google to move you closer to Page 1 is lost.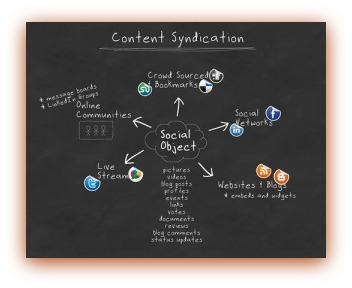 Think that is the end of the discussion? Guess again. Brad Campbell in his post ENCS 07 :: Blog Content Syndication, March 2013 points out the places and formats you can syndicate on:
Other relevant blogs or websites you own or have access to
YouTube videos and other video hosting sites
RSS feeds
All social networking sites you have accounts with
As many random web 2.0/3.0 properties as possible
Mp3 audios
Multiple free or paid press release sites
Document sharing websites
Pictures and photo sharing websites
Local news sites
Network marketing or internet marketing forums
Guest posts
Blog comments
All forms of offline content marketing
He suggests that you vary where you post and that doing only 3 sites at a time is a good idea. He also says that you want to avoid duplicate content. You don't get Google juice with duplicate content.
There you have it from the free to the expensive, easy to do to hard work, and not a little confusion. Content syndication can be a good thing or you can lose your post. Personally, I think it is a good idea when used with something in the mid-range of time and costs.
What kinds of syndication have you done? How did it work out for you? Please tell us so we can continue this discussion another time.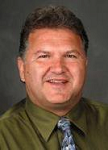 Jaco Grobbelaar is the owner of BroadVision Marketing. BroadVision Marketing works with business owners to put in place inbound and outbound marketing strategies that consistently secure new clients. The BroadVision Marketing Training Center is located in Petaluma, CA and primarily serves companies in the San Francisco Bay area.
Jaco can be reached at jaco@broadvisionmarketing.com or 707.766.9778 or connect with Jaco on Facebook - www.facebook.com/broadvisionmarketing - and LinkedIn - www.linkedin.com/in/JacoGrobbelaar.