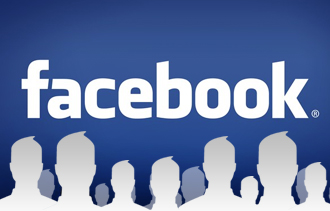 As I was reading about inbound marketing strategies concerning Facebook Fan Pages this week, I saw some interesting articles clarifying the growth patterns of the pages. I have read about clients who thought that social media was supposed to vault them into super-fan-dom, but that hadn't happened for them. As I read three blogs from Cyber PR written by Jon Ostrow and Ariel Hyatt, I saw statistics you need to be aware of to create realistic goals for Facebook Fan Pages.
The Cyber PR crew use many studies to prove their points. The first study they mention in The #1 Reason Why Your Facebook Page Isn't Growing (And 5 others too) comes from Mashable's report from Napkin Labs, a Facebook app developer that works with brands and agencies.
The study said that on average only 6% of fans engage with a brand's Facebook page. Of those fans that did, the average engagement was the equivalent of less than one like over the course of the eight weeks the study was conducted. Once in eight weeks? That's interesting.
What is one strategy?
How do you get more fans, according to Ostrow and Hyatt? "No matter what you do to correct your own understanding of how Facebook works, and implement a more effective strategy, you WILL have to deal with the fact that Facebook uses an algorithm that works in the favor of advertisers."
Technologist Marcus Whitney said, "Of FB's $1.53 billion in revenue, 95% of what they earned was in advertising and 25% of that was from mobile ads. You used to be able to reach 100% of the people that liked your page on FB, but now you can at max reach 15% of them without paying."
"At the end of the day," say the two writers, "Facebook is catering to their customers. Believe it or not, but Facebook's customers are not you. They are advertisers."
You can get past this problem with a $15 'promoted post' ad, the writers say.
How long do you think your Facebook Post exists online?
In 6 Shocking Reasons Your Facebook Fans Aren't Engaged [Part 1 of 2] Ostrow and Hyatt add more information. "Your content will technically be online, but the average lifespan of a Facebook post is just a short 3 hours. This means that after the average 3 hour timespan, your Facebook posts will no longer show up in any of your fans' news feeds:

Furthermore, only 6% of your total fan base will ever actually engage with a brand page as reported by Napkin Labs. Then we move to the fact that this is not necessarily even as great as a fan engaging once every eight weeks. Here is what Ostrow and Hyatt learned:
There have been several recent studies done on the actual average engagement rate of a page (the 'People Talking About This Page' number) and it is shown that the average engagement rate of a fan page is only .96% (yes, that's less than 1%).
THIS MEANS: Anything above a 1% engagement is considered strong, results-wise.
The difference between this stat and the one above is that the number above reflects the percentage of fans who are EVER willing to engage with a page over the lifetime of the relationship. In other words, for the average fan page, 94% of your fans never have nor will they ever engage.
Meanwhile, this stat reflects the true engagement of a fan page on Facebook's rolling 7 day scale. In other words, within 7 days (on average), the # of 'People Talking About This Page' / the # of 'Total Fans' will equal around 1%.
Here is a great matrix from Michael Leander that shows how this engagement rate actually breaks down: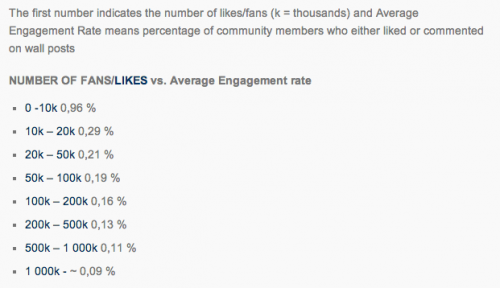 It doesn't look like you should have as high expectations that you once thought about concerning social media as a part of your inbound marketing strategy of Facebook Fan Pages. This is why it is so important to realize that inbound marketing is a slow process. We aren't finished with this information, but I didn't want to overwhelm you with statistics all at once. So I will finish giver you part 2 on Thursday, April 18, 2013.
What are your goals for your Facebook Fan Page? Have you reached your goals? Please tell us below. The person who reads what you write might be the one who needs just what you have added.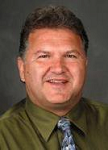 Jaco Grobbelaar is the owner of BroadVision Marketing. BroadVision Marketing works with business owners to put in place inbound and outbound marketing strategies that consistently secure new clients. The BroadVision Marketing Training Center is located in Petaluma, CA and primarily serves companies in the San Francisco Bay area.
Jaco can be reached at jaco@broadvisionmarketing.com or 707.766.9778 or connect with Jaco on Facebook - www.facebook.com/broadvisionmarketing - and LinkedIn - www.linkedin.com/in/JacoGrobbelaar.