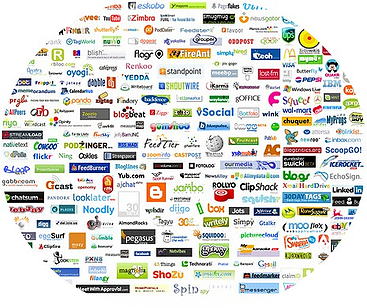 Any business person not using social media to create awareness in his company's products or services is not taking advantage of the best, low cost advertising tools on the market today. I hope you are not one of those lost souls. Demand generation strategy focuses on target marketing programs that result in customers. Social media marketing is one of the advanced generation programs that form lead generation which leads to those customers. So do you create the same approach for each social media? That won't work. Before you can decide how you want to use demand generation strategies on social media you need to know who you are targeting.
Since you don't have the time or money to do the research yourself, why not leave it to the authorities like Pew Research Center? A late 2012 survey by the Pew Research Center's Internet & American Life Project shows that young adults are more likely than others to use major social media. At the same time, other groups are interested in different sites and services. In the case of Pinterest, Instagram, and Tumblr, these are the first reportable survey readings by Pew Research allowing comparison of whites, African-Americans, and Latinos.
Here is one of the results of their studies: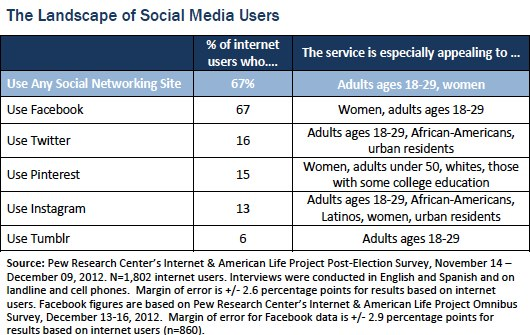 Buffer, a social network service, created two personas based on some research they did. Here is what they created:
Interestingly, here at Buffer, we've just completed a similar research to find out more about demographics of our users. Who is your average Buffer user? Here are two key ones we found
1.) Young male (we called him Guru Gordon) in his late 20s, early 30s). He has a college degree and reads a lot of business and political publications. You'd probably call him a "gadget freak," and he's a self-proclaimed "life hacker" who loves finding ways to be successful and get the most out of life.
2.) Community Cathy: Cathy uses social media to spread information about a cause and interact with other people in the community that share an interest in that cause. She reads Mashable and the Huffington Post and has way too many clothes in her closet. She's probably in her twenties, but she may be in her early thirties.
Now it's time for you to look at other details like age groups demographics to determine who you are targeting, what social media sites they frequent and how to approach them. Buffer shared this great infographic based on Pew Research's statistics.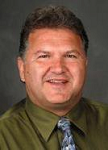 Jaco Grobbelaar is the owner of BroadVision Marketing. BroadVision Marketing works with business owners to put in place inbound and outbound marketing strategies that consistently secure new clients. The BroadVision Marketing Training Center is located in Petaluma, CA and primarily serves companies in the San Francisco Bay area.
Jaco can be reached at jaco@broadvisionmarketing.com or 707.766.9778 or connect with Jaco on Facebook - www.facebook.com/broadvisionmarketing - and LinkedIn - www.linkedin.com/in/JacoGrobbelaar.