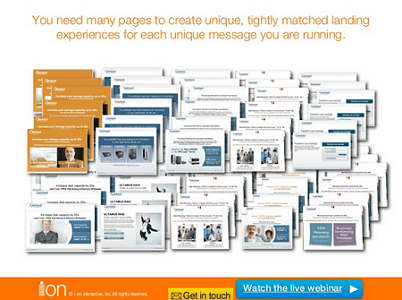 Landing pages are one of my favorite parts of a website. Know why? Your website is mostly static, meaning you don't make changes on much of what is written there. Your blog should be alive, but it has to be found.
Landing pages, and there should be lots of them, are pages that your potential clients have chosen to land on and might choose to answer a call-to-action.
There is an interaction going on. When people interact with a landing page, they are telling you that they are interested in whatever the offer is. They might be enough interested to come back again and become an actual client.
Why should there be many landing pages? You probably have many great offers to entice many different kinds of potential customers. Some customers need basic information or a white paper, while other are ready for you to contact them. The more landing pages on your site the better. It has been proven by analytics that companies with 40+ landing pages get 12 times more leads than those with 5 or less. (via HubSpot--Why You (Yes, You) Need to Create More Landing Pages).
Let's look at this carefully
To have 40+ landing pages, you need to have 40+ offers. You know you don't have to create them all today or else. You can take time to create offers about things that your customers are interested in. You know--those questions that you have answered more times than you care to count? That's a good place to start creating guides, white papers, reports or whatever you want to call them.
If you already have some offers, take them out and dust them off. See what kind of person you are targeting with each one. Then see where you have a target market, but no offers.
Next, look at your current offers and at ones you want to produce. Where do your offers fit in the sales funnel? Since we are dealing with different people with different needs, are in different parts of the cycle and have different learning styles, you need to grade your current offers and see if you have been putting them out to the right potential clients. Where are your holes?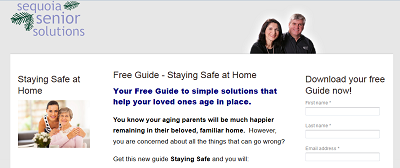 Finally, you need to have different kinds of presentations to catch the interest of the different learning styles of your potential clients. Some will like webinars, others ebooks, slide shows or podcasts that they can download and listen to while in the car or on a run. Your visual learners will gravitate to videos. Do you have plenty of each?
Start with what you have
You already have some great information. You can repurpose it to fit different target markets, places in a sales funnel, and presentations. You can do such simple things are changing the formatting, rewriting to a different reading level, adding some examples. You can even put some of your blogs together to create new PDFs, reports, webinars, etc. You can take some of the data you have been compiling and create an infographic to add to your report. All these changes you make to your basic offers can easily go on different landing pages appealing to different members of your target market.
Are you feeling closer to your 40+ great offers? You don't have to wait until you have done all these before creating those wow landing pages. Start from where you are now. Perhaps you will want to ditch some of the old landing pages and create new ones for the old offers. That is what is so great about landing pages. Since they are alive, you can delete the blah ones and add more. Your website will flourish and as you near the magic 40 number, you can watch your percentage of leads flourish as well.
How many landing pages are on your website?
When you are ready to learn more about inbound marketing we would love to sit down with you for a Complimentary Inbound Marketing Session. During this session we will help you to "dig" into your goals and identify what is stopping you from achieving your goals. With that out of the way we'll discuss inbound marketing and what you can do to use it to grow your business. Call BroadVision Marketing at 707-799-1238 or click the big obnoxious orange button below for your complimentary inbound marketing strategy session…
Lots of landing pages from Landing Pages for Lead Generation slide 16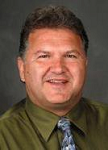 Jaco Grobbelaar is the owner of BroadVision Marketing. BroadVision Marketing works with business owners to put in place inbound and outbound marketing strategies that consistently secure new clients. The BroadVision Marketing Training Center is located in Petaluma, CA and primarily serves companies in the San Francisco Bay area.
Jaco can be reached at jaco@broadvisionmarketing.com or 707.766.9778 or connect with Jaco on Facebook - www.facebook.com/broadvisionmarketing - and LinkedIn - www.linkedin.com/in/JacoGrobbelaar.