Workflows have many functions. One is to keep all members of your team aware of what is supposed to be going on while getting feedback that can be seen by all members at the same time. A Workflow can also be an automated system that you can trigger to occur based on a a prospect's behaviors or contact information. A third kind of Workflow yet is the one where a presentation is pre-created (see our infographic). We can see then that there are several directions Workflows can go--internally within the organization, externally to and from a prospective client or as a tool to help in a pre-creation. As a member of Hubspot, we spend a lot of time talking about the latter, but for those of you who haven't joined Hubspot, yet, we are going to introduce you to Workflows as an internal organ first. (The infographic below is one that we created using infographic creation tools from a previous article we wrote.)--Jaco
This information comes to us from an article, Using Workflows in SharePoint by eImagine Technology Group, that they encouraged readers to share:
Using Workflows is a great way to attach and monitor business processes in Microsoft SharePoint documents. Workflows enable you to quickly gather feedback, approval and reviews while having a visual chart of the process without having to constantly send out reminders, feedback or updates to each team member.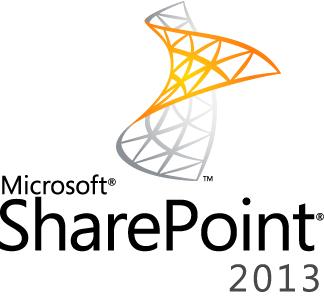 Creating a Workflow is an effective way to communicate processes to your team and manage common business practices, keeping everyone in the loop.
A Workflow in Microsoft SharePoint will let you assign groups of people to a document or project. You can then set automatic email alerts to be sent out to members regarding tasks, approvals needed or a reminder alert.
The Workflow owner (creator) can review the Workflow Status page to check and monitor progress on tasks given. When all members have completed their given tasks, an alert is sent to the Workflow owner informing him/her that it has been completed.
You can also customize predefined Workflows to help suit your individual needs. You can do this by simply choosing the Workflow best suited for your process or project. Then you can choose who you would like to assign each project task to and set any deadlines required.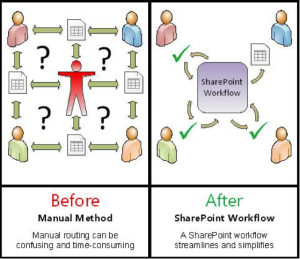 Note: Any Workflows you created in SharePoint Server 2010 will continue to work in SharePoint Server 2013.
Here are some features included in Workflows:
Approval – You can route an item or document stored in SharePoint to specific members for their approval or rejection.
Collect Feedback– Route an item or document to specific members to gather feedback.
Collect Signatures – Route forms, workbooks, or documents created in a Microsoft application to specific members to attain their digital signatures.
Three-State –Manage and monitor business processes by tracking the status of an item, project, task, issue, or sales lead.
Publishing Approval – Designed specifically for publishing sites, making sure that no new content can be published or web pages updated without every approver in the workflow approving the change.
Running a SharePoint Workflow is very easy and a helpful tool for any business where daily processes, simple and complex tasks, reviews, meeting or feedback are frequently part of your working routine.
Once you start using Workflows you will see the benefits right away.
If you like this post, share it!
So we can see that by using internal tools like SharePoint Workflow a business can track information that is necessary for all levels of management and sales. Once again I want to call to your attention that this is a separate type of Workflow from the automated service from Hubspot where Workflows go beyond email and take simple marketing automation to the next level, allowing you to send emails, update contact information, add or remove contacts from lists, and trigger email notifications.--Jaco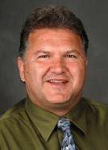 Jaco Grobbelaar is the owner of BroadVision Marketing. BroadVision Marketing works with business owners to put in place inbound and outbound marketing strategies that consistently secure new clients. The BroadVision Marketing Training Center is located in Petaluma, CA and primarily serves companies in the San Francisco Bay area.
Jaco can be reached at jaco@broadvisionmarketing.com or 707.766.9778 or connect with Jaco on Facebook - www.facebook.com/broadvisionmarketing - and LinkedIn - www.linkedin.com/in/JacoGrobbelaar.