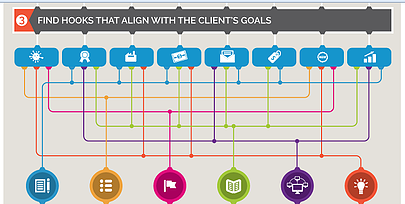 Welcome back. In the previous article I told you that an infographic yelled my name so loud that I knew I had to share it with you. The infographic is HOW TO CREATE content ideas for a FOR A NEW CLIENT, created by COPYPRESS. It is the most complete and yet simple guide to creating content that will help you connect with your readers just the way you want it to. I also mentioned in the last post that this infographic while created for marketers is equally applicable to any business blogger. If you haven't seen the first part of the article, I suggest you go there first and then read this section. What I have to say today will make better sense that way. You can find our first article at How to Create Content Ideas By the Number Part 1.
Since I want you to spend time with this infographic, I am going to try to keep my remarks brief. However the section we are going to cover first today, Part 3, is the meat of the infographic if an infographic can be meaty. It about creating that content we have been working on.
Look for a moment back at Part 2 and you will see a series of icons that refer to the goals you have decided to work with.
Here's the meat.
Each of these icons is located in Part 3 where you are going to learn how to find the hooks you will use to create the content. As you look at each of these icons you will notice two or three colored plugs attached to each. In the previous article we used the idea that you wanted to be educational with the twin goals of building authority and providing value to your readers. Now let's examine the build authority icon. Below it are three colored plugs, a blue one, a green one and a red one. Follow the blue one and you will see that it attaches to a blue line. Follow that line and it will plug into a rather long object with different sized rectangles.
The long object we are looking at is blue and is labeled Educational. Each color is a hook. The next rectangle down tells you how to connect to your reader. The one for Educational is to connect a concept with the mind. Below that is what you will need to work on to produce such content. We are not yet talking about writing, this is the pre-writing stage where you do your homework. I call it research. You might call it seeking

blog post ideas

.
On down we see a rectangle that says the same thing all the way across – How to Hit the Goal. Now comes the way you are to write the article. In the case of Educational that means to be extremely detailed. Shallow educational pieces will miss the mark. You sure don't want to miss the mark (gaming language calls the prospect a "mark" for a reason, you know).
Wrapping it up to go
Part 4 is a brief offering of a Sprinkling in Emotional Appeals to Add Interest. I have used humor in these two articles because I want you to laugh or at least smile as you learn something. I also like to be shocking on occasion to amaze you.
Part 5, our last one before you go take some time with this infographic, is that you need to make sure that your article has At Least One Value. Values include: does it fulfill a need, fulfill a want, or offer enjoyment? You don't have to choose just one. The infographic says you just need to fulfill at least one and two or three are great if you want to. The result will be that your content delivers ideas to a Happy Client, just as I hope that you are happy with this article.
Look this over and then decide how you are going to apply these principles to your content. Let me know what you decide.

How are you doing on creating those blog post ideas? Could you use a little help? We'd be glad to assist you.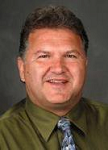 Jaco Grobbelaar is the owner of BroadVision Marketing. BroadVision Marketing works with business owners to put in place inbound and outbound marketing strategies that consistently secure new clients. The BroadVision Marketing Training Center is located in Petaluma, CA and primarily serves companies in the San Francisco Bay area.
Jaco can be reached at jaco@broadvisionmarketing.com or 707.766.9778 or connect with Jaco on Facebook - www.facebook.com/broadvisionmarketing - and LinkedIn - www.linkedin.com/in/JacoGrobbelaar. He can also be found at Jaco+.