Creating a sustainable inbound marketing campaign necessitates knowing how to use a marketing automation strategy. Why you ask? Well, a successful inbound marketing campaign usually results in a rather dramatic increase in visitors to your website and without marketing automation it will be dificult to:
1. Pay attention to all your new website visitors.
2. Capture there information to nurture them into prospects and clients.
However, newcomers to marketing automation can get lost if they don't have a clear map telling them what to do and when. Matt Wesson and the crew at Pardot have compiled an infographic that is a must-read for anyone working on creating a campaign using a marketing automation strategy. Matt's infographic provides a process timeline for everything you need to do to automate and optimize your campaign. Be sure to check out the little boxes that are attached to each circle (task). They help clarify the task.
The reason that this infographic is worthy of consideration is that when you add marketing automation, you can do all your campaign creation from one central hub - and believe you me, having one central hub is a huge time saver. Automating these processes gives you the option of not only creating on your time table, but also seeing the whole campaign in one place. No more six or seven different software components being pulled together.
Something to consider before you start your campaign automation: Do your homework! Before you start automating make sure you have the following information available:
1. Know your target markets and the personas representing those target markets.
2. The problems or issues your "personas" are trying to solve - there is a reason they are searching for answers.
3. The keywords or keyword phrases your prospects may use to find you.
4. Have a content calendar. In other words, identify the themes and ideas you must write about before just hopping into writing an article.
When we have all of the above, we are ready to start our process of automation and that is exactly where Matt begins.--Jaco

Campaign Creation with Marketing Automation [INFOGRAPHIC]
Written by Matt Wesson — November 8, 2013
Have you been to an amusement park lately? One of those huge monstrosities like Six Flags or DisneyLand? If you've ever spent the day at one of these meccas of roller coasters and funnel cakes, you know that these places make kids go nuts. There's so much to do, so much ground to cover, so much awesomeness to take in — they just don't know where to begin!
Well, taking your first spin with marketing automation can be just like that. There are so many tools, so many capabilities, and so much information that you may end up feeling scared that you'll miss something.
To help you through the tools and hidden gems marketing automation has to offer, we will be sharing helpful "How Marketing Automation Works" diagrams over the next few weeks, starting with campaign creation.
Automation helps you create integrated marketing campaigns all from one central hub. From hosting your content, to creating your own landing pages and promoting on social media, automation is a complete campaign platform capable of delivering and tracking marketing campaigns of all sizes and complexities. Check out the graphic below to see what the process is like!

How are you doing on your marketing campaign? Could you use a little help? Here is a video about what BroadVision Marketing can do to help you. Also, please feel free to contact us if you need some advice.
Posted by: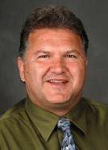 Jaco Grobbelaar is the owner of BroadVision Marketing, a digital marketing agency.
BroadVision Marketing works with business owners, sales managers and sales teams to put in place automated inbound marketing campaigns that consistently secure new sales ready prospects.
The BroadVision Marketing Training Center is located in Petaluma, CA and serves clients around the globe.
Jaco can be reached at jaco@broadvisionmarketing.com or 707.766.9778 or connect with Jaco on Facebook - www.facebook.com/broadvisionmarketing - and LinkedIn - www.linkedin.com/in/JacoGrobbelaar. He can also be found at Jaco+.