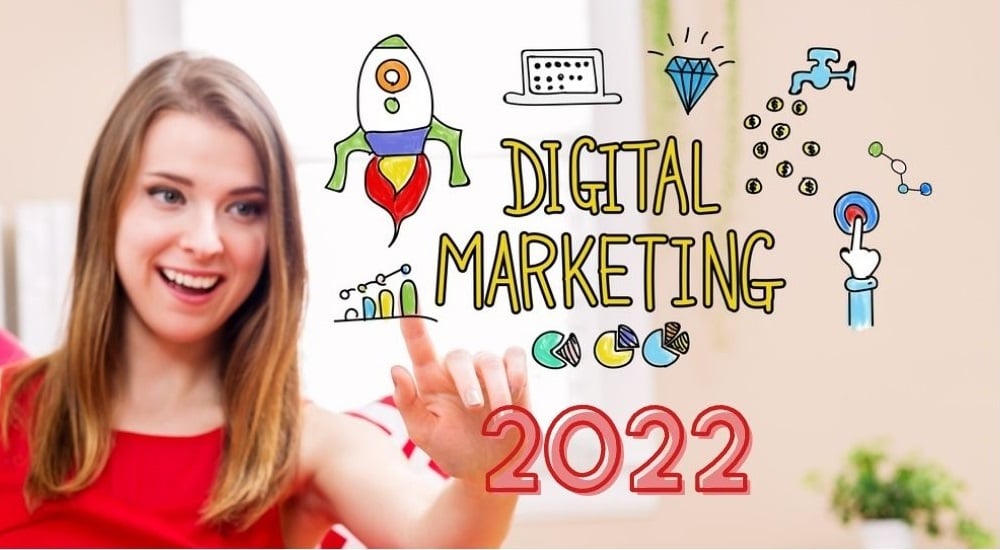 We're approaching the end of another year and will soon be in 2022. Yet, despite the turbulence and shifts of 2021, digital marketing powers on. Will you?
As with most business functions, many things will always remain the same in digital marketing, however, there are significant shifts and trends that matter. And that you want to know about.
From Humble Beginnings to An All-Consuming Presence
Digital marketing has, surprisingly, been with us now for almost 30 years.
As one source notes,
"The term Digital Marketing was first used in the 1990s. The digital age took off with the coming of the internet and the development of the Web 1.0 platform."
And, according to another,
"One of the earliest examples of a digital marketing strategy can be traced back to 1994. Netscape Navigator had just come on the scene as the first commercial web browser in October of that year."
But things really started to rock and roll after the year 2000 with the coming of Google, Facebook, and other entities that set the stage for some serious "digital", or online marketing.
And we've been going at it relentlessly for over two decades now.
Perhaps the most common and well-establish route to digital marketing is the presence of a website. And, according to updated figures from WebsiteSetUp.org, over 1.7 billion websites exist, but less than 200 million of those websites are active.
When you throw in all the assorted social media channels, online apps, and other platforms, you can easily see that the venue for digital marketing is truly vast and almost overwhelming.
Yet businesses must still compete for attention and an audience in the digital space. Which is why it matters to be aware of what is anticipated going into a new year.
A Look at the Top Digital Marketing Expectations for 2022
We can start with a very brief, and very broad overview provided by Digital strategist Dr. Dave Chaffey, co-founder and Content Director of Smart Insights:
Here are the core marketing themes that I think will be most significant for marketers considering their adoption of digital technology in 2021 and into 2022 and beyond:
Multichannel Marketing Hubs
Conversational marketing
Personalization engine
Artificial Intelligence and Machine Learning
Consumer privacy and consent
And that's all well and fine, but when it comes to specific trends and the important areas that we should be focusing on, there is a wide range of thinking and predictions.
With that said, here are five of the top digital marketing topics and trends to consider for 2022.
Content Marketing
If you want to "own" your niche or industry will need to align your PR, thought leadership, and SEO content. If you can align these things, you can easily stand out in your market.
"That means you need to have some source content on your website and other things you own like social or sister sites. Once you get a solid base of authority on different topics, then work to gain added credibility by adding the PR element, where others are quoting or mentioning your content. Finally, make sure that people are linking to your content under certain topics that you can own." [Inc.]
Mobile-First Marketing
People today spend a massive amount of their time online. In fact, according to Pew Research, so-called "constant" Internet usage among adults increased by five percent in the last few years. For digital marketers, this means that the way people buy and shop has changed, as well, along with how people access the Internet.
"As more people are using smartphones and tablets instead of desktops to browse products or services on the web, businesses need to create mobile-friendly content that will rank higher in search engines. One simple strategy involves optimizing your website's design so that it automatically adjusts for smaller screens. AMP (accelerated mobile pages) also make content load faster on smartphones and tablets." [Stefanini Group]
Conversational Marketing
"In 2022, everyone will be a storyteller. Even brands need to deliver their message in a way that tells stories about their products or services. Consumers don't want to hear how fantastic your product or service is. What they want to know is the story about the time you helped to solve a specific problem or the journey of how people use and enjoy your product." [LinkedIn]
Today, too many businesses still use self-promoting words to describe their products. What is still too often missing is a real-life stories of the advantages that their product or services provide.
Social Media As a Shopping Platform
Social media platforms have become an increasingly popular online shopping outlet in the wake of the COVID-19 pandemic.

The number of social commerce buyers in the US has increased by 25.2%, reaching over 80 million. And that number is forecast to exceed more than 100 million shoppers by 2023. [SocialMediaToday]
Short-Form Video Content
Love it or hate it, Tik Tok has taken social media video by storm. In the first three months of 2020, for example, Tik Tok videos were downloaded globally 315 million times. That set a record for quarterly downloads for any app on the Internet.

In response to Tik Tok, Instagram launched Instragram Reels in 2020, which allows user to record and post videos up to 30 seconds in length. And, according to one study, up to 82% of all online content will consist of videos by 2022.
Digital Marketing Made Easier with BroadVision Marketing
While these trends do not make up an exhaustive list, they represent the ever-present challenge for brands looking to leverage digital marketing for their products and services.

You probably well aware that effective digital marketing can significantly boost traffic for your business, but you might not be aware that achieving your marketing objectives takes time.
Digital marketing results won't happen with a few videos on social media or even an occasional business blog post or two. "Random acts of marketing" do not constitute an effective digital marketing strategy.

Your audience must consume your content for a while before they contact you. And on a number of platforms and channels.

The good news is that you don't have to figure it out alone. In fact, one of the best investments you can make with your marketing budget is to partner with a professional firm like BroadVision marketing.
Click below to learn more about BroadVision Marketing and our suite of digital marketing services so you can make an informed decision.
Or call BroadVision Marketing at 707-799-1238.