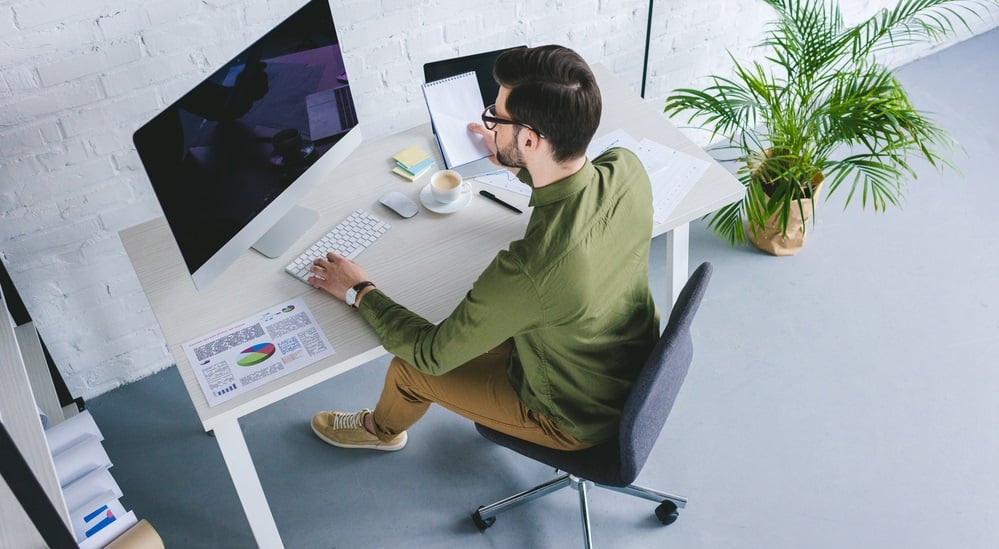 [This article was originally posted in September of 2018. Two years have passed, marketing has evolved, and the world has also gone through a unique period of pandemic and all the fallout from that. So, it is a fair question to ask once again, does blogging still matter for content marketing? With that in mind, we have updated and expanded this post.]
With all the changes in search engine optimization and the vast range of social media platforms available, does blogging still matter for content marketing?
For years content marketers have promoted the power of blogs for hosting great content for businesses and for driving traffic to their websites. In addition, a blog that is done well, with relevant and valuable content posted consistently and frequently, was said to provide powerful SEO "juice" for organic search.
This is all still true.
But with the Internet landscape constantly shifting and changing, and the search engine algorithms evolving, a valid question is whether a simple business blog still packs the content marketing punch it did, say, just a few years ago?
A Blog Is Relevant Content. Or Is It?
In his series of website FAQs, social media strategy expert, Neal Schaffer, noted that,
"Blogging is absolutely still relevant in 2021. In fact, roughly 409 million internet users read about 20 billion blog pages monthly. This is why 53% of marketers prioritize blogging as their primary content marketing strategy. Furthermore, blogging continues to flourish with a 12% increase in the last 5 years."
Many other content marketing experts concur, including Jamie Kamber of Storyteller who states that,
"In a world where social media seems to be the most popular marketing medium for businesses you might be wondering, "is blogging important?" The answer is YES! One thousand times yes. Blogging helps you attract new customers, rank higher on Google, build trust with consumers or clients, and establish yourself as a leader in your industry."
And there are other reasons, as well, why having a blog is still a valid tactic for content marketing. While the nature of blogging in general has changed over the last 15 years or so, one could argue that blogs have actually become more effective, targeted and versatile.
Business blogging is still incredibly effective at:
Boosting your local or global SEO
Establishing you or your brand as experts
Developing new sales funnels
In addition, despite the continual changes in technology, the shifts in social and online interaction due to COVID-19 and all that has come about because of it, blogs still provide key benefits for a brand such as,
Forming relationships with new visitors to your brand's website
Building trust with your customers and followers
Building and enhancing your brand's reputation
Showing the world that you're still going strong and still "in business"
Gaining visibility and building brand awareness
In addition, your blog content helps your readers like you and want to start a relationship with you and your brand. Expressing your personality (or your brand's) through your blog content is a great approach. By infusing the individuality of you or your company, in your blog content, you can make your blog (and your brand) stand out in a crowded and noisy marketplace.
A blog post provides content for a variety of other channels and platforms as it is effectively re-purposed, re-formatted, and "sliced and diced" for Twitter, Facebook, and other social media outlets. While a blog serves a fundamental purpose simply residing on a brand's website, it can fuel large portions of a comprehensive content marketing strategy.
Five Benefits of Blogging in 2021
To be honest, there are far more than just five benefits you can derive from your business blog, but these are, perhaps, the main ones for the purpose of this post:
1. Authority
By providing a reliable platform for showcasing your knowledge, expertise and valuable information, your brand will be seen as a trustworthy resource. This, in turn, will position your brand as an authority in your particular niche or industry.
The beauty of a blog is that it stands as a "go to" destination for your audience. As your readers consume your (relevant and valuable) content on a regular basis they will, over time, view your company as experts and a trusted source for help and information.
Keep in mind that no amount of traditional advertising could ever achieve that for you.
2. Credibility
Closely related to authority is building credibility. This is something else that a blog can accomplish simply by the very nature of the platform. Because it is on your company's website it is a part and parcel of your brand in the minds of your audience. It is both a reflection of your company and a window into it for your readers.
And the more they return to your blog for helpful and useful information, the more they will come to trust you as a company. Simply put, your standing as an authority will give you credibility. Which, by the way, is why your blog cannot be relegated to being a mere marketing "afterthought." It must be done well and as part of your overall content marketing strategy.
3. Connections
Businesses are built on relationships. And these begin as connections. Whether we realize it or not, we talk about building relationships in these terms all the time. When we speak of "networking" we are implying that connections will be made and that these connections will lead to relationships of some type.
Blogs allow you to make connections on a grand scale from the simple act of posting great content onto a platform that anyone in the world can read. While your actual audience may seem relatively small, the potential still exists for gaining tens or even hundreds of thousands of readers for any given blog post.
And many of these readers will become connections as a result of that post.
4. Traffic
All of which leads to the more "self-serving" benefit of blogging, and that is website traffic. Yes, blogging is still a major player in the realm of SEO and driving organic search traffic to a business website. Among SEO gurus and other content marketing experts, a blog post is still one of the most effective pieces of content for ranking well in search results.
This is true for a number of reasons, the chief among them being that search engines love new, or fresh, content and that is exactly what a blog post showing up every week (or every day!) provides for your site. The search engines, especially Google, also loves content that solves a searcher's query and matches the intent of the query.
Granted, this requires some strategic planning for your topics and post structure, but the nature of blog post makes it eminently suitable content for these tasks. And, as a result, they tend to rank well sooner and longer than most other types of content.
5. Long Term Impact
Once you have published a blog article, it not only has a near-immediate impact on your SEO and reach, it also has the potential to bring in traffic for years to come. Traffic from a quality blog post will increase exponentially as your article begins to rank in Google searches.
And the more you publish, the more you will begin to see a "snowball" effect in your business.
According to HubSpot,
"HubSpot recommends that marketers focus on "compounding" blog posts — posts whose traffic grows steadily over time. These posts are far more valuable than "decaying" posts which deliver a surge of traffic and then decay over time. While only one in ten posts are compounding posts, they account for 38% of total blog traffic across our sample. To maximize the chance of creating a compounding post, write articles that solve readers' problems, are easy to scan, and feature words like "how" and "why" in the title."
Successful Content Marketing With Blogging
By now you probably know that a successful content marketing strategy built on a blog can drive traffic to your website and create new prospects for your business. And, with the proper tactics in place, you can build an effective and efficient content marketing process.
But achieving your marketing objectives with a great content marketing strategy takes time. It doesn't happen with a few blog posts or some other great content you might produce.
The overriding fact of content marketing is that people will need to consume your content for a while before they contact you. Yet, without your content compelling them to contact you, your goals may never be met. Without consistent, high-quality pieces being published with optimum frequency, you may fall short of your goals.
The good news is that you don't have to do it all alone. In fact, one of the best investments you can make with your marketing budget is to partner with a solid firm like BroadVision marketing. Click this link to get your free Complimentary Inbound Marketing Session so you can make an informed decision, or call BroadVision Marketing at 707-799-1238.