Even in this brave new world of digital marketing that's gotten a real shot in the arm from the fact that two-thirds of Americans own Smartphones, millions of salespeople are really reluctant to fully embrace customer relationship management (CRM) platforms.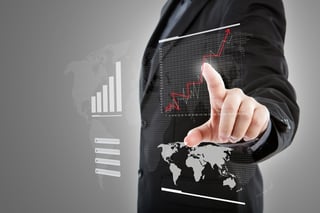 Why's that? In the back of their mind these same salespeople know that CRM software can provide them with more targeted sales, more nuanced customer profiles and marketing material, more sales, and greater lead nurturing potential. So, what's the deal? Why aren't salespeople fully onboard with the program?
How CRM Platforms Drive Sales and Customer Data
If three-forths of sales managers are reporting that customer relationship management software helps their salespeople locate new customers and convert on the sale, then why are so many salespeople lukewarm about the whole thing?
More Leads, Conversions and Sales
The answer really lies with the psyche and incentives of the average salesperson. Even though embracing customer relationship management software has been proven to drives leads, conversions and sales, salespeople often really, really enjoy interacting with people in real-life.
The assumption is that if you suddenly start spending your time inputting customer and sales data that you'll be ripped away from doing what you love: It's just a fact that salespeople love bringing customers closer to their brands.
Because of the misconception that CRM platforms detract from this real-world interaction, a lot of salespeople are reluctant (or totally unwilling) to input customer and sales data or ultimately adopt a CRM into their sales process.
Another reason that salespeople are sometimes less then enthusiastic about adopting a CRM is that they figure that anything that takes time away from interacting with customers automatically cuts down on their commissions. In other words, they feel a strong professional disincentive to getting onboard with a CRM.
Increase Revenue and Customer Satisfaction
Although the perception that embracing a CRM will detract from commissions is definitely a real one among salespeople across the nation, the statistics tend to show that it's also irrational.
Rather than hurting sales and driving commissions into the ground, customer relationship management platforms can increase a sales representatives productivity by a staggering 26% or more.
A CRM can also increase things like customer retention and customer satisfaction while augmenting revenue per salesperson by more than 40 percent!
That statistic alone should really give you pause and cause more salespeople to take a second look at the sales- and revenue-boosting potential of a comprehensive CRM platform.
Perceived IT and Computer Fluency Barriers
Other salespeople are anxious about customer relationship management software because they fear they'll lack the skills to make full use of it or somehow fall behind other salespeople in the company who go more "old school" and just cold call customers all day.
Both worries are actually ungrounded since making use of HubSpot's CRM, for instance, doesn't require advanced IT or software knowledge to drive sales in the 21st century.
What salespeople who start using CRM platforms actually find is that these applications are easy to use and that there's cross-integration between sales and marketing processes.
Far from adding needless work or complexities to the equation, comprehensive CRM platforms give you the sales and marketing tools to seamlessly add contacts, input customer and sales data, and deliver more nuanced, relevant marketing materials based on customers' prior and current interactions with your brand.
Closing Thoughts to Keep in Mind
To make matters even simpler for salespeople and help sales managers ensure that CRM platforms have full adoption across sales and marketing, make sure to keep things simple and avoid mandatory fields relevant to your average salesperson's role.