Word of mouth, referrals, and great testimonials have always been a critical part of marketing a business. Now, with the rise of review sites and mobile technology, they are even more important.
2017 may well be the year of testimonials and reviews in local SEO. Survey after survey continues to show that people look for and read reviews.
And they leave them!
In fact, studies have shown that as many as 92% of consumers now read online reviews and that 68% of these regard positive reviews as a significant trust factor. And despite the fact that some marketing experts still tend to downplay and under-value the significance of reviews and testimonials, there are many who have shown why well-crafted website testimonial pages are vitally useful.
Are People Talking About You?
Reviews can impact your local Google map-pack rankings, and testimonials can help boost your ranking on search engine results. In addition, it has been shown that both reviews and testimonials on your website can boost Google's perception of your business' trustworthiness and reputation.
That sounds awfully good! Yet, seldom a day goes by that I don't encounter websites that are neither encouraging reviews nor showcasing testimonials.
If your company is serious about local SEO and ranking as well as you can consistently, then it pays to know what reviews and testimonials are, and how to leverage them for your business' search results.
Are reviews and testimonials really all that important? This infographic from Mainstreethost.com reveals some key statistics to show that they are: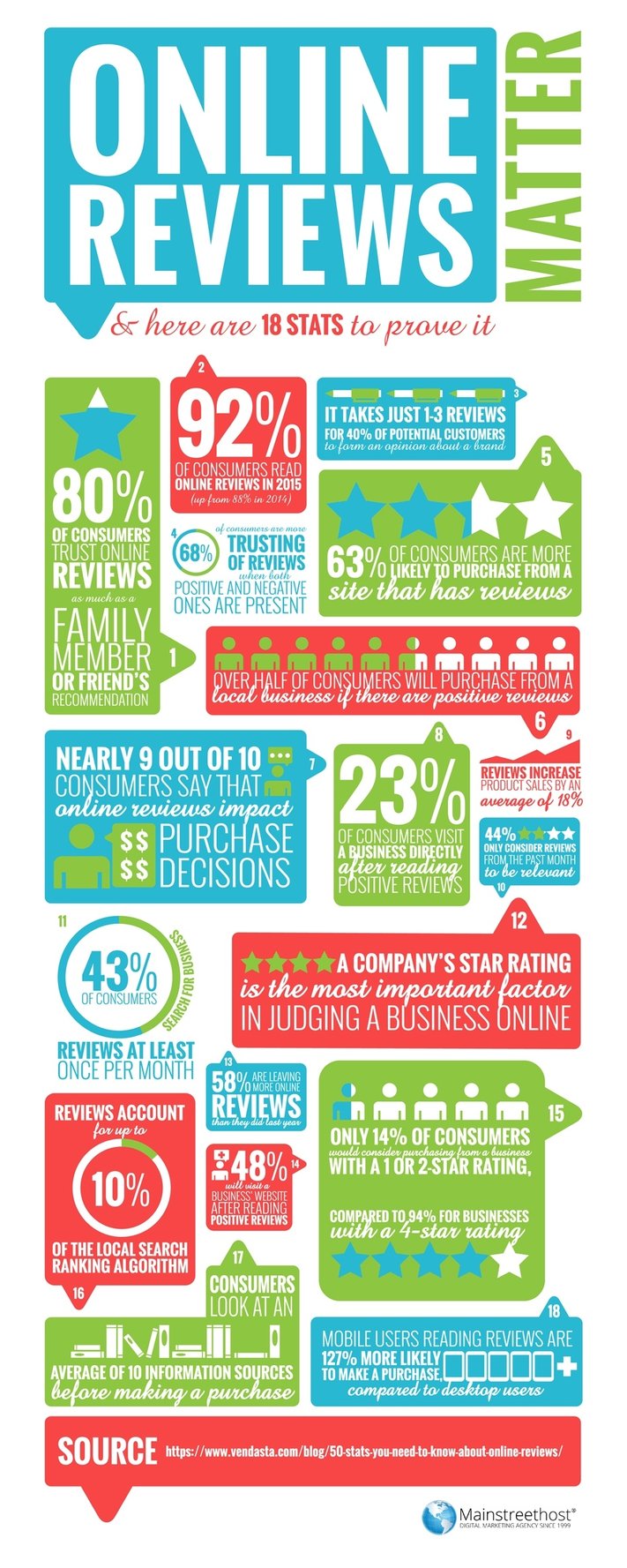 Reviews and Testimonials: Definitions and Differences
Traditional Reviews: They post direct from customers on third-party review sites
Typically, when we speak of "reviews," we are referring to comments left directly by customers on third-party platforms, like reviews on TripAdvisor or Yelp!, for example.
Traditional testimonials: Customer input moderated by owners on the company site
Testimonials, on the other hand, have traditionally meant the comments offered by customers that are often posted on the company website with the customers' names. They can look something like this:
Your service was exceptional and your work was extraordinary. Your staff went out of their way to help and it made our visit a pleasant one. — Bob & Suzanne, CA
According to Miriam Ellis,
Review content has historically been outside of owners' control, while testimonial content has been subject to the editorial control of the business owner. Reviews have historically featured ratings, user profiles, images, owner responses, and other features while testimonials might just be a snippet of text with little verifiable information identifying the author.

Reviews have typically been cited as more trustworthy because they are supposedly un-moderated, while testimonials have sometimes been criticized as creating a positive-only picture of the business managing them.
Using Reviews as Testimonials and Blurring the Lines
Things are changing as more local businesses are using technologies that blur the lines between reviews and testimonials. Website applications in the form of third-party widgets can enable users to leave reviews directly on your website.
These reviews/testimonials can contain star ratings, avatars, and even owner responses. Google reviews are a great example of these and should be among those highly sought after.
Make an Action Plan to Reap the Benefits
You have many options when it comes to leveraging your customer's comments, but in order for your efforts to gain maximum benefits, you need to:
Know the platform guidelines
Have clear feedback goals
Commit to making a sustained effort
1) Platform policies
Because your website's consumer feedback page may feature a combination of unique reviews and testimonials you directly source, widgets featuring third-party review streams, and links or badges either showcasing third-party reviews or asking for them, you need to know the policies of each platform you plan to feature.
Why does this matter? Since different platforms have policies that range from lax to strict, you want to be sure you're making the most of each one's permissions without raising any red flags. Google, for example, has historically been fine with companies asking consumers for reviews, while Yelp's policy is more stringent and complex.
2) Feedback goals
Customer-focused
Create an effective page that ranks highly for your brand so that it becomes a doorway page from Google.
Make sure that the page is easily accessible from your selling pages with appropriately embedded reviews and links so that it can help sell site wide.
Google-focused
Get the page ranking well on brand and brand+review searches
Ideally, get designated with review stars
Optimally, have it show in the knowledge panel as a source for reviews from the web
3) Sustained effort
The good news is that you don't have to come up with or write the reviews. You have a veritable army of potential contributors to do that for you.
And doesn't have to happen today - and in the immediate future.
In fact, a much better approach is simply to keep the sentiment conversation going at a human pace, engaging with your customers in a human way, and ensuring that your consumer feedback page is as good as you can possibly make it. This is manageable — you can do this!
Phil Rozek of Local Visibility System is the author of the Ultimate List of Review Widgets and Badges for Your Local Business Website. He gave Moz contributor Miriam Ellis tips on encouraging meaningful customer feedback:
"Don't ask just once. In-person plus an email follow-up (or two) is usually best. Give customers choices and always provide instructions. Ask in a personal, conversational way. Rotate the sites you ask for reviews on. Try snail-mail or the phone. Have different people in your organization ask so that you can find 'The Champ'," says Phil.

"Encourage detail, on-site and off-site. Saying things like 'It will only take you 60 seconds' may be great for getting big numbers of on-site testimonials, but the testimonials will be unhelpfully short or, worse, appear forced or fake. Dashed-off feedback helps no one. By the way, this can help you even if a given customer had a bad experience; if you're encouraging specifics, at least he/she is a little more likely to leave the kind of in-depth feedback that can help you improve."
Local SEO Matters so Get the Help You Need
Fortunately, you don't have to attempt this on your own!
Your options for implementing a successful inbound marketing strategy include turning to a professional firm that can work with you to maximize your efforts.
A qualified agency like BroadVision Marketing will develop a road map with an implementation time line, marketing milestones, and key deliverables. Using this road map we will create the framework and structure for us to work with you and help you to achieve your marketing goals.
Get your Free Complimentary Inbound Marketing Session to help you make an informed decision or call BroadVision Marketing at 707-799-1238.