One inescapable fact of business life is that you must promote your business in order to succeed. Inbound marketing is great for this, but you also have additional options.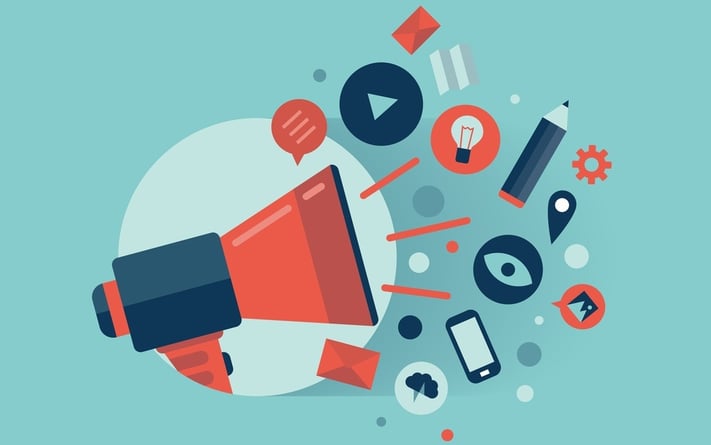 If you think of promoting and marketing your products or services as a series of campaigns (and why not? marketers do!) it is easier to visualize a strategy. Much like a military campaign, your marketing efforts employ an overarching strategy that is comprised of a number of tactics.
Ideally, all of your tactics, or marketing methods, should work together in a well thought out and organized plan. In addition, each tactic and tool you employ should complement and support one another.
While this can often be a complicated strategy to devise and plan out, it doesn't have to be.
Tactics to Support Your Inbound Marketing
We love inbound marketing. It is hands down far more cost-effective than traditional, advertising-based, "interruption" marketing, as Seth Godin so famously referred to it. It is a robust and intuitive marketing strategy that can be designed to work for any business.
But that doesn't mean a business should leave out other tactics from their marketing arsenal.
Here is an overview of some of the more effective and proven approaches to promoting and marketing your business. And keep in mind that these are intended to work in tandem with, or as a part of, your overall inbound marketing strategy.
5 Ways to Promote Your Business Beyond Inbound Marketing
Search Engine Optimization (SEO) - SEO is one of those partly-understood marketing terms that gets thrown around a lot. So what is it, really?Essentially, it simply refers to the efforts done to make your website show up in search engine results. Here is a great definition from the SEO company Moz:
SEO is a marketing discipline focused on growing visibility in organic (non-paid) search engine results. SEO encompasses both the technical and creative elements required to improve rankings, drive traffic, and increase awareness in search engines.
The challenge for a local, brick-and-mortar business is being found only by those prospective clients and customers within a reasonable distance from the business or shop. Being found on page one for late night pizza delivery by someone searching in Tulsa, Oklahoma if your pizza place is in San Francisco, California!
SEO is part science, part art, and not something you'll want to exclude from your firm's overall marketing strategy. So, you'll want to hire an SEO professional to ensure it's done right.
Online Advertising - While some feel that organic search driven by SEO, or search engine optimization, is the only way to go, others believe that paid search is superior for results. In other words, PPC, or pay-per-click online advertising. However, both tactics share common ground.
Pay-per-click advertising relies on search engines - primarily Google - and the fact that someone is looking for something you do or offer. It also makes use of key words to define and narrow searcher's results. And it can be refined to varying degrees to target certain audiences in certain locales.
Online advertising requires set up, analytics, testing, and constant management of the campaigns. And it requires a solid understanding and knowledge of how search engines work, how people actually search for services and products, and what Google is changing.
The biggest advantage over traditional print or broadcast media advertising is that PPC requires a lower budget to start, and offers superior targeting capabilities.
Social Media - If your company isn't on social media, it needs to be. One of the main reasons many companies avoid social media marketing is the belief that it will not provide an immediate ROI and that Social Media has no practical, business use. Yes, and no.
Social media marketing might not generate immediate revenue for your business, but is essential for building brand awareness, client or customer relationships, and for driving traffic to your company website. As much as some business owners may dislike it, prospects fully expect your business to be found on major social media platforms. If you are not at least active on Facebook, LinkedIn and Twitter, you may be viewed as less than legitimate.
Word-of-Mouth - Sometimes called "Referral Marketing", this is a normally organic, or random, thing that occurs when a happy client or customer refers your business to someone. Word-of-Mouth marketing, however, is simply leveraging what most of your customers would do if they thought about it, and helping them think about it regularly with a process.
It is completely feasible and effective to create and implement a process for eliciting referrals and recommendations from your customers in a consistent and systematized fashion. Nothing beats a genuine recommendation from a friend or colleague for bringing in new prospects.
Publicity - Typically you pay for "Public Relations" exposure and you generate "Publicity." Publicity includes any non-paid, news-oriented coverage in the mass media. The great thing about publicity is that it's free, and it is still the most believable form of promotional communication aside from word-of-mouth. Prospects believe what they see or hear in the media since the media channel has no financial stake in promoting your business.
Here are some examples of items you can create and provide that are great for generating publicity: Press Releases, Feature Articles, Product Announcements, Speeches, Seminars, Annual Reports, Community/Charitable Events, Charitable Donations Sponsorships, Endorsements, and so on.
Expand Your Marketing Reach While Keeping Your Focus
There is a wealth of potential and variations within these five categories and you should tailor them to your business and your industry. Keep in mind that no one of these tactics by themselves can sufficiently promote your business. But in conjunction with one another, or any combination of two or three, they can boost your inbound marketing efforts and capture leads and prospects that might otherwise be lost.
Never lose sight of your audience: your customers, clients and prospects. Designing your marketing, or promotion, tactics to appeal to and engage them is paramount. Just because something sounds easy or inexpensive doesn't mean it is always a good fit for your company or your audience.
Getting Help With Your Inbound Marketing
Using any number of these tactics to complement inbound marketing for your business is a great way to leverage affordable Internet marketing. But achieving your marketing objectives with a content-based marketing strategy takes time. It won't happen with a few blog posts or great ebook.
People will need to consume your content for a while before they contact you. Yet, without your content compelling them to contact you, your goals may never be met.
The good news is that you don't have to figure out alone. In fact, one of the best investments you can make with your marketing budget is to partner with a solid firm like BroadVision marketing.
Get your free Complimentary Inbound Marketing Session so you can make an informed decision, or call BroadVision Marketing at 707-799-1238.