Inbound marketing is a proven strategy for generating high quality leads and conversions. But there are other strategies that can be used along with it.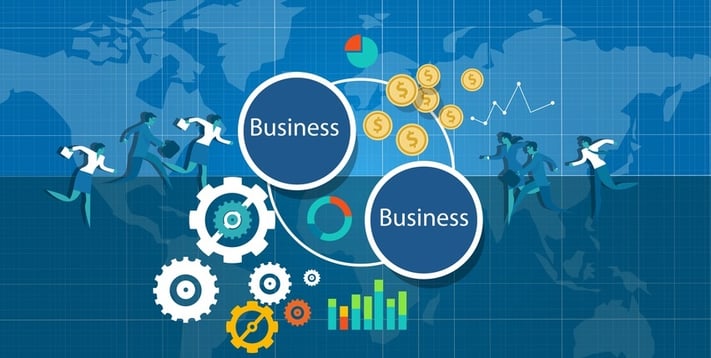 While some business owners or their marketing managers might be familiar with Account-based marketing, or ABM, many are not. The first question to answer, then, is what exactly ABM is and can it be used alongside an inbound marketing approach?
Account-based marketing (ABM) is a strategic approach—from marketing to sales to customer support—that organizations are implementing to target and engage their audience and drive revenue across the business.
Rather than marketing broadly across a large number of businesses, companies that employ an ABM strategy focus their resources on a targeted set of accounts and look to deliver strategic, orchestrated campaigns personalized to those accounts—whether they're prospective or existing customers.
Account-based Marketing: New Kid on the Marketing Block?
According to Sean Callahan, Senior Manager, Content Marketing at LinkedIn:
"An increasing number of B2B marketers are embracing account-based marketing (ABM) as part of their overall marketing efforts. Marketers using ABM work closely with their sales team to identify key prospects and then tailor customized programs and messages to the buying team at targeted accounts."
While there is a renewed interest in and engagement with ABM, it is not a recent development in the marketing universe, however.
"An account-based approach is nothing new—that strategy has been around forever. The big reason that companies can focus on ABM today: technology. Companies can now map their ABM objectives to a solution that changes the conversation with accounts."

Jeff Coveney, President, RevEngine Marketing
The Benefits of an Account-Based Marketing Approach
Implementing an ABM strategy in your SMB will help you:
Improve marketing ROI: You are spending your resources on activities that drive the most results for targeted accounts.
Generate more targeted conversions and qualified leads: You start with a segment of accounts that are already more likely to convert instead of a wide-ranging reach.
Align your sales and marketing efforts: It is a collaborative process involving account selection, targeting, engagement, and closing sales.
And because of the numerous advantages that technology offers small businesses, this marketing strategy can be utilized effectively for the same kind of results that used to only be possible for large, enterprise-level businesses.
Five Steps to Account-Based Marketing
If you are thinking of implementing an ABM strategy, there are steps and best practices that will help structure your strategy. This infographic from Marketo illustrates the highlights of this approach.

Inbound and/or ABM?
For many marketers, this really seems to be a choice of one strategy over the other. However, it is quite possible to create an effective "hybrid" approach that leverages the value of breadth and longevity of inbound marketing results, along with the focused and potential shorter-term "big wins" of account-based marketing.
Traditionally, a company selling to a small number of targeted brands can succeed with a strictly ABM approach. On the other hand, an organization selling to anyone and everyone in a broad target market - where all leads equally valuable - can do very well with an inbound marketing strategy.
If, however, you find that your marketing goals are somewhere in the broad "middle" that a blended approach is just the ticket. Because you aren't targeting a really broad market, you likely can't just rely on inbound. But a strictly ABM campaign will be limited by your limited resources and a less than well-defined market.
According to Joe Chernov, VP of Marketing at InsightSquared, there are key factors that can be leverage for a combined marketing approach. He offers some insights on the perfect approach for a mixed strategy by reconciling the values of ABM with the values of inbound marketing:
The sales team wants content and becomes the distribution channel for it.

Even though you start at the bottom of the funnel with ABM, you still need to get the attention of targeted accounts. That's where many inbound marketing principles still apply to ABM.

Content demand multiplies with each customer cohort or named account you pursue, because you're selling to a buying committee."
The specifics of your combined strategy will be determined by your own needs and available resources. The point here, though, is that inbound marketing can be your primary approach, or it can be one of two or three different approaches to achieve your marketing goals. So feel free to experiment and see what you can put together.
A Quality Strategy is Critical for Inbound Marketing Success
While having your content show up on page one in organic search results is a big win for businesses, it isn't everything. There are a number of other tactics and tools that can and should be applied to create a successful and comprehensive inbound marketing strategy for your website.
If you are considering getting help with your company's marketing efforts, it is helpful to have the insights of a third-party, a marketing professional, to assess and assist with your strategy. BroadVision Marketing offers helpful information on how to create an inbound and content marketing strategy.
You can get free advice during your Free Complimentary Inbound Marketing Session which will help you learn more about content strategy and its place in Inbound Marketing. You can also call BroadVision Marketing at 707-799-1238.
Still not sure if Inbound Marketing can work for you? Click on the button below and learn more about our marketing services.