Everyone likes to watch videos. The statistics prove it. But using video for your own marketing does not have to be expensive or difficult.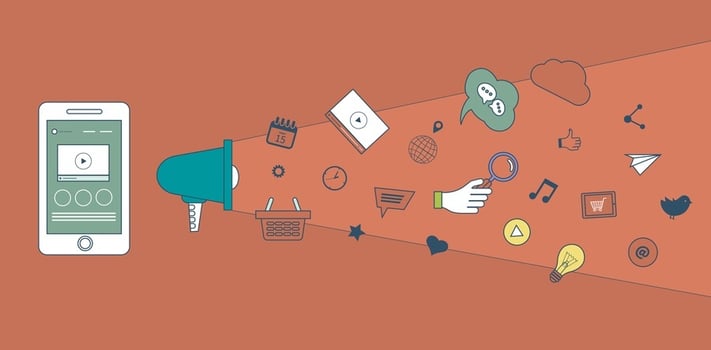 There is a place for professionally produced videos that are part of a multi-channel marketing campaign. And then there is your own business. The budget just isn't there for a $10,000 video, nor do you have a the resources for launching and managing a complex campaign. So is video something that is just going to have to wait?
By no means!
Technology and the Democratization of Video Production
Here's the thing: we have access to tools and technology today that make video production simple and accessible for just about anyone. There are so many digital devices that can take video, and so many apps for editing and manipulating that video data. Almost anyone can make a great video now.
Does that mean the death of professional video production? Not at all.
There is still (and probably always will) be a need for a higher level of video product. Just as photo studios and professional photographers still survive and thrive in today's digital economy, so do videographers and video studios.
But the times, they are a'changin.
You, Too, Can be a Video Star!
Is there really a place for video in your own affordable Internet marketing strategy? There should be. Video is a massively significant factor in online marketing today. A few statistics can help bring this to the forefront of your affordable marketing plan thinking:
A marketing strategy without video is a strategy that is running on three cylinders, not four (or six!) The big issue for many business owners and small business marketers is the seeming lack of resources and skills. But this does not need prevent you from using video. Good video.
Here is a nice infographic that highlights the five essential components, or considerations, of a great video marketing effort:

Share this Image On Your Site
Like anything else in life, practice and repitition bring improvement. Your first few efforts at creating a video for your website or for your YouTube channel may appear clumsy and amateurish to you. No worries! As you get better and your video skills begin to solidify, you can always take down (or delete) your first efforts.
So what's needed for a decent video?
Three Tips for Great Video
Now this is where some professional videographers will vehemently disagree, but the truth is that great looking video is possible with simple tools. You need three things to make a good video:
A decent camera

Good lighting

Clear sound
Too simple? Not really. While you might want to have a script and some nice background, etc. without these three - and especially Numbers Two and Three - your video will be, well, less than great.
Your camera can simply be your iPhone (or Android) and a tripod or camera mount. Despite all the cool movement and cuts in many professional videos, most people prefer to see you video without feeling like they're shaking or watching a bad home movie. Digital SLR cameras and others almost always have HD video capability these days, and they can take great quality video, as well.
The lighting needs to be of a sufficient quantity that your subjects can be seen easily and clearly. Studio lights aren't necessary, but sunlight, daylight through windows, or good indoor lighting is a must. And avoid back lighting your subject.
Sound can be tricky sometimes as many cameras, especially phones, do not have microphones designed with video production in mind. But creative planning and positioning of your subjects can minimize any audio weirdness you could encounter. If you are going to create a video using narration, then sound is less of a challenge. But in any instance, the audio must be clear and of a decent volume.
The bottom line is that no matter how entertaining your video is, not matter how engaging or impressive your story, if it is hard to see or hear, you will lose your audience. End of story.
Even Good DIY Marketers Can Use Help With Their Marketing Strategy
Achieving your marketing objectives with an affordable Internet marketing strategy takes time. It won't happen with a few videos or great ebook. People will need to consume your content for a while before they contact you. Yet, without your content compelling them to contact you, your marketing goals may never be met.
Content and inbound marketing work day in and day out. Once you upload a video, post a blog article or upload a Slideshare piece, it is always there, working to educate and compel people to become leads. And when they do come to you, they are educated, informed, and much more likely to make the decision to buy.
Get your Free Complimentary Inbound Marketing Session to help you make an informed decision or call BroadVision Marketing at 707-799-1238.
And take a moment to download this informative resource entitled"The 30 Greatest Lead Generation Tips, Tricks, & Ideas" to support your own marketing efforts!