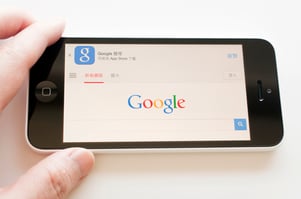 Because Google said so. No, really - it was more than a year ago that internet usage on smartphones and tablets first surpassed access from PCs, and browser-based access is an increasingly major part of the market.
Therefore, effective internet marketing quite literally requires that sites be designed in a mobile friendly way.
Actually, I take that back. It's wrong. It would be better to say that websites should be designed in a device-neutral way. It should look good regardless of whether it's appearing on a desktop, a tablet, or a handheld phone - or even a display projected onto glasses, if some tech companies have their way.
This is a side-effect of the Internet of Things, and one that effective internet marketing can and must take into consideration as we keep moving forward. Let's look into this a little deeper.
Why Access Content On Mobile Devices?
The majority of casual users are interested in one thing, and one thing only: convenience. If something isn't convenient to use, they'll discard it in favor of something that works better - so effective internet marketing must be able to appeal to the desire for something easy to use.
Mobile access is growing simply by virtue of being close at hand when people want to find information - whether they're researching a product, looking up information, or casually browsing while watching their favorite show, mobile access offers the convenience that people are looking for.
Effective internet marketing requires being brutally honest with yourself and your marketing team. You cannot make the world work the way you want it to - customers will decide when and where to go online, and the best you can hope for is catching their attention and trying to lead them in.
Which, of course, is what brings us to our next point.
Search Engines Care About User Friendliness
Let's take a step back from our own sites and think about what search engines are doing - they rely on their ability to provide relevant, accurate information when people send in a query. This is the core of their business model, and something they have no intention of giving up so easily.
Now imagine what would happen if a search engine repeatedly offered mobile users a page full of links that looked horrendous on a smartphone screen. Don't you think there's a good chance people would start switching over to a better search engine?
Effective internet marketing cannot occur on mobile devices if a given web page isn't mobile friendly. Search engines don't want to show it, and even worse, visitors don't want to stay on that page. The deck is stacked against you on every conceivable level if your page is only set up to display on one type of device.
Fortunately, resolving this as part of an effective internet marketing plan is a straightforward job: make each of your pages easy to view on any device people are accessing it from.
Google offers a few tips to help ensure that you're running an effective internet marketing plan. After all, your success directly benefits them.
First, they suggest that every effective internet marketing plan should avoid the use of technology that isn't common to every device - Flash is a good example.
Next, the text should be sized so it's reasonable without zooming. Let's be honest - would any truly effective internet marketing plan require people to squint?
Finally, content should also be entirely scrollable - but only vertical. No horizontal scrolling, ever.
Google is reported to be releasing a new algorithm on April 21, 2015 that will 'significantly impact' search engine rankings for websites that are not mobile ready.
Google offers a free, mobile-friendly test for websites here. Use it often, use it well, and fix the things it tells you to fix.