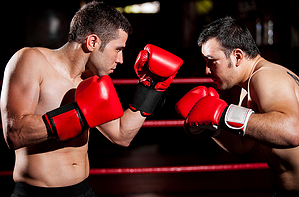 Chances are that you are either a business owner who oversees your own marketing efforts for your company, or a staffer responsible for some or all of the marketing in the company. And chances are you are involved in some level of "Inbound Marketing" whether you realized it or not.
Inbound Marketing Really Does Beat Outbound Marketing Tactics
So what is "Inbound Marketing" anyway?
It is still a somewhat fuzzy concept to many business owners and even a few marketers. Brian Halligan, CEO of HubSpot, the company that coined the term "inbound marketing", defined it this way:
Inbound Marketing is the opposite of traditional outbound marketing (advertising, direct mail/phone, tradeshows, etc.), where you interrupt your way into your people's lives. Instead of interrupting, Inbound Marketing pulls prospects into and down through your sales funnel in a new and natural way based on how they search for information and make purchase decisions today.
Or as Zac Gregg of Vital puts it, "Inbound marketing works by earning someone's attention, rather than buying it."
Every Business Has to "Do Marketing" In Some Way
Whether you choose to stick with traditional outbound marketing techniques, or seek to implement what is known as inbound marketing tactics, you know you have to market your business somehow. And maybe you never thought much about your methodology nor realized that there is a distinction between the two.
Well, ere is a great infographic that contrasts the "The Inbound Marketer vs. The Outbound Marketer: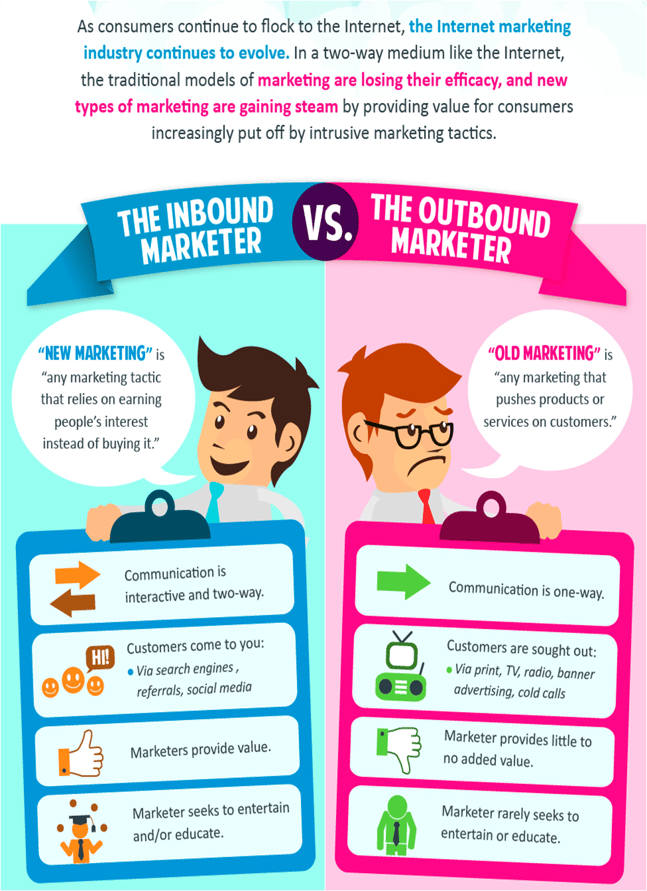 All of this is not to say that traditional marketing tactics don't work at all, or have no value for today's marketers. There is still a place for print and broadcast advertising, for example. But it must be kept in mind that an ever-growing segment of the American buying population is under 40. This is important because, generally speaking, these are the folks who do not trust paid marketing and largely tend to ignore and dismiss most traditional marketing efforts.


Some (Marketing) Principles Never Go Away
Some marketing thinkers advocate that the "Four P's" of marketing (Price, Product, Placement, and Promotion) are outdated and insufficient for the modern marketing world. Another school of thought is that, while the classic marketing mix is still valid and applicable, it must now be complemented with the essential channels and tools of social media and content creation.
In other words, there is still a need for competitive and strategic pricing, for developing and offering great products or services, and for determining the best point of distribution or place. And while you may still find value in more traditional means of promotion, an inbound marketing strategy can minimize or eliminate that approach.
Getting Help With Your Marketing
The approach of inbound marketing holds great promise for your business. But achieving your marketing objectives with a content marketing strategy takes time. It won't happen with a few blog posts or great ebook. People will need to consume your content for a while before they contact you. Yet, without your content compelling them to contact you, your goals may never be met.
The good news is that you don't have to figure out alone. In fact, one of the best investments you can make with your marketing budget is to partner with a solid firm like BroadVision marketing. Click on the button below to get your free Complimentary Inbound Marketing Session so you can make an informed decision, or call BroadVision Marketing at 707-799-1238.
---

Jaco Grobbelaar is the owner and CMO of BroadVision Marketing. BroadVision Marketing works with business owners to put in place inbound and outbound marketing strategies that consistently secure new clients. The BroadVision Marketing Training Center is located in Petaluma, CA and primarily serves companies in the San Francisco Bay area.
Jaco can be reached at jaco@broadvisionmarketing.com or 707.766.9778 or connect with Jaco on Facebook -www.facebook.com/broadvisionmarketing - and LinkedIn -www.linkedin.com/in/JacoGrobbelaar.