A prize for marketers and business owners, featured snippets - or rich snippets - as they are also known, can drive more search traffic to your site. But how do you make that happen?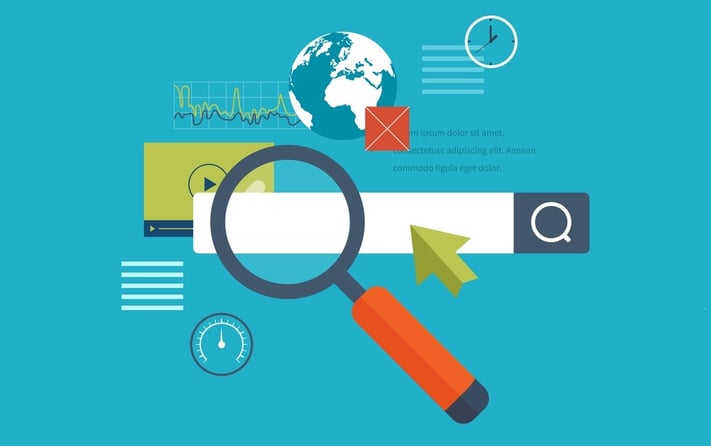 Everyone engaged in improving their organic search results wants to be found on the first page. And one of the neat aspects of Google that can make that happen is what is known as featured snippets.
Why is that?
Because these small segments of formatted text that often appear at the top of an informational search in Google can drive a great deal of clicks to your site. The good part of these featured, or rich, snippets is that the can be a goldmine for spurring traffic.
The downside is that you cannot dictate if and when Google will create these with your content.
Content Marketing Challenge With Google
According to Google, "Google programmatically determines that a page contains a likely answer to the user's question, and displays the result as a featured snippet." Google then posts this summary of content at or near the top of page one.
They go on to explain that,
The summary is a snippet extracted programmatically from what a visitor sees on your web page. What's different with a featured snippet is that it is enhanced to draw user attention on the results page. When we recognize that a query asks a question, we programmatically detect pages that answer the user's question, and display a top result as a featured snippet in the search results.
You can rank for featured snippets with your organic, or website, content. It's simply a matter of doing the right things, the right way.
What are Featured Snippets Anyway?
Featured snippets are the blocks of informational content that shows up in Google's search engine result pages. They appear immediately after any ads and sponsored posts. Here's an example of a featured snippet in response to the query "how to optimize blog for seo":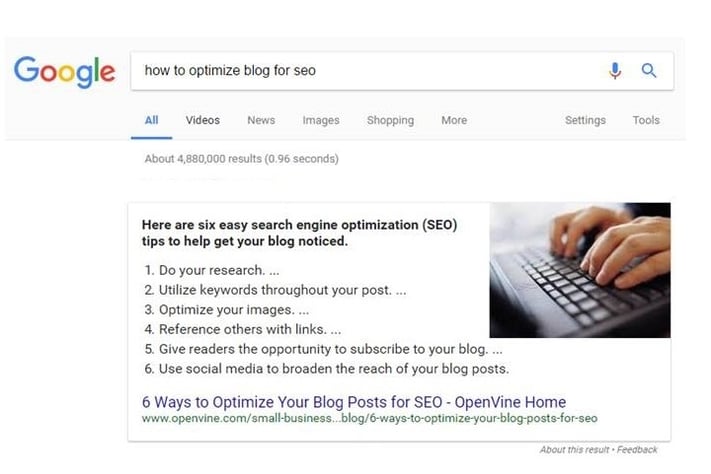 In this example, we cropped out the sponsored ads around this search phrase that appeared above the snippet. However, the snippet ranks as the top organic result. This happens when Google finds results it considers high-quality content. Google used this space to highlight that particular content because it's focused on fulfilling what is known as user intent.
Best Practices for Generating Featured Snippets
There are a few, key steps you can take to boost the likelihood of your content showing up as a featured snippet when someone searches Google with a question.
1. Your content should be "designed" to answer questions
According to marketing guru Neil Patel, "If your content doesn't answer questions, it won't get into the featured snippet. That's all there is to it."
Keep in mind that your audience is most likely typing in phrases that essentially ask a question. Your content should be designed and structured specifically to answer questions. You must have the "raw material" on your website for Google to use to create a rich snippet.
When a user enters a question in Google's search engine, Google searches through thousands of sites to find content it deems to be the best answer to that question. When your site has written content phrased in such a way that it can provide a clear, relevant and succinct answer to that question, it stands a greater chance of being pulled for a featured snippet.
2. Build and publish quality FAQ, or Q&A, pages on your site
Many websites feature an FAQ page somewhere, often towards the end of their sitemap. But, too often, these pages are treated as "throw away" pages - simply a random collection of vague or general questions with brief, insubstantial responses. Don't be that guy!
A quality Q&A page, or better yet, a number of these pages, can provide fruitful content ready-made for featured snippets.
The key here is to know the questions your audience is asking. Try to phrase the questions the way your audience would phrase them in a Google search. And provide quality, informative, and in-depth answers.
3. Be the authority in your field, or business, and provide relevant, high quality answers on your site
Your competition is essentially every other website that may potentially have suitable content to address a search query you want to show up for. The good news is that probably 95 percent of them are not thinking in terms of featured snippets or relevant search.
The hard news is that maximizing the likelihood that your content will show up as a featured snippet requires hard work, research and strategy on your part.
Julia McCoy at Content Marketing Institute notes that:
You can't afford to skim the surface with your featured snippet content. Work on hitting these three cores:
Dive deep and go in-depth with your content — cover every question that could come up on the topic.
Break down each step in the answer and use visual content to back it up, from videos to infographics and screenshots.
Remember to tailor your content to suit beginners in your niche.
By outperforming your competition, you can ensure that your content goes the distance and ranks well in featured snippets across the web.
Part of the beauty of this approach is that once your content is published and available to Google, it can have a long, productive life in search results. Your content can potentially show up as featured snippets for years. And the likelihood of spurring repeat visitors to your site increases exponentially, as a result.
Getting Help With Your Local SEO Strategy
While having your content show up as a featured, or rich, snippet is a big win in the SEO and search engine marketing game, it isn't everything. There are a number of other tactics and tools that can and should be applied to creat a successful and comprehensive local SEO strategy for your website.
If you are considering getting help with your company's marketing efforts, it is helpful to have the insights of a third-party, a marketing professional, to assess and assist with your strategy. BroadVision Marketing offers helpful information on how to create local SEO strategy.
You can get free advice during your Free Complimentary Inbound Marketing Session which will help you learn more about local SEO and its place in Inbound Marketing. You can also call BroadVision Marketing at 707-799-1238.
Still not sure if Inbound Marketing can work for you? Click on the button below and learn more about our SEO services.