How do you create superpowerful infographics to launch your local inbound marketing campaign? It's been a little while since I talked about infographics, which you know I have a fondness for. I also have a fondness for superpowers because I have discovered that as we get older, we develop new superpowers. When you put those infographics together with superpowers, you get something awesome.
_______________________________________________
Related articles:
9 Inbound Marketing Infographics Tools
Internet Marketing Tip # 22: Creative Photo Work With PicMonkey
Content Creation: Video With More on Creating Infographics
_______________________________________________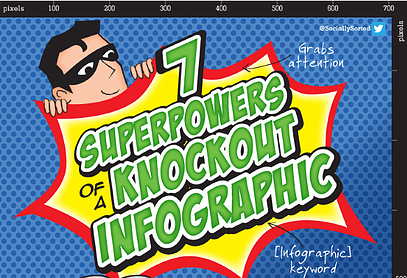 I am taking this infographic from an article 7 Superpowers of a Knockout Infographic – How to Get More Shares and Drive Traffic posted by Donna Mortiz in December 2013. Donna's article not only shows the infographic, but she breaks down all the parts so that you can fully understand how to create infographics that get more shares, drive traffic and attract quality links from quality, relevant sites (like this one).
That's a major point of infographics, You want yours passed along because each time it is, you get a backlink. So that's my lesson # 1.
Lesson # 2 and back to lesson # 1
The next lessons have to do with the 3 elements of a successful infographic. These are storyboarding, design and promotion (back to lesson # 1 again).
Storyboarding is the initial planning stage, although planning will occur throughout the process of creating the infographic. What is the story you want to tell? What pain point do you want answer? In this case the pain point is "how do you create a dynamic infographic?" and Donna uses an infographic to answer.
Designing the infographic is where you take your story to the next level. Do you want to use quotes, statistics or case studies? If you are going to use statistics, you want to decide how you are going to present them—charts, bunches of people, or maps. You also want to think about colors. It isn't a good idea to use every color in the rainbow in one infographic because then people are going to lose continuity of the point.
Finally, back to # 1 you can't just put your infographic in your own blog and call it a day. You have to share it with your social media groups from Facebook, Twitter, LinkedIn, Pinterest to Google+. All these groups and communities will then carry your infographic if you have done it correctly to their friends, groups and communities while giving you the credit.
New pixel size for the horizontal measurement
I am just going to give you the infographic now; but for more great tips and information, head on over to Donna's article. You will learn such things as the fact that according to Mashable, the most popular infographic topics are technology, business, social-media, the economy and health. And you will learn that the right size for your horizontal setting has grown from 600 pixels to 735 pixels wide. Bet you didn't see that one coming.
Without further ado here are the 7 Superpowers of a Knockout Infograhic: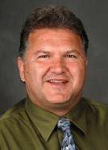 Jaco Grobbelaar is the owner of BroadVision Marketing. BroadVision Marketing works with business owners to put in place inbound and outbound marketing strategies that consistently secure new clients. The BroadVision Marketing Training Center is located in Petaluma, CA and primarily serves companies in the San Francisco Bay area.Jaco can be reached at jaco@broadvisionmarketing.com or 707.766.9778 or connect with Jaco on Facebook - www.facebook.com/broadvisionmarketing - and LinkedIn - www.linkedin.com/in/JacoGrobbelaar.He can also be found at Jaco+.